PHOTOS & GAME SUMMARY: Rams Fall to Jacksonville
Jacksonville used a 7-0 run, ignited by a pair of Marsh buckets, to take a 43-36 lead with 16:23 remaining and never looked back.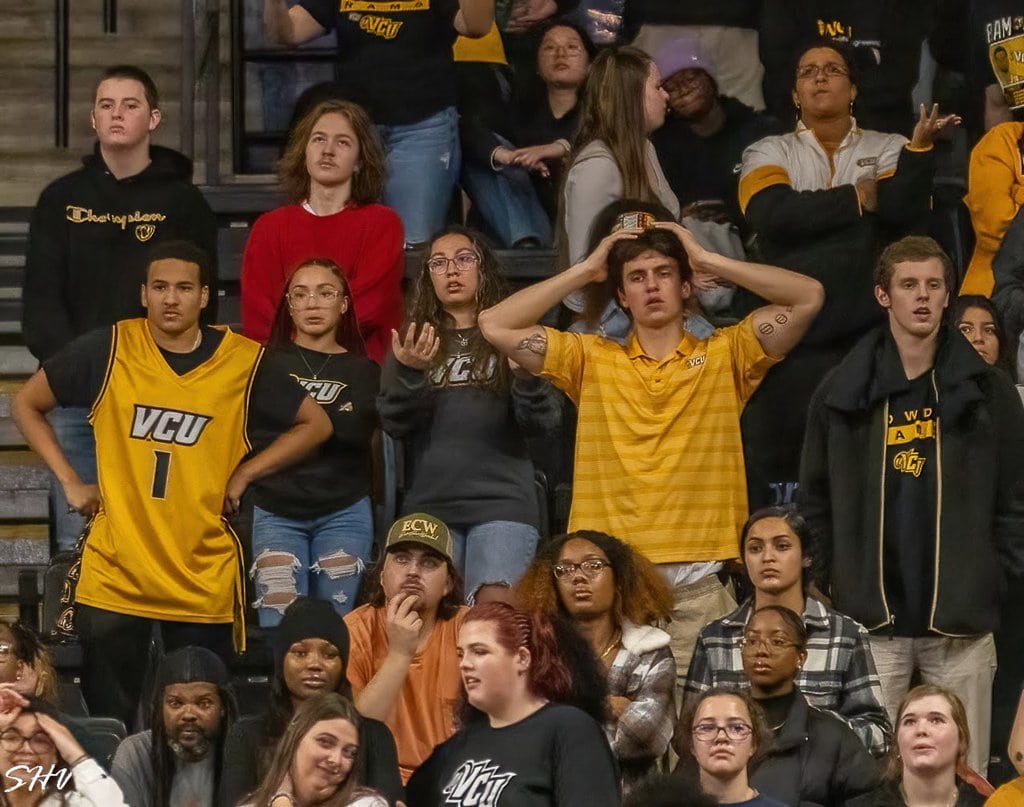 Score: Jacksonville 73, VCU 62
Location: Richmond, Va. (Stuart C. Siegel Center)
Records: VCU 5-4, Jacksonville 5-2
The short story: Graduate student Brandon Johns Jr.'s 20 points were not enough for the Rams to complete their second-half comeback, as Kevion Nolan scored 20 points to lead sharp-shooting Jacksonville past VCU.
OPENING TIP
Johns tied a career-high with his 20-point performance. He shot 5-of-10 from the field and made 9-of-12 from the free-throw line
Sophomore guard Jayden Nunn connected on 5-of-10 from the floor for the Black and Gold and scored 14 points
In his first collegiate start, freshman forward Tobi Lawal added a career-high ten points and five boards for VCU
VCU forced 13 turnovers, scoring 13 points off the mistakes and allowed just eight turnovers of their own. Junior guard Ace Baldwin led the Rams with three steals as the team totaled nine.
Aside from Nolan's 20 points and 8 assists, Jacksonville sought help from Mike Marsh's 17 points and nine rebounds
THE DIFFERENCE
The Dolphins shot 50 percent (9-of-18) from the 3-point line, while VCU struggled from beyond the arc, misfiring on 23 of 28 attempts
Jacksonville used a 7-0 run, ignited by a pair of Marsh buckets, to take a 43-36 lead with 16:23 remaining. The Dolphins never trailed again and led by as many as 16 at 64-48 with 4:32 remaining
VCU rallied to within 64-58 with 2:37 left behind a 9-0 run that included seven Johns free throws. But on the ensuing possession, Nolan buried a 3-pointer from the deep left wing as the shot clock expired to push the Dolphins advantage back to 67-58 with 2:04 on the clock
Jacksonville owned a 38-30 rebounding advantage
The Dolphins shot 90 percent (18-of-20) from the free-throw line
QUOTABLE
"Credit to Jacksonville. They came in here and took it to us. They created some really good opportunities, really gave themselves some confidence and put us on our heels. For most of the game, they just played harder than us. I thought late in the game, we played harder and had more success on both ends of the court. We got work to do. I like this team, I know what we're capable of, but I've got to do a better job with these guys, and we're going to have some heart to hearts and get to work." – VCU Head Coach Mike Rhoades
"Yeah, that was a spark of energy that we should have had from the beginning of the game. Unfortunately, it was too late. We need to do that all game. We need to start doing it from the jump." — Brandon Johns Jr. on the last few minutes of the game
"I thought he played really hard. He played to exhaustion, get subbed, and go back in. He got beat on a couple of old-school, veteran moves. He got caught off-guard with a couple of these guys at bad angles, but he's only played basketball for four years. But I couldn't fault his effort and approach, and he's only going to get better and better. He really cares." — Rhoades on the play of Tobi Lawal
NOTABLE
VCU leads the all-time series between these two former Sun Belt rivals, 19-9
Wednesday's loss snapped VCU's 10-game home win streak
UP NEXT
The Rams play their second game of a six-game homestand of the season in a match-up against Howard on Sunday, Dec. 11 at 7 p.m. The game will be streamed on MASN and ESPN+
Will you help support independent, local journalism?
We need your help. RVAHub is a small, independent publication, and we depend on our readers to help us provide a vital community service. If you enjoy our content, would you consider a donation as small as $5? We would be immensely grateful! Interested in advertising your business, organization, or event? Get the details here.