Stuck at home? Explore some of Virginia's most significant historic, cultural sites online for free
Just because you're social distancing it doesn't mean you cant explore some of Virginia's most magnificent cultural and historical sites virtually, online, for free. Here's a roundup of where you can explore and what you can learn.
By Caroline Logan, Virginia Tourism
With the international crisis regarding COVID-19, also referred to as Coronavirus, visitors may be canceling or rescheduling upcoming travel plans and staying home.
While people are self-isolating and social distancing, many museums, historic sites, and other tourism destinations are offering virtual options for visitors to explore and learn.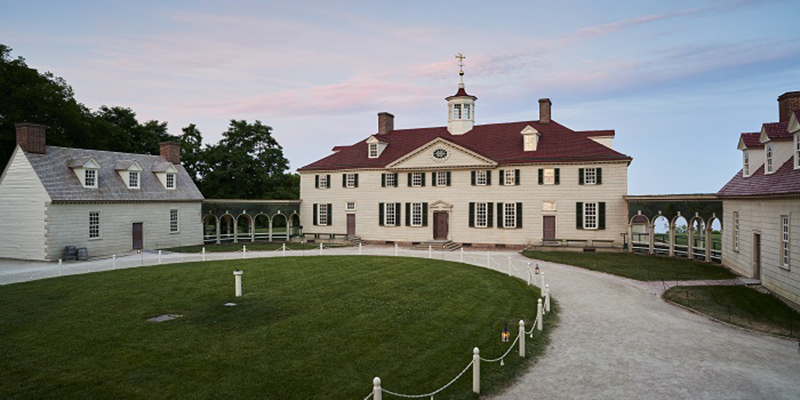 Mount Vernon will continue its mission to educate people around the world through its robust digital presence. The historic site will provide digital tours of the mansion through mountvernon.org/virtualtour. The Washington Library has also prepared digital resources for students and their parents will be working with its network of teachers nationwide to support their educational efforts. These resources can be accessed at mountvernon.org/digital. Mount Vernon's YouTube channel also features a livestream of the estate's newborn lambs.
Monticello hosts a number of online exhibits including "The Declaration Around the World," "The Life of Sally Hemings," and "Paradox of Liberty: Slavery at Jefferson's Monticello," among many others. Users can also download the Slavery at Monticello: Life and Work on Mulberry Row app for free.
James Madison's Montpelier has publicly accessible blog posts, websites, podcasts, and social media posts for visitors to enjoy. Access to podcasts and video series can be found on the site's YouTube page. Those interested in the research, history, archaeology, and collecting at Montpelier can visit the Digital Doorway for a wealth of information at digitaldoorway.montpelier.org.
Colonial Williamsburg is adding content to its Explore From Home website from the people who bring history to life. Resources include guides for teachers, quizzes and puzzles for students, interactive timeline, pages for exploring art collections, and printable coloring sheets from The Art Museums of Colonial Williamsburg, as well as libraries, archives, and other cultural institutions around the world.
The Virginia Museum of History & Culture in Richmond will be offering free online video content, webinars, student learning resources, and virtual tours at VirginiaHistory.org/AtHome.
The National Museum of the Marine Corps in Triangle has a virtual tour and numerous distance learning opportunities. The rich, interactive virtual environment will serve as the gateway for Marines and visitors to see the museum from the comfort of their homes. The museum's online distance learning programs engage audiences with the history of the United States Marine Corps.  Programs include a plethora of virtual learning experiences and subject matter for people to learn important and interesting topics related to the Marine Corps. Take the virtual tour at virtualusmcmuseum.com and access the distance learning programs at usmcmuseum.com/distance-learning.html.
The Chrysler Museum of Art located in Norfolk's NEON Arts District features 50 galleries, 30,000 objects, and a world-renowned glass collection. Viewers can take a virtual tour through the galleries as well as explore the museum's Digital Collections featuring European and American paintings, sculptures and decorative arts and works from African, ancient Egyptian, Pre-Columbian, Islamic and Asian cultures.
Join the Virginia Zoo in Norfolk for a Virtual Voyage every day at 2 p.m. (March 16 – 30, 2020) on its Facebook page. Visitors can go behind the scenes, tour the zoo, and check in on their favorite animals. The zoo's Virtual Voyage website also offers augmented reality tours, printable activity sheets, a YouTube video series, and more.
Take a virtual walking tour of historic Fincastle in Botetourt County with over 50 individual "stops," each complete with a picture and background about the location.
The Kids Square Children's Museum in Roanoke will go live on Facebook at least once a day during the week until reopening. They'll be doing everything from science experiments to book reading. Visitors joining the livestream have the chance to win one of the items that Kids Square is playing with that day.
The Blue Ridge Institute and Museum in Ferrum offers the following online exhibits for individuals to learn more about folk heritage in the Blue Ridge region.
Full Throttle: Racing and Rodding in Southwest and Central Virginia
Moonshine: Blue Ridge Style
Deathly Lyrics: Songs of Virginia Tragedies
Earthenware Along the Great Road in Virginia and Tennessee
The Virginia Museum of Transportation in Roanoke has images and background information on nearly every item in the rail, road, air, and ship collections. Collections are separated by category and can be accessed here.
The William King Museum of Art in Abingdon will be broadcasting live via Facebook every Tuesday and Thursday at 2 p.m. Videos will include tours of the galleries, insider looks at collections, family-friendly art projects, and live art demos.
Lewis Ginter Botanical Garden in Richmond is sharing  "Virtual Visits" on its Facebook page as well as putting resources for learning (including activities for kids) and ideas for relaxation and mental health on its website lewisginter.org.
Take a virtual tour around Virginia Beach's cultural enclave by using this Google Mural Map to explore the ViBe Creative District on a virtual, self-guided mural tour. Click on the map icons to find information about the artists, artworks and locations, along with multiple images of the artwork and video links of murals created during the last two years of the ViBe Mural Festival.
The Barter Theatre in Abingdon is working to offer its patrons the ability to stream productions from home. The production of "Peter Pan" that was originally scheduled to open on April 7 will be online to patrons as well as access special bonus features. The theatre will also be providing coordinating educator resources, including lesson plans and a study guide. More information can be found here: bartertheatre.com/barter-theatre-on-demand
The Virginia Aquarium & Marine Science Center in Virginia Beach will provide entertaining, educational content to fans including live streams, video footage, crafts for kids, and behind the scenes peeks on its website and social media channels.
The City of Alexandria created a new web hub called ALX at Home, which brings residents and nearby visitors their favorite Alexandria restaurants, shops and attractions to the comfort of their own home. Features include:
50+ restaurant and 15 retail deals and offerings
Attraction offerings such as virtual tours and a "Ride it Out" bike rental program from Unlimited Biking.
Cocktail Corner for Happy Hour at home with instructional videos from The Hour boutique.
Puppy Love, bringing a daily dose of cuteness from Alexandria's four-legged friends.
The Omni Homestead Resort's podcast, Beyond the Tower offers an insider's look into one of America's most iconic resorts. From historical anecdotes to one-of-a-kind experiences, Beyond the Tower includes topics from the history of the resort and golf to the Garth Newel Music Center and the resort's partnership with a local farmer. Each episode begins and ends with "Welcome to My Homestead," an original composition from David Hill, a native of Roanoke, Virginia and one of the resort's most popular musicians.
For those interested in historic moments of Virginia, listen to the Following Harriet podcast. Following Harriet takes a closer look at the life of one of the bravest and most extraordinary women in our country's history. It also puts Harriet in a broader context, examining the 19th Century experience of African Americans, especially in Virginia.
Do you know of any other online options that attractions are providing? Let us know in the comments below.
comments
Explore Virginia's natural beauty with new exhibition at Virginia Museum of History & Culture
Celebrate the efforts in preservation and horticulture made by the Garden Club of Virginia (GCV) during its 100-year history with a new exhibition at the Virginia Museum of History & Culture, "A Landscape Saved: The Garden Club of Virginia at 100."
Celebrate the efforts in preservation and horticulture made by the Garden Club of Virginia (GCV) during its 100-year history with a new exhibition at the Virginia Museum of History & Culture, "A Landscape Saved: The Garden Club of Virginia at 100."
Featuring photographs and objects from the past century of the organization's history, this exhibition highlights the work of the GCV and its dedicated members in advancing the appreciation of horticulture and the advocacy for land preservation, particularly regarding the formation of the state parks system.
"As the first conservation organization in Virginia, the achievements of GCV have bettered the lives of all who live in or travel through the Commonwealth," the VMHC said in a release.
The Garden Club of Virginia is now a partnership of 3,400 community and civic leaders active in 48 garden clubs across the state.
Learn more about the exhibition here.
comments
The Byrd Theatre hires first ever Executive Director amid COVID-19 pandemic
Stacy Shaw, the new Executive Director, as of July 1, 2020, comes to the Byrd Theatre with 30 years experience as an arts administrator having worked for 2 other historic theaters in her past, The Wells Theatre in Norfolk, VA and The National Theatre in DC.
Closure due to COVID-19 isn't stopping the Byrd Theatre from continuing to focus on the strategic plan and its long-term future. When closure happened in Mid-March, the Byrd Theatre Foundation was already well into a national search for the first Executive Director to lead the non-profit theatre as part of the Phase 2 Strategic Plan. Thanks to the more than $1,100,000 raised in early lead gifts toward a second phase of the Strategic Plan, funds have been earmarked for both capital improvements and restorations as well as opportunity funds to finance this leadership position at the theatre.
Stacy Shaw, the new Executive Director, as of July 1, 2020, comes to the Byrd Theatre with 30 years experience as an arts administrator having worked for 2 other historic theaters in her past, The Wells Theatre in Norfolk, VA and The National Theatre in DC. She spent the last 6 years at The National Theatre as the Director of Institutional Advancement establishing corporate, capital, endowment, and major donor campaigns while expanding foundation and government support. She lives in Petersburg, VA with her wife who teaches at Virginia State University.
"We are so thrilled to have someone with Stacy's experience and expertise join the Byrd. We are confident in her ability to lead the organization through the current times and into a successful future." Said, Ted Haynes, Byrd Theatre Foundation President.
"In my experience, Stacy Shaw is a talented arts administrator who brings an amazing amount of knowledge, passion, and heart to everything she undertakes.  I have no doubt that she will bring that same energy to the Byrd Theatre and its mission." Sarah Chaplin, former Executive Director of The National Theatre and current President and CEO of The State Theatre of New Jersey.
While the Governor's Phase 3 opening date is July 1st, the Byrd Theatre will remain closed for now. Shaw has worked with the Board of Directors to make the decision to remain closed and focus internally on updating cleaning and seating protocols to meet COVID-19 standards. This is a difficult financial decision, continued closure means operating funds are slim, but the increased cost to open and operate the theatre under the COVID-19 standards make the margins challenging. The Theatre was fortunate to get a PPP loan early on that allowed the Theatre to continue paying the primarily part-time staff until mid-June when the funds ran out.
Stacy Shaw said, "We have already reached out to our wonderful patrons for their input to make sure they feel confident about their attendance at the Byrd as well as following updates on cleaning protocols. We are particularly fortunate that the Byrd has a large seating area that social distancing is easily accomplished when compared to the movie theatres of today. Meanwhile, we are utilizing this time to do as much cleaning, updating, and capital improvements as possible. One of the most exciting projects has been the completion of a total renovation of the Wurlitzer Piano in the upper left balcony!"
There are capital funds earmarked for Phase Two capital improvements that will begin to happen late summer and into 2021.
Planned Phase Two Capital Improvements include, but are not limited to:
Renovation of the women's restroom
Concession area improvements
Replacement of the carpet and expansion of the seat replacements
A range of replacements of various systems: lighting, mechanicals, PA system
Replacement of rear doors
A range of front of stage improvements
Further care of the Mighty Wurlitzer Organ and Wurlitizer Piano
Stacy Shaw said, "I am excited to be part of the organization and to be joining at such a pivotal moment in time." With Phase Two fundraising underway, Shaw also said, "We looking forward to the next multi-year phase of restoration and growth. The Foundation will be expanding its philanthropic efforts to meet the estimated goal of $2.4 million and to offer donors a range of unique naming and commemorative options."
Phase One projects replaced the roof as well as heating and cooling systems; installed a digital server and state-of-the-art 4K projector; organ repairs; restored historic plasterwork and center seats; and created a wheelchair accessible seating area and ADA family restroom.
While closed, the Byrd Theatre is not bringing in operating funds, therefore, the theatre is actively looking for creative ways to bring film out into the community. Look for the Byrd Theatre to partner with different organizations and spaces for drive-in and other movie night type events throughout the summer and fall. The Virtual Screening Room will remain up and active as well, bringing new films not able to be seen on the big screen to your living room. Renting a film from the Byrd Theatre Virtual Screening Room supports the theatre while you enjoy a film!
comments
Well known local tattoo artist auctioning off mural of George Floyd adorning Carytown shop
"I didn't really want to board up my business, but it was recommended so we decided to follow suit," he says. "After we put it up, I thought, there's a surface that needs to be decorated. I didn't want to just write 'Black Lives Matter' all over everything. I wanted to create something that was more impactful."
The City of Richmond has remained an apex of the evolving Black Lives Matter movement. The city is known for its statues and monuments honoring leaders from the Civil War era, but also its prolific and progressive artist community who have come together to deploy a series of creative and uplifting responses during the past month. This includes the owner of Loose Screw Tattoo, Jesse Smith.
When the rest of his Carytown business neighbors boarded up their storefronts in anticipation of predicted riots and looting, Smith followed recommendations and added plywood to the front of his tattoo shop.
"I didn't really want to board up my business, but it was recommended so we decided to follow suit," he says. "After we put it up, I thought, there's a surface that needs to be decorated. I didn't want to just write 'Black Lives Matter' all over everything. I wanted to create something that was more impactful."
Smith snagged up a couple of cans of spray paint he had laying around in his garage and headed over to his shop. The mural took four hours in total to complete. His George Floyd portrait is one of many new murals related to the Black Lives Matter movement in Richmond. Other mural artists who have added color to the city include Hamilton Glass, Nico Cathcart, Nils Westergard, Emily Herr, and many other artists who have come together to be a part of the Mending Walls Project. Artists around the country have also marked buildings and landmarks with designs, words, and other calls to action.
Smith's mural will be up for auction to benefit Mutual Aid Disaster Relief – Richmond (MAD RVA) starting July 7. The network launched in 2018 in response to needs associated with public housing.
"We operate collectively and are primarily functioning as a supply delivery for folks who cannot access medicine, food, cleaning supplies, and other life necessities," says member Tamanna Sohal.
MAD RVA also has a mini-grants program that provides communty members with direct financial aid of up to $125, prioritizing Richmonders who are Black, brown, queer, trans, immuno-compromised, elderly, pregnant, and/or have several people in their household. All funds raised are redistributed through items for their supply drive and mini-grants.
The auction is presented by the Giving Arts Foundation (GAF), founded by Smith. The mission of GAF is to unite the arts community to support urgent and meaningful causes locally and internationally.
Learn more about MAD RVA here.
comments