Stuck at home? Explore some of Virginia's most significant historic, cultural sites online for free
Just because you're social distancing it doesn't mean you cant explore some of Virginia's most magnificent cultural and historical sites virtually, online, for free. Here's a roundup of where you can explore and what you can learn.
By Caroline Logan, Virginia Tourism
With the international crisis regarding COVID-19, also referred to as Coronavirus, visitors may be canceling or rescheduling upcoming travel plans and staying home.
While people are self-isolating and social distancing, many museums, historic sites, and other tourism destinations are offering virtual options for visitors to explore and learn.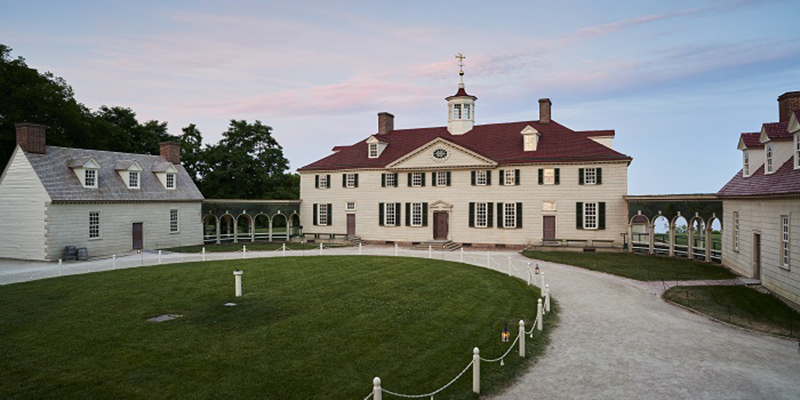 Mount Vernon will continue its mission to educate people around the world through its robust digital presence. The historic site will provide digital tours of the mansion through mountvernon.org/virtualtour. The Washington Library has also prepared digital resources for students and their parents will be working with its network of teachers nationwide to support their educational efforts. These resources can be accessed at mountvernon.org/digital. Mount Vernon's YouTube channel also features a livestream of the estate's newborn lambs.
Monticello hosts a number of online exhibits including "The Declaration Around the World," "The Life of Sally Hemings," and "Paradox of Liberty: Slavery at Jefferson's Monticello," among many others. Users can also download the Slavery at Monticello: Life and Work on Mulberry Row app for free.
James Madison's Montpelier has publicly accessible blog posts, websites, podcasts, and social media posts for visitors to enjoy. Access to podcasts and video series can be found on the site's YouTube page. Those interested in the research, history, archaeology, and collecting at Montpelier can visit the Digital Doorway for a wealth of information at digitaldoorway.montpelier.org.
Colonial Williamsburg is adding content to its Explore From Home website from the people who bring history to life. Resources include guides for teachers, quizzes and puzzles for students, interactive timeline, pages for exploring art collections, and printable coloring sheets from The Art Museums of Colonial Williamsburg, as well as libraries, archives, and other cultural institutions around the world.
The Virginia Museum of History & Culture in Richmond will be offering free online video content, webinars, student learning resources, and virtual tours at VirginiaHistory.org/AtHome.
The National Museum of the Marine Corps in Triangle has a virtual tour and numerous distance learning opportunities. The rich, interactive virtual environment will serve as the gateway for Marines and visitors to see the museum from the comfort of their homes. The museum's online distance learning programs engage audiences with the history of the United States Marine Corps.  Programs include a plethora of virtual learning experiences and subject matter for people to learn important and interesting topics related to the Marine Corps. Take the virtual tour at virtualusmcmuseum.com and access the distance learning programs at usmcmuseum.com/distance-learning.html.
The Chrysler Museum of Art located in Norfolk's NEON Arts District features 50 galleries, 30,000 objects, and a world-renowned glass collection. Viewers can take a virtual tour through the galleries as well as explore the museum's Digital Collections featuring European and American paintings, sculptures and decorative arts and works from African, ancient Egyptian, Pre-Columbian, Islamic and Asian cultures.
Join the Virginia Zoo in Norfolk for a Virtual Voyage every day at 2 p.m. (March 16 – 30, 2020) on its Facebook page. Visitors can go behind the scenes, tour the zoo, and check in on their favorite animals. The zoo's Virtual Voyage website also offers augmented reality tours, printable activity sheets, a YouTube video series, and more.
Take a virtual walking tour of historic Fincastle in Botetourt County with over 50 individual "stops," each complete with a picture and background about the location.
The Kids Square Children's Museum in Roanoke will go live on Facebook at least once a day during the week until reopening. They'll be doing everything from science experiments to book reading. Visitors joining the livestream have the chance to win one of the items that Kids Square is playing with that day.
The Blue Ridge Institute and Museum in Ferrum offers the following online exhibits for individuals to learn more about folk heritage in the Blue Ridge region.
Full Throttle: Racing and Rodding in Southwest and Central Virginia
Moonshine: Blue Ridge Style
Deathly Lyrics: Songs of Virginia Tragedies
Earthenware Along the Great Road in Virginia and Tennessee
The Virginia Museum of Transportation in Roanoke has images and background information on nearly every item in the rail, road, air, and ship collections. Collections are separated by category and can be accessed here.
The William King Museum of Art in Abingdon will be broadcasting live via Facebook every Tuesday and Thursday at 2 p.m. Videos will include tours of the galleries, insider looks at collections, family-friendly art projects, and live art demos.
Lewis Ginter Botanical Garden in Richmond is sharing  "Virtual Visits" on its Facebook page as well as putting resources for learning (including activities for kids) and ideas for relaxation and mental health on its website lewisginter.org.
Take a virtual tour around Virginia Beach's cultural enclave by using this Google Mural Map to explore the ViBe Creative District on a virtual, self-guided mural tour. Click on the map icons to find information about the artists, artworks and locations, along with multiple images of the artwork and video links of murals created during the last two years of the ViBe Mural Festival.
The Barter Theatre in Abingdon is working to offer its patrons the ability to stream productions from home. The production of "Peter Pan" that was originally scheduled to open on April 7 will be online to patrons as well as access special bonus features. The theatre will also be providing coordinating educator resources, including lesson plans and a study guide. More information can be found here: bartertheatre.com/barter-theatre-on-demand
The Virginia Aquarium & Marine Science Center in Virginia Beach will provide entertaining, educational content to fans including live streams, video footage, crafts for kids, and behind the scenes peeks on its website and social media channels.
The City of Alexandria created a new web hub called ALX at Home, which brings residents and nearby visitors their favorite Alexandria restaurants, shops and attractions to the comfort of their own home. Features include:
50+ restaurant and 15 retail deals and offerings
Attraction offerings such as virtual tours and a "Ride it Out" bike rental program from Unlimited Biking.
Cocktail Corner for Happy Hour at home with instructional videos from The Hour boutique.
Puppy Love, bringing a daily dose of cuteness from Alexandria's four-legged friends.
The Omni Homestead Resort's podcast, Beyond the Tower offers an insider's look into one of America's most iconic resorts. From historical anecdotes to one-of-a-kind experiences, Beyond the Tower includes topics from the history of the resort and golf to the Garth Newel Music Center and the resort's partnership with a local farmer. Each episode begins and ends with "Welcome to My Homestead," an original composition from David Hill, a native of Roanoke, Virginia and one of the resort's most popular musicians.
For those interested in historic moments of Virginia, listen to the Following Harriet podcast. Following Harriet takes a closer look at the life of one of the bravest and most extraordinary women in our country's history. It also puts Harriet in a broader context, examining the 19th Century experience of African Americans, especially in Virginia.
Do you know of any other online options that attractions are providing? Let us know in the comments below.
comments
Three Sheets to the Wind playing drive-in concert at City Stadium June 13th
Enjoy smooth '70s and '80s yacht rock from Three Sheets to the Wind on June 13th at City Stadium – in the comfort and safety of your own vehicle.
Yacht rock tribute band Three Sheets to the Wind, known for their smooth and sultry soft rock vocals and '70s and '80s covers, will play a drive-in concert in collaboration with The Broadberry in the parking lot of City Stadium June 13th, it was announced this past weekend.
Tickets, which went on sale this morning, are good for up to four people in one vehicle. In order to maintain social distancing, no one will be allowed outside of their vehicles except to use the restroom at portable toilets, which will be on-site and cleaned often.
Audio from the show will be broadcast live via a lower power FM transmitter to those in attendance.
Learn more and purchase tickets here.
Rules and regulations from The Broadberry staff follow below.
𝐈𝐌𝐏𝐎𝐑𝐓𝐀𝐍𝐓 𝐑𝐔𝐋𝐄𝐒 & 𝐑𝐄𝐆𝐔𝐋𝐀𝐓𝐈𝐎𝐍𝐒 In order to provide the safest and best Drive-In Concert Experience, we require each participant to observe the following rules:

1. If you are sick, running a fever or have been exposed to COVID-19, please stay home until you are healthy.
2. For the safety of yourself and others, you should ONLY attend this event with people in your immediate quarantine circle.
3. Tickets can be purchased online only, there will be no box office onsite.
4. All attendees must arrive within a vehicle that is two axles and holding a maximum of 4 people, including children. No campers, motorcycles, buses, or extremely large vehicles will be admitted. No jeeps without doors or convertibles with tops down. No vehicles towing trailers will be admitted.
5. Absolutely no sitting on your car, standing on your car or exiting the vehicle before, after or during the event. NO LAWN OR CAMPING CHAIRS PERMITTED! NO SITTING IN THE BED OF A PICKUP TRUCK.
6. There is absolutely no leaving your vehicle unless there is an essential need, i.e. bathroom breaks. If you must leave your car to use the restroom – WEAR A MASK.
7. Portable toilets will be available on site. Strict guidelines will be provided to ensure safety and cleanliness. Gloves and sanitizer will be available for use.
8. Absolutely no standing outside of the venue or gatherings on the sidewalks of the venue will be allowed and will be enforced by security.
9. Emergency communication options will be provided both in advance of the event as well as upon arrival to the concert.
10. For the safety of concertgoers directly adjacent to your vehicle, refrain from rolling down your car windows more than two inches from the top.
11. Food can be brought from home and eaten in your vehicle. Please only dispose of trash in proper receptacles or bring all trash back home. Please don't litter!
12. At the conclusion of the concert, please remain in your parking space until directed by event staff to exit the lot. In the case of an emergency, please remain in your space until directed by event staff. Drive slowly and follow all directions.
13. The parking lot will open one hour prior to the start of the show. We suggest arriving early — parking is first-come-first serve.
14. All audio will be streamed via FM transmitter. Please make sure to arrive with a working FM radio in your vehicle or you will not be able to listen to the show. Portable boomboxes and stereos are permissible for vehicles without a functional car stereo.
15. Absolutely no alcohol and/or illegal substances will be permitted at the event or inside your vehicle and violators will be held accountable and prosecuted by state and federal law.
16. No pets are allowed.
17. Absolutely no illicit goods, no fireworks, weapons or guns, knives or laser pointers.
18. Drivers caught concealing other persons or items in their vehicle will be turned away or asked to leave without a refund. All vehicles subject to search.
19. Big trucks and SUVS may be directed to the back of the lot so as to not block the sightlines of other concert-goers.
20. No refund requests or ticket transfers will be granted. This event is rain or shine.
comments
Byrd Theatre curates "Cinematheque Virtuelle" French film series
Knowing how many people missed seeing the French Film Festival in March and look forward to March 2021, the programming committee saw an opportunity to bring a little "Je ne sais quoi" to the Byrd Theatre's virtual screening room.
The Byrd Theatre's virtual movie series continues with an all-new theme. Cinematheque Virtuelle is the Byrd Theatre's newest virtual series. Knowing how many people missed seeing the French Film Festival in March and look forward to March 2021, the programming committee saw an opportunity to bring a little "Je ne sais quoi" to the Byrd Theatre's virtual screening room.
Many of the films are new releases and others are new to being available for screening. The Alliance Francaise Richmond has graciously partnered with the Byrd Theatre to bring this French Film Series to life.
Cinematheque Virtuelle French Film Series opens May 27th, 2020 with "On a Magical Night" and opens 2 films on Thursday, Friday, and Saturday and additional film each day through June 2nd. The complete series will run through June 9th.
Films:
May 27
On a Magical Night, French Rom-Com
May 28
New French Shorts 2020, a collection of short films
The Perfect Nanny, From Rendezvous with French Cinema 2020/Acclaimed Thriller
May 29
Papicha, Cannes Film Festival and Cesar-Award Winning Drama
Deerskin, Black Comedy/Thriller
May 30
Someone Somewhere, From Rendezvous with French Cinema 2020/Acclaimed Indie Drama
Alice, South By Southwest Grand Jury Prize Winner
May 31
Tezzeka, Comedy/Drama for Moroccan/French Cuisine Foodies
June 1
Rififi (1955), Classic: French Film Noir
June 2
Band of Outsiders (1964), Classic: Godard's Unofficial Sequel to Breathless
The Byrd Theatre launched the Virtual Screening Room in March and has been looking for interesting films to share with its patrons. The screening room allows people to rent the films, view from the comfort of their own home during Virginia's Stay at Home order, and help the Byrd Theatre monetarily. The individual distribution companies are splitting the net revenues from rentals with the Byrd Theatre. Win-Win.
comments
Dominion Energy Riverrock announces Virtual Experience with virtual trail events, streaming content to celebrate 2020 festival
"Even though we can't gather along the James River at our wonderful downtown waterfront, we still want to celebrate Richmond's vibrant active-living community," said Megan Schultz, Director of Events for Sports Backers, co-organizers of Dominion Energy Riverrock with Venture Richmond.
Dominion Energy Riverrock is planning its first Virtual Experience to bring the sights and sounds of the festival, which was originally scheduled for May 15-17 before its cancellation due to the COVID-19 outbreak and associated restrictions on large events, directly to viewers and participants. The Virtual Experience will include trail running and mountain bike events for participants to take part in virtually on their own before enjoying the streaming festival highlights show on Saturday, May 16, at 5 p.m.
The virtual races will encourage participants to bring the celebratory spirit home to them. Participants can choose 5k, 10k, or Half Marathon trail running distances, or 10-mile or 20-mile mountain bike distances, then select their own course and complete their race any time before May 31. Participants can also upload and compare their times on an online leaderboard. Virtual event registration is now open at www.riverrockrva.com, and the registration fee of $20 includes a Dominion Energy Riverrock trucker hat with an event entry. As part of the celebration, festival organizers are also hosting a drawing for a prize pack featuring items from event partners including YETI, Sierra Nevada, ENO, nuun, Virginia Lottery, and Capital One, among others. No purchase is necessary to win the prize pack and anyone aged 21 and over can enter to win here.
"Even though we can't gather along the James River at our wonderful downtown waterfront, we still want to celebrate Richmond's vibrant active-living community," said Megan Schultz, Director of Events for Sports Backers, co-organizers of Dominion Energy Riverrock with Venture Richmond. "We believe that the Virtual Experience will be a great way for Dominion Energy Riverrock enthusiasts to engage with the things that make the festival so unique and exciting."
The streaming highlights show will feature music from several artists originally scheduled to perform during the 2020 Dominion Energy Riverrock, including the Delvon Lamarr Organ Trio, The Hot Seats, and The Northerners, as well as interviews with Dominion Energy Riverrock athletes, demos on mountain biking, slacklining, kayak, and bouldering, and plenty of other festival-related content. The livestream will premiere at 5 p.m. on May 16 on the Dominion Energy Riverrock YouTube channel (http://www.youtube.com/DominionRiverrock/live) and on Facebook Live (www.facebook.com/riverrockRVA/), and be available for on-demand streaming immediately after. A trailer for the special can be viewed at the Dominion Energy Riverrock Instagram page, @RiverrockRVA.
"We know that Dominion Energy Riverrock is one of the most anticipated weekends of the year in Richmond, so it's important for us to bring the spirit of the festival to our dedicated community with this Virtual Experience," said Lisa Sims, CEO of Venture Richmond. "We especially would like to thank Dominion Energy for their support to bring this concept to reality so we can all take part in the festival in our own way."
comments