Stuck at home? Explore some of Virginia's most significant historic, cultural sites online for free
Just because you're social distancing it doesn't mean you cant explore some of Virginia's most magnificent cultural and historical sites virtually, online, for free. Here's a roundup of where you can explore and what you can learn.
By Caroline Logan, Virginia Tourism
With the international crisis regarding COVID-19, also referred to as Coronavirus, visitors may be canceling or rescheduling upcoming travel plans and staying home.
While people are self-isolating and social distancing, many museums, historic sites, and other tourism destinations are offering virtual options for visitors to explore and learn.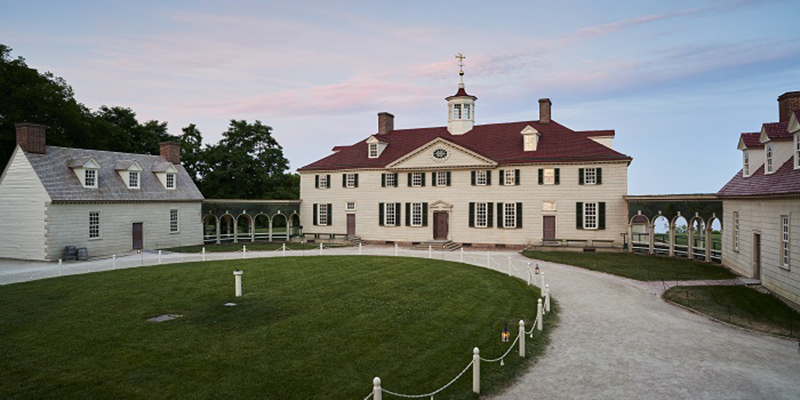 Mount Vernon will continue its mission to educate people around the world through its robust digital presence. The historic site will provide digital tours of the mansion through mountvernon.org/virtualtour. The Washington Library has also prepared digital resources for students and their parents will be working with its network of teachers nationwide to support their educational efforts. These resources can be accessed at mountvernon.org/digital. Mount Vernon's YouTube channel also features a livestream of the estate's newborn lambs.
Monticello hosts a number of online exhibits including "The Declaration Around the World," "The Life of Sally Hemings," and "Paradox of Liberty: Slavery at Jefferson's Monticello," among many others. Users can also download the Slavery at Monticello: Life and Work on Mulberry Row app for free.
James Madison's Montpelier has publicly accessible blog posts, websites, podcasts, and social media posts for visitors to enjoy. Access to podcasts and video series can be found on the site's YouTube page. Those interested in the research, history, archaeology, and collecting at Montpelier can visit the Digital Doorway for a wealth of information at digitaldoorway.montpelier.org.
Colonial Williamsburg is adding content to its Explore From Home website from the people who bring history to life. Resources include guides for teachers, quizzes and puzzles for students, interactive timeline, pages for exploring art collections, and printable coloring sheets from The Art Museums of Colonial Williamsburg, as well as libraries, archives, and other cultural institutions around the world.
The Virginia Museum of History & Culture in Richmond will be offering free online video content, webinars, student learning resources, and virtual tours at VirginiaHistory.org/AtHome.
The National Museum of the Marine Corps in Triangle has a virtual tour and numerous distance learning opportunities. The rich, interactive virtual environment will serve as the gateway for Marines and visitors to see the museum from the comfort of their homes. The museum's online distance learning programs engage audiences with the history of the United States Marine Corps.  Programs include a plethora of virtual learning experiences and subject matter for people to learn important and interesting topics related to the Marine Corps. Take the virtual tour at virtualusmcmuseum.com and access the distance learning programs at usmcmuseum.com/distance-learning.html.
The Chrysler Museum of Art located in Norfolk's NEON Arts District features 50 galleries, 30,000 objects, and a world-renowned glass collection. Viewers can take a virtual tour through the galleries as well as explore the museum's Digital Collections featuring European and American paintings, sculptures and decorative arts and works from African, ancient Egyptian, Pre-Columbian, Islamic and Asian cultures.
Join the Virginia Zoo in Norfolk for a Virtual Voyage every day at 2 p.m. (March 16 – 30, 2020) on its Facebook page. Visitors can go behind the scenes, tour the zoo, and check in on their favorite animals. The zoo's Virtual Voyage website also offers augmented reality tours, printable activity sheets, a YouTube video series, and more.
Take a virtual walking tour of historic Fincastle in Botetourt County with over 50 individual "stops," each complete with a picture and background about the location.
The Kids Square Children's Museum in Roanoke will go live on Facebook at least once a day during the week until reopening. They'll be doing everything from science experiments to book reading. Visitors joining the livestream have the chance to win one of the items that Kids Square is playing with that day.
The Blue Ridge Institute and Museum in Ferrum offers the following online exhibits for individuals to learn more about folk heritage in the Blue Ridge region.
Full Throttle: Racing and Rodding in Southwest and Central Virginia
Moonshine: Blue Ridge Style
Deathly Lyrics: Songs of Virginia Tragedies
Earthenware Along the Great Road in Virginia and Tennessee
The Virginia Museum of Transportation in Roanoke has images and background information on nearly every item in the rail, road, air, and ship collections. Collections are separated by category and can be accessed here.
The William King Museum of Art in Abingdon will be broadcasting live via Facebook every Tuesday and Thursday at 2 p.m. Videos will include tours of the galleries, insider looks at collections, family-friendly art projects, and live art demos.
Lewis Ginter Botanical Garden in Richmond is sharing  "Virtual Visits" on its Facebook page as well as putting resources for learning (including activities for kids) and ideas for relaxation and mental health on its website lewisginter.org.
Take a virtual tour around Virginia Beach's cultural enclave by using this Google Mural Map to explore the ViBe Creative District on a virtual, self-guided mural tour. Click on the map icons to find information about the artists, artworks and locations, along with multiple images of the artwork and video links of murals created during the last two years of the ViBe Mural Festival.
The Barter Theatre in Abingdon is working to offer its patrons the ability to stream productions from home. The production of "Peter Pan" that was originally scheduled to open on April 7 will be online to patrons as well as access special bonus features. The theatre will also be providing coordinating educator resources, including lesson plans and a study guide. More information can be found here: bartertheatre.com/barter-theatre-on-demand
The Virginia Aquarium & Marine Science Center in Virginia Beach will provide entertaining, educational content to fans including live streams, video footage, crafts for kids, and behind the scenes peeks on its website and social media channels.
The City of Alexandria created a new web hub called ALX at Home, which brings residents and nearby visitors their favorite Alexandria restaurants, shops and attractions to the comfort of their own home. Features include:
50+ restaurant and 15 retail deals and offerings
Attraction offerings such as virtual tours and a "Ride it Out" bike rental program from Unlimited Biking.
Cocktail Corner for Happy Hour at home with instructional videos from The Hour boutique.
Puppy Love, bringing a daily dose of cuteness from Alexandria's four-legged friends.
The Omni Homestead Resort's podcast, Beyond the Tower offers an insider's look into one of America's most iconic resorts. From historical anecdotes to one-of-a-kind experiences, Beyond the Tower includes topics from the history of the resort and golf to the Garth Newel Music Center and the resort's partnership with a local farmer. Each episode begins and ends with "Welcome to My Homestead," an original composition from David Hill, a native of Roanoke, Virginia and one of the resort's most popular musicians.
For those interested in historic moments of Virginia, listen to the Following Harriet podcast. Following Harriet takes a closer look at the life of one of the bravest and most extraordinary women in our country's history. It also puts Harriet in a broader context, examining the 19th Century experience of African Americans, especially in Virginia.
Do you know of any other online options that attractions are providing? Let us know in the comments below.
comments
New VMFA exhibition portrays the majestic beauty of Virginia's Natural Bridge
The exhibition, free to visitors, will be on view at VMFA from February 6 to August 1, 2021.
The Virginia Museum of Fine Arts (VMFA) has announced its upcoming exhibition, Virginia Arcadia: The Natural Bridge in American Art, an exploration of the artistic portrayal of this spectacular and seemingly miraculous natural landmark. The exhibition, free to visitors, will be on view at VMFA from February 6 to August 1, 2021.
The majesty of the Shenandoah Valley's Natural Bridge, a 400-year-old geological formation, has inspired artists, writers and explorers over the centuries. It has served as an ethereal example of the American landscape, an icon of natural history and a witness to human civilization. One of the most depicted sites in American 19th-century landscape painting, this formation captured the imaginations of artists like Frederic Church, David Johnson, Edward Hicks and Caleb Boyle, as well as many decorative artists.
"VMFA is pleased to recognize Virginia's very own natural landmark through this exhibition," said VMFA Director and CEO Alex Nyerges. "We hope Virginia Arcadia inspires appreciation for and interest in rediscovering the wonderful natural world here in our state, and also recognizing that the environment is a precious source of inspiration."
"Consider a time when our very landscape sparked wonder and inspired myth," said the exhibition's curator, Dr. Christopher C. Oliver, VMFA's Assistant Curator of American Art. "Artists were moved to not only capture its picturesque splendor and breathtaking sense of place, but also all that the Natural Bridge represented and idealized — the sublime divinity of the natural world, the excitement of discovery, the harmony between nature and civilization and the abundance of pastoral beauty." The Natural Bridge is also historically relevant to western expansion, slavery, natural history, tourism and ecological conservation.
Virginia Arcadia examines the Natural Bridge through more than 60 paintings, prints, decorative art objects and photographs made between the late 1700s and the early 1900s. Highlights of the exhibition include works from VMFA's collection including one of the earliest illustrations of the Natural Bridge, an engraving from 1787 by Baron De Turpin, a French engineer sent to document the site, one of three such engravings featured in Volume 1: Travels In North-America in the Years 1780, 1781 and 1782. Joshua Shaw's oil painting Natural Bridge No. 1 (ca. 1820) captures the view from atop the arch of the bridge looking down into a nearby creek in Rockbridge County, Virginia. Several works in the exhibition are on loan from institutions across the country including the Chrysler Museum, the Fralin Museum of Art at the University of Virginia, the Mead Art Museum at Amherst College, the Metropolitan Museum of Art, the Nelson-Atkins Museum of Art, the Virginia Museum of History and Culture, and the Yale University Art Gallery, as well as from private collections.
More information about Virginia Arcadia: The Natural Bridge in American Art can be found on the museum's website.
comments
Photos: Preview of Dominion Energy GardenFest of Lights at Lewis Ginter
November 23rd is when you can check out the lights at Lewis Ginter but last night we were lucky enough to get a sneak peek.
Full details on Dominion Energy GardenFest of Lights can be found here or on the Lewis Ginter website.
comments
InLight 2020: Safety and Accountability will be Spread About the City
The exhibition of contemporary light-based artworks, will take place November 12 – 15, 2020 at sites across Richmond.
Usually, the 1708 Gallery's 13th annual InLight is held in one location allowing the various exhibits to be within easy walking distance from each other. This year the theme of Safety and Accountability hints to a new setup for InLight. The exhibition of contemporary light-based artworks, will take place November 12 – 15, 2020 at sites across Richmond and will address the paired themes of Safety and Accountability. Learn more.
PARTICIPATING ARTISTS
Afrikana Independent Film Festival; Amy Smith; The Anderson; Barry O'Keefe; Black Matter Productions; Caitlin & Misha; Calvin Brown; Carl Patow; Christine Wyatt & Amena Durant; Dustin Klein, Alex Criqui, Miguel Carter-Fisher, & Josh Zarambo; The Kinfolk Effect; LaRissa Rogers; Mariana Parisca & Sandy Williams IV; New Negress Film Society; Performing Statistics; Stephanie J. Woods; Victor Haskins & ImproviStory
 You can check out the interactive map here. Of the 18 exhibits only one is on the southside of Richmond and it's only on Friday night.
More Photos from last year's Inlight and from 2018
comments