PHOTOS & GAME SUMMARY: Rams Bury the Patriots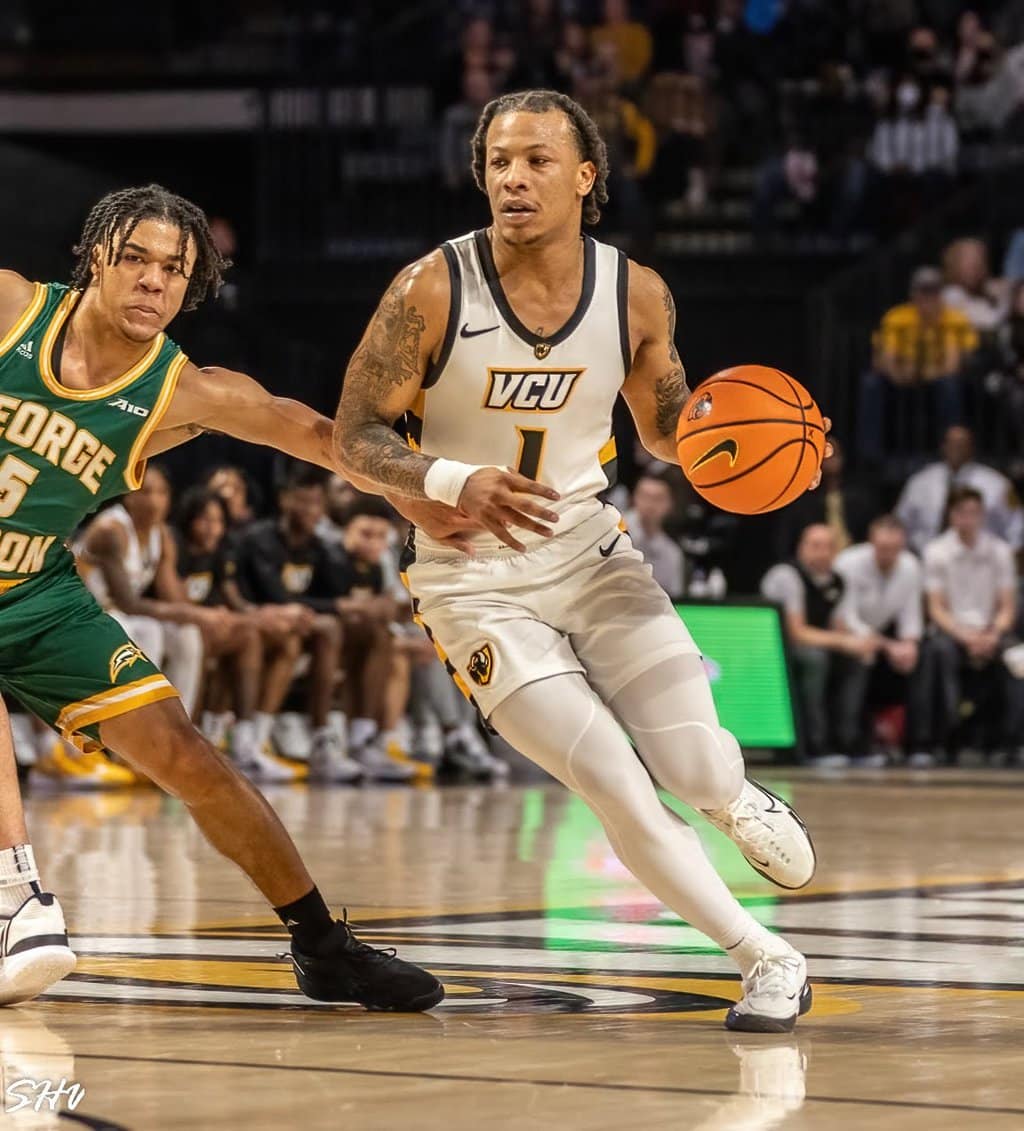 Score: VCU 72, George Mason 52
Location: Richmond, Va. (Stuart C. Siegel Center)
Records: VCU 16-5 (7-1 Atlantic 10), George Mason 12-9 (4-4)
Attendance: 7,637 (sellout)
The short story:  Senior David Shriver, sophomore Jayden Nunn, and graduate student Brandon Johns Jr. each put up double figures with 13, 12, and 11 points, respectively, as the Rams seized the lead early and  never looked back to push their winning streak to six and maintain their spot atop the Atlantic 10 standings.
OPENING TIP
Shriver continued his red-hot shooting in conference play, going 3-of-5 from the beyond the arc. Shriver has shot 58.5 percent (24-of-41) from three-point land in eight Atlantic 10 contests
Nunn's 12 points came on 4-of-9 from the field and a perfect 3-of-3 from the free throw line
Johns Jr. hauled in seven rebounds to go along with his 11 points on 5-of-7 shooting
Junior guard Ace Baldwin Jr. filled up the box score with nine points, a career-high nine rebounds, and seven assists
Josh Oduro led the Patriots' charge with 19 points on 8-of-11 from the field. Victor Bailey Jr. also scored double figures for George Mason with 12 points, nine of which came on three-pointers
THE DIFFERENCE
After George Mason got out to a quick 4-0 lead, the Rams responded with a 12-3 scoring run over 2:12 that started with a Baldwin Jr. jump shot and capped off by a Nunn 3-pointer at the 14:59 mark of the first half
VCU closed out the first half with a 9-3 run over the final 3:39, with three points from redshirt sophomore Jamir Watkins, two points from Nunn, and four points from Johns Jr. to take a 39-23 lead into the locker room
The Patriots got as close as 10 in the second half with a layup from Oduro at the 15:31 mark, but George Mason could get no closer as the Black and Gold kept them at bay
It was a complete team effort from the Rams, as their bench outscored George Mason's bench by a resounding 29-6
VCU also crashed the glass to the tune of a 35-24 rebounding advantage. George Mason went into the game third in the Atlantic 10 in rebounding margin, getting on average four more boards per game than their opponents
NOTABLE
The Rams kept up their recent run of success with their sixth straight win in Atlantic 10 play. Of those six victories, five came by double digits, with the lone exception being the 63-62 win on the road at Dayton
VCU now improves to 46-22 overall against George Mason, including 15-6 in the Siegel Center
UP NEXT
The Rams will stay at home when they host St. Bonaventure on Saturday, Jan. 28. Tip-off at the Siegel Center is scheduled for 6 p.m., and the game will be broadcast on CBS Sports Network.
Will you help support independent, local journalism?
We need your help. RVAHub is a small, independent publication, and we depend on our readers to help us provide a vital community service. If you enjoy our content, would you consider a donation as small as $5? We would be immensely grateful! Interested in advertising your business, organization, or event? Get the details here.