Become a River Hero no cape required
The cape isn't required but you'll look much cooler if you do wear one, it's a scientific fact capes are cool.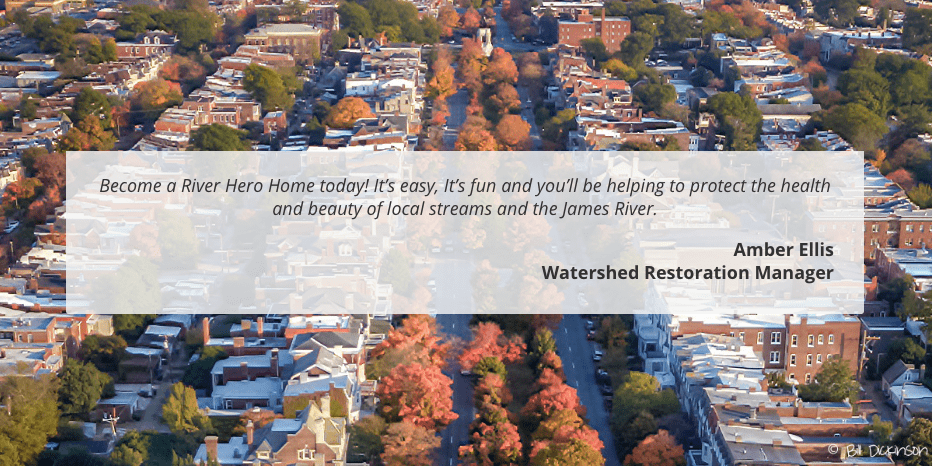 As we inch, okay jump, towards spring many thoughts turn to the James River. People are spending more time there and with developments such as the T-Pot bridge it is even more accessible. It is one of the many reasons that Richmond is a wonderful place to live. The James also needs all of our help to continue to improve. Some of biggest ways to help the river can help in your own backyard.
Take the pledge and help take care of the river.
From the James River Association:
Homeowners living in the James River basin are invited to join the James River Association in celebrating River Hero Home month this March. Throughout the month, the organization will bring awareness to stormwater runoff and promote ways to stop pollution in your own backyard to improve water quality in the James River.

Stormwater runoff continues to be one of the largest threats facing the James River. Every time it rains, fertilizers, herbicides, bacteria from pet waste, and chemicals flow from our properties into local waterways. This pollution can make the James River unsafe for people and wildlife.

Becoming a River Hero Home is an easy way to help protect the James River. Anyone living in the James River basin can join by signing a simple online pledge to protect the James through everyday river-friendly actions like picking up after your pet or reducing lawn fertilizer. While these actions may seem small, when adopted on a wide scale, they can have a significant impact on local water quality.

During the month of March, the James River Association will celebrate existing River Hero Homes and invite other James River watershed residents to join the program. The organization will be hosting a series of

workshops, garden tours, and rain barrel sales

to inspire and empower others to take action toward the shared the goal of a healthy river. A social media campaign will feature blogs on existing River Hero Home members, tips on choosing native plants and upcoming river-friendly events happening throughout Virginia.

"Even if you can't see a river or stream from your house, your actions still impact the health of the James River and its tributaries," said Amber Ellis, Watershed Restoration Manager for the James River Association. "Many people don't realize that much of the rain water that enters storm drains is not treated. It flows across yards and streets and directly ends up in local waterways."

Participation in the James River Association's River Hero Homes program is open to anyone living within the James River basin. More information is available at 

www.jamesriverhero.org

.
Will you help support independent, local journalism?
We need your help. RVAHub is a small, independent publication, and we depend on our readers to help us provide a vital community service. If you enjoy our content, would you consider a donation as small as $5? We would be immensely grateful! Interested in advertising your business, organization, or event? Get the details here.