Photos & Game Summary: Rams Come From Behind to Claim a Spot in the Final
VCU will next host the A-10 Championship against Dayton on Sun., Nov. 12th at noon with an automatic bid to the NCAA Tournament in play.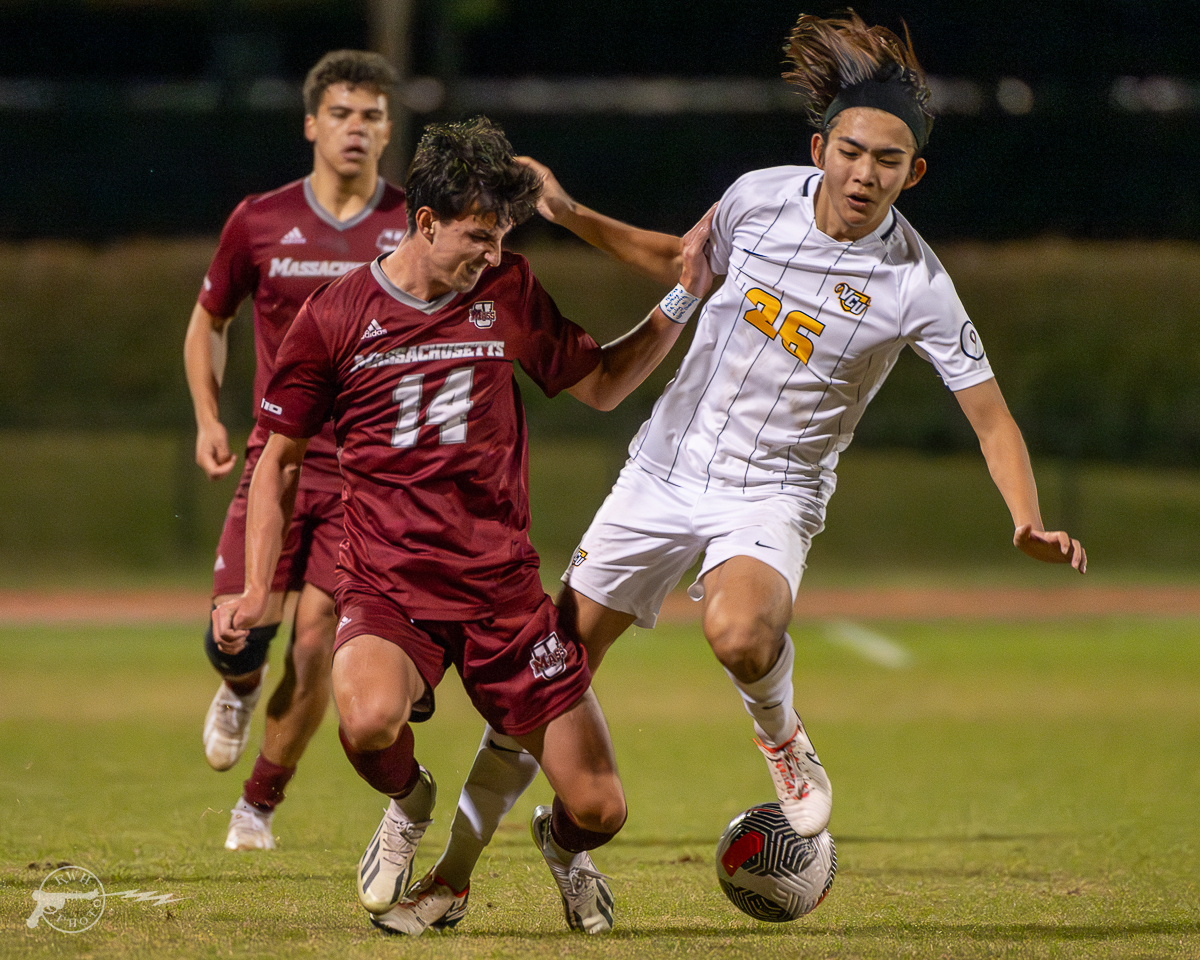 Score: (RV) No. 1 VCU 3, No. 7 Massachusetts 1
Location: Richmond, Va. (Sports Backers Stadium)
Records: VCU 7-5-5, Massachusetts 7-6-6
THE SHORT STORY: Despite giving up an early goal, RV VCU Men's Soccer responded with two first half goals and a third in the second half to secure their spot in the Atlantic 10 Tournament Championship Game on Wednesday evening.
VCU now heads to its first A-10 Championship game since 2017 and has a chance at a second A-10 trophy this season.
"A great and gritty performance by the boys tonight moves us on to Sunday," said Head Coach Dave Giffard. "UMass is such a well coached team and is very tough to play against. I was proud of the guys tonight for dealing with the way they play and finding a way to get three goals and move on."
PITCH SIDE
Andrey Salmeron had the equalizing goal, his third of the season
William Hitchcock also netted his third goal of the season to give VCU insurance in the second period
VCU's opening goal was an own UMass goal scored off a corner
Jonathan Kanagwa assisted on Hitchcock's goal, also his fifth of the season
John Ermini made the start in goal, stopping three shots
Salmeron led the team with five total shots
Papa Toure, Kanagwa, and Castillo each added two shots
VCU outshot the Minutemen, 13-11, finishing with six shots on goal to UMass' four
HOW IT HAPPENED
UMass attacked early, taking a shot on goal in the tenth minute that was saved by Ermini
The Minutemen scored their lone goal shortly after their first shot by Michael Rojas
Following their goal, the Rams did not allow a shot from UMass for the rest of the half
In the 42nd minute VCU took a corner that found the near post, taking a deflection off a UMass defender's head to go in for an own goal which tied things up at 1-1
VCU didn't spend much time equalized with UMass as Salmeron took a shot just outside the box with 22 seconds left in the half to give the Rams the lead going into the intermission
VCU began the second half aggressively, taking two shots from Kanagwa and Castillo on a breakaway
After Kanagwa's shot hit the goalpost, Hitchcock connected with the ball to give VCU a two-goal lead
Ermini made an impressive save from a shot way outside the box to hold the Minutemen to their single goal
In the end, VCU was able to close out the 3-1 win and move on to the title game
UP NEXT: VCU will next host the A-10 Championship against Dayton on Sun., Nov. 12th at noon with an automatic bid to the NCAA Tournament in play.
Will you help support independent, local journalism?
We need your help. RVAHub is a small, independent publication, and we depend on our readers to help us provide a vital community service. If you enjoy our content, would you consider a donation as small as $5? We would be immensely grateful! Interested in advertising your business, organization, or event? Get the details here.