Photos & Game Summary: VCU and Maryland Ends in Scoreless Draw
The Rams finished with 10 shots, with three on goal while Maryland had 14 shots and sent six on goal.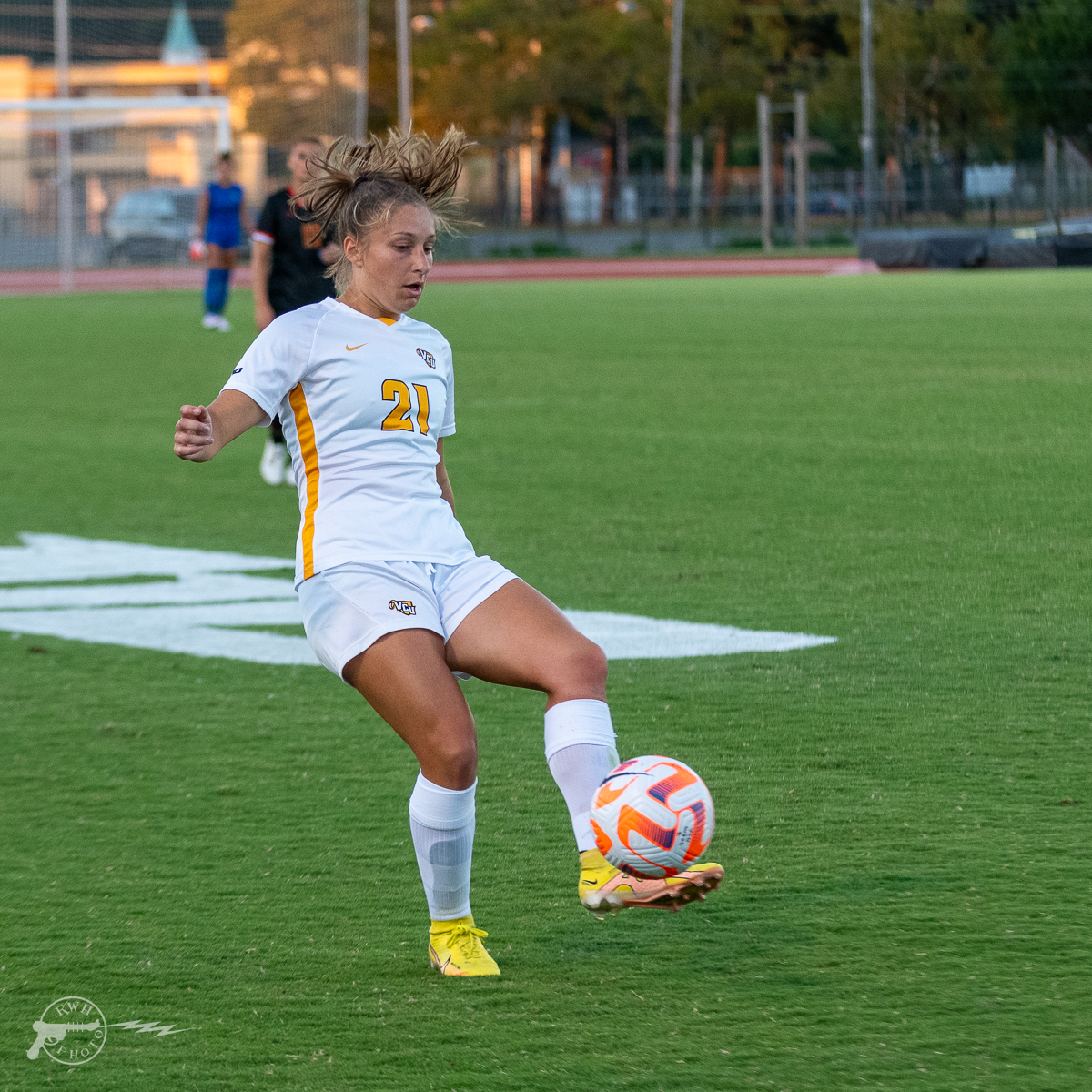 Score: VCU 0, Maryland 0
Location: Richmond, Va. (Sports Backers Stadium)
Records: VCU 1-2-2, Maryland 0-1-4
THE SHORT STORY: In an end-to-end match at Sports Backers Stadium, VCU Women's Soccer played to a scoreless draw against Maryland on Thursday evening.
VCU's goalkeeper, Allison Karpovich, was on her head all evening recording six saves. The VCU keeper came up big in the second half, recording five saves during the final 45 minutes to keep VCU in the match.
"Other than being unfortunate to not touch the scoreboard tonight, this was our most complete performance of the young season," said head coach Lindsey Martin. "From front to back we looked sharp in possession and pressed well off the ball. I'm proud of the work rate and energy on the field and on the bench tonight."
PITCH SIDE
The Rams finished with 10 shots, with three on goal while Maryland had 14 shots and sent six on goal
Aisha Maughan led the Rams with three shots, two that were on target as she helped push VCU's tempo
Milica Bulatovic ripped four shots of her own, although none were on target
It was the second-straight for the Rams, having drawn William & Mary 1-1 on Sunday (Aug. 27)
HOW IT HAPPENED
The first half was relatively quiet, with Bulatovic ripping the first two shots of the match in the 15th and 22nd minutes that both went up and over the bar
In the 37th minute, Karpovich made the first of her six saves when she collected a shot that went bottom center from Maryland's Katie Coyle
The Rams got their first shot on goal when Maughan ripped one in the 37th that was saved in the bottom right by Maryland's Liz Beardsley
During the second half, things began to open up, despite Maryland holding possession the Rams were able to respond throughout
VCU's first chance of the half came on a Maryland turnover deep in their final third, a turnover that Kendyl Sarver pounced on before sending it high and over the net
Sarver's shot was in the middle of four big saves by Karpovich. The first coming in the 53rd minute, and she followed that up with saves in minutes 56, 57 and 65.
Karpovich weathered back-to-back attempts from Maryland in the 56th and 57th minutes to keep the Terrapins off the board
In the 81st minute Karpovich made her final save and it set up an exciting final 10 minutes of action
Following Karpovich's 81st minute save, VCU quickly flipped the field and a ball sent up to Anna Bagley put the VCU forward one-v-one with a Maryland defender
It was here that contact was made and Bagley went to ground, but the official did not call for a penalty kick as play continued
In the 89th minute the Rams got one final shot on goal from Jordan Pieklo's ball that went bottom center of net but it was kept out, keeping the final score at 0-0
UP NEXT: VCU heads to Charlottesville, Va. on Sept. 3 for a matchup against No. 5 Virginia before returning home on Sept. 7 to welcome No. 11 Stanford to Sports Backers Stadium.
Will you help support independent, local journalism?
We need your help. RVAHub is a small, independent publication, and we depend on our readers to help us provide a vital community service. If you enjoy our content, would you consider a donation as small as $5? We would be immensely grateful! Interested in advertising your business, organization, or event? Get the details here.