Timeline and what to expect: Virginia plans 100% electric vehicle sales by 2035
Electric vehicle registration has increased in Virginia. The state mandate to have 100% of new vehicle sales be electric by 2035 helps drive this trend, but efforts to prepare consumers and infrastructure are just getting started.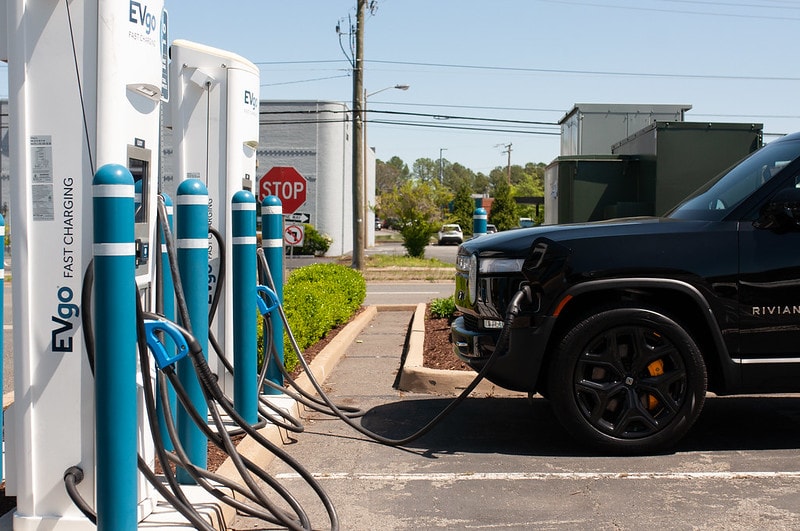 By Adrianna Lawrence
People who own electric vehicles often try to help other drivers understand the investment, and benefits.
EV owner Jess Wooten is no exception. Wooten is on his second Tesla Model 3.
"I definitely wanted to be more sustainable with my purchases and I felt that getting an electric vehicle was a great investment," Wooten said.
He offered to drive a Capital News Service reporter around Richmond to detail his experience owning one.
Wooten estimated he has driven approximately 10,500 miles. "I've spent $105 as of today," he said about his "fuel" cost.
Electric vehicle owners and industry advocates all talk about the savings. After all, the state average for a gallon of regular gas at the beginning of May was $3.39. The national average was $3.58 per gallon, according to AAA.
But, the entry cost to EV ownership can be high for the average consumer, even with federal and state tax credit incentives.
Regardless, EV registration is on the rise in Virginia. There were 55,823 EVs registered in the state as of March 31, according to the Virginia Department of Motor Vehicles.
And there will be many more registered in the next 12 years, due to the state mandate that all new vehicles sold must be electric by 2035. The first checkpoint along the timeline to fulfill that mandate is 35% of all new cars and trucks sold in Virginia with a 2026 model year must be electric.
Lawmakers and citizens are worried about the obstacles along the way to complete the switch.
Virginia legislators passed the Clean Car law in 2021, which was adopted from the California standard. Virginia was the 15th state of 17 to adopt California's standards, according to the California Air Resources Board. The state applied for an Environmental Protection Agency waiver to expand standards under the federal Clean Air Act.
Transportation is the biggest contributor of air pollution in the state, according to the Virginia Department of Environmental Quality. State Democratic lawmakers passed the 2021 legislation along party lines when they had control of the General Assembly.
Republicans recently supported legislation to reverse the law, which takes effect next year.
Lawmakers questioned if the state and consumers are ready to support an EV-only market by 2035. Other concerns included the initial cost to purchase an electric vehicle, continued maintenance cost, if Virginia's power grid can sustain EV charging stations, and the overall impact on the automotive industry.
Going EV: Cost of ownership
Electric vehicles are usually more expensive than gas-powered cars, according to Bill Magavern, policy director for the Coalition for Clean Air in California. The average EV price is just over $61,000, according to Kelly Blue Book data from December 2022.
Manufacturers have focused too much on production of luxury EVs, Magavern said. But they will have to market to all consumers soon, especially with the obligation to sell zero-emission cars.
Some manufacturers have already announced affordable EVs coming to the market, Magavern said.
"Ford, Volkswagen — the companies that do tend to cater to every class of buyers, they've announced plans to do that," Magavern said. "The manufacturers are getting better at learning how to make affordable cars."
The compact sedan Tesla Model 3 is currently the most affordable Tesla offering. It is often compared to the Toyota Corolla in size but the starting price is higher, even with the current EV tax credit, according to manufacturer websites.
Tesla promised a newer entry level model is on the way, and also to reduce EV assembly costs by half, AP news reported.
The five-passenger, hatchback Chevy Bolt starts at $26,500 and is eligible for a tax credit, according to Car and Driver.
Electric vehicles are cheaper than gas-powered cars when consumers take into account the maintenance costs and gas money to power them, according to Magavern.
EV owners and advocates tout the entry level price as comparable to other vehicles, but most lower priced EVs are smaller in size, according to a survey of auto manufacturer websites.
Charging up: Virginia's power grid
Electric vehicle drivers generally spend the equivalent of $1 per gallon for a complete charge, according to Kate Staples, director of electrification for Dominion Energy.
An EV owner would use about 10 kilowatt hours to charge an electric vehicle, or an estimated monthly 300 kilowatt hours, according to Staples. Drivers would see about a 30% increase in an electric bill, according to Staples.
"While your electric bill might go up, you're certainly going to be saving in your pocketbook from not having to go to the gas station," Staples said.
Dominion Energy is the state's largest public electric utility. Virginia's electrical grid is currently powered by nuclear, natural gas, renewable energy and some coal and oil, Staples said.
The future grid in 2035 will be able to sustain the demand of more electric vehicles on the road and support the Clean Car law, Staples said.
Dominion is required to regularly file plans every few years on how it will meet Virginia's power needs in the next 15 to 30 years, Staples said.
"As the needs of our customers grow, we will be planning the grid to serve them," Staples said.
Dominion Energy is moving toward cleaner cars and a cleaner power grid, regardless of whether or not the law is implemented, Staples said. Dominion aims, in part, to help meet that goal through the Coastal Offshore Wind Project.
Going the distance: How to 'fuel' up
An EV can drive 150 to 400 miles on average before it needs to be recharged, according to the Department of Energy, although many drivers plug in daily.
There are three different types of chargers:
‒ Level 1 charging: provides 5 miles of distance per one hour charge
‒ Level 2 charging: provides 25 miles of distance per one hour charge
‒ Level 3, or DC fast charging: charges in approximately 30 minutes for a 100 to 200-plus mile trip
"I actually find that it can be a very pleasant way to take a trip," Magavern said, when drivers plan accordingly. "You do a lot of charging while you're eating lunch, for example."
Virginia continues to roll out more EV chargers across the state, according to Trip Pollard, senior attorney for the Southern Environmental Law Center.
Fast chargers will eventually be within 30 miles of 90% of Virginians, Pollard said.
Virginia received incremental federal funding for charging infrastructure that will ultimately exceed $100 million, according to Pollard. The state will receive more funding from the National Electric Vehicle Infrastructure, or NEVI program.
"That's probably the most significant thing that's happening right now in Virginia to prepare us," Pollard said.
Private businesses such as Tesla and Plug In America have already installed charging stations across the state, Pollard said. There are currently 1,142 public charging stations in Virginia, according to the Department of Energy's fueling locator.
The General Assembly passed legislation in 2018 and 2019 to expand charging infrastructure. Failed lawmaker efforts in the recent session would have empowered localities to require charging stations as part of new, larger developments.
"The entire market is shifting toward more electric vehicles," Pollard said.
Building the fleet: Manufacturer response
Many major auto manufacturers have promised that 40% to 50% of sales will be electric by 2030. Honda hopes to expand to 100% EV sales by 2040.
General Motors plans to offer a full suite of electric vehicles, including affordable, luxury and trucks, according to Matt Ybarra, GM senior manager for public policy communications.
"GM has laid out its plan to be carbon neutral by 2040 in global products and operations, and plans to eliminate tailpipe emissions from new light-duty vehicles in leading markets by 2035," Ybarra stated in email.
About 80% of the assembly process for electric vehicles is similar to gas-powered vehicle production, due to investment in production plants, Ybarra stated.
Seventeen car manufacturers have promised to go electric, some within five years, according to Consumer Reports.
Gas-powered vehicles will still cruise Virginia roads after 2035, but all new sales will cease. Some lawmakers are concerned that residents will look to surrounding states and drive revenue out of Virginia.
Adopting the playbook: What California is doing
California has taken many steps to prepare for the Clean Car standard, Magavern said.
The state currently receives federal tax incentives toward EV purchases. This helps lower the upfront costs associated with electric vehicles, Magavern said. California incentivizes automakers to manufacture electric cars that cost less than $20,275 but only for model years between 2026 through 2028, according to the Associated Press.
Lawmakers established the Virginia Electric Vehicle Rebate Program in 2021, but have not funded the program, according to the state budget. In theory, the program would offer $2,500 rebates for new and used electric models from select state dealers.
California utility companies also offer incentives for charging during off-peak hours. Less electricity is used to charge between midnight and 8 a.m., Magavern said.
"Then that actually helps to spread out the cost of the grid over the 24-hour period," Magavern said.
Virginia offers something similar through Dominion Energy's Off-Peak Plan but with a limited 10,000-customer capacity.
Getting to know the EV: 'Take a test drive'
Other states that implement this standard should educate residents on electric vehicles, and focus on charging infrastructure, Magavern said.
"A great way to do that is by having ride and drives, where people have the experience of driving the car and you know, they can easily be shown how to charge them," Magavern said.
On a relatively quiet test drive around a loud city, Wooten talked about why he first bought an EV. He switched to a Tesla with tax incentives and credits, Wooten said.
Incentives are a big factor to consider when making the switch. Legislators should push consumers to switch to electric cars, according to Wooten.
Manufacturers should be pushed with deadlines to offer electric options. That requirement is essential, Wooten said.
"I think not everyone will make that push on their own and sometimes some correct legislations or incentives like a tax incentive, I think that's a great way to encourage people to buy electric vehicles," Wooten said.
He encouraged drivers to just go test drive one.
"Drive any electric vehicle that you're curious about and you'll be surprised because these cars are incredibly quick, they're fun to drive, you won't believe how fast they can go," Wooten said.
Tesla steering wheels can even act as a game controller for video games like Mario Kart while parked, according to Wooten.
He shared it is one of the many reasons he enjoys his electric vehicle.
Will you help support independent, local journalism?
We need your help. RVAHub is a small, independent publication, and we depend on our readers to help us provide a vital community service. If you enjoy our content, would you consider a donation as small as $5? We would be immensely grateful! Interested in advertising your business, organization, or event? Get the details here.