PHOTOS: Estes delivers "truckload of happiness" to Children's Hospital of Richmond at VCU ahead of move-in day
Move-in day is set for April 30th.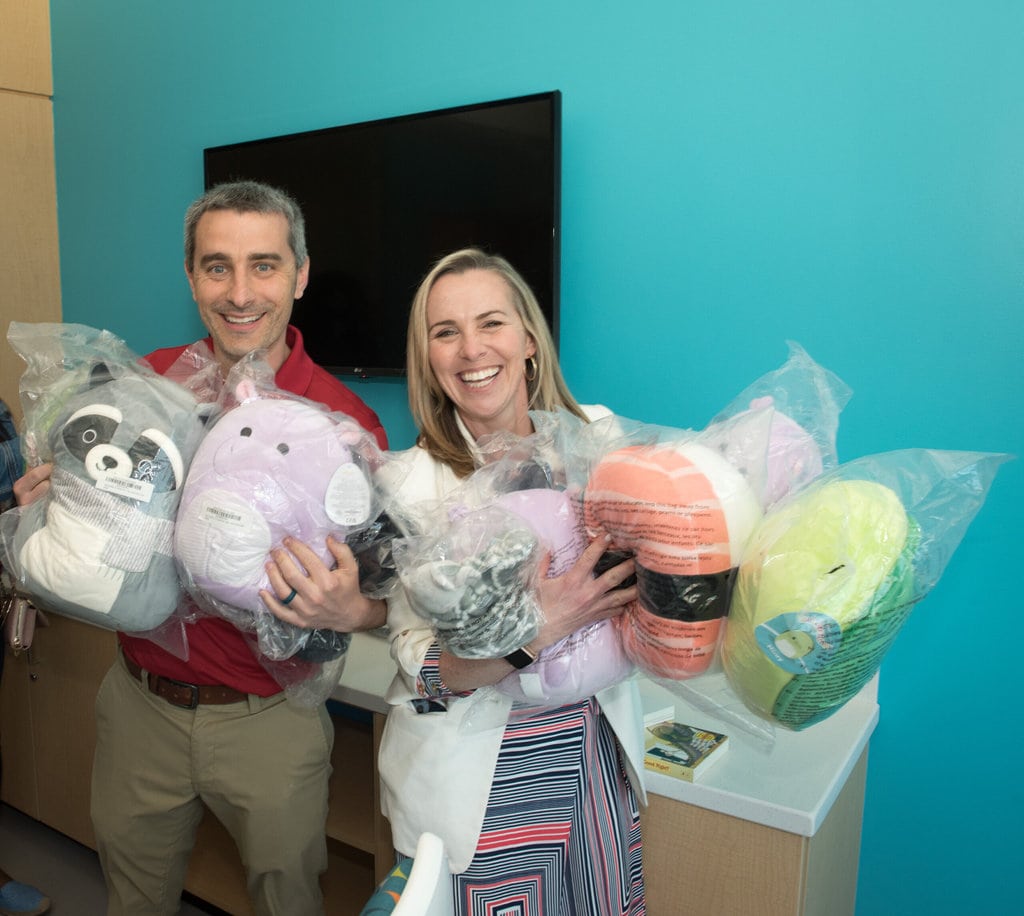 Earlier this week, Richmond-based Estes, the largest, privately owned freight carrier in North America, arrived at the Estes Loading Dock at Children's Hospital of Richmond at VCU with a truckload full of happiness for children and families. As part of its Pack the Playroom initiative, Estes donated and delivered a child life's full wish list of important items needed in the playroom that will inspire creativity and age-appropriate play.
In addition to the playrooms, Estes employees came together to purchase more than one hundred Squishmallows that will be placed in the new private patient rooms on move-in day, set for April 30.
"As a parent and part of a multi-generation, family-owned business, supporting the Children's Hospital of Richmond at VCU is something we deeply care about, as it's so important to the well-being of the entire community where all of us are raising our families," said Carrie Estes Johnstone, Vice President, Customer Experience and Innovation. "Children deserve the best possible medical care, and we believe that kids also need joy, wonder and play to help them thrive. We hope these items bring a smile to the faces of those brave kids and their families."
"This donation is especially meaningful as these playrooms serve a number of purposes for the children and families at ChoR. They invoke imagination, they are a place to heal through play and they help bring a sense of home to the hospital," said Bethany Fisackerly, Child Life Supervisor Children's Hospital of Richmond at VCU. "On top of that, having Estes employees pitch in to donate Squishmallows for every patient will surely deliver smiles throughout the Tower."
The Pack the Playroom effort was donated by Webb Estes and Carrie Estes Johnstone as a follow-up to the Estes family's 2021 $1.85 million donation to the Wonder Tower as part of Children's Hospital Foundation's $100 million capital campaign. Estes Express Lines also donated $150,000 on behalf of its employees. Both donations were matched pushing the total donation to $4 million towards advancing children's health in Richmond.
"We are honored to have the support and dedication of Estes Express Lines employees and the Estes family as we continue to deliver world-class pediatric health care to the children of Richmond and beyond," said Lauren Moore, President and CEO of Children's Hospital Foundation. "Having Estes voice its support and go above and beyond for the cause is extremely meaningful, and we're grateful to have partners and friends in the entire Estes team."
The new Children's Tower at Children's Hospital of Richmond at VCU will open on Sunday, April 30. Children's Hospital Foundation's Built for Kids campaign has raised nearly 70% of its goal and will continue to run through 2025.
Will you help support independent, local journalism?
We need your help. RVAHub is a small, independent publication, and we depend on our readers to help us provide a vital community service. If you enjoy our content, would you consider a donation as small as $5? We would be immensely grateful! Interested in advertising your business, organization, or event? Get the details here.