RVA Beer Explorer: Holiday Movies, Covenant Festival, 10th Anniversary for COTU, Jurassic Pasties
If you're like me you're cold and grumpy maybe a beer will help.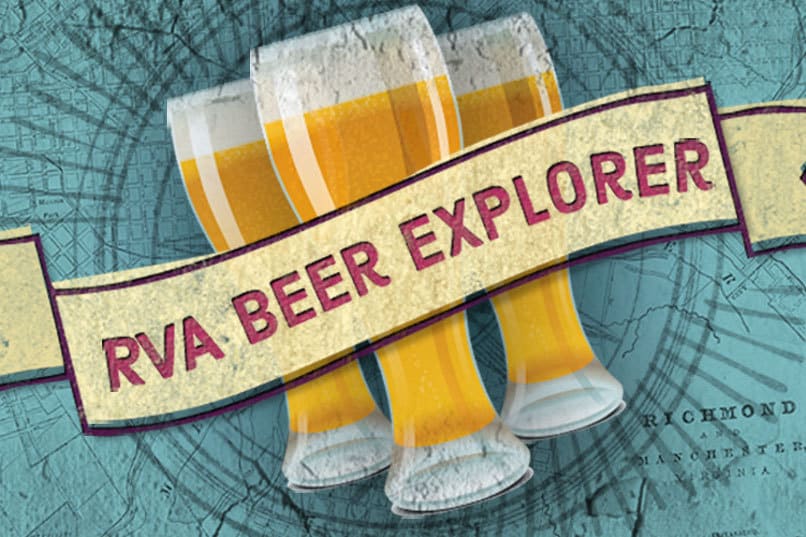 GO DO THIS
Movies and beer just like I do at home but don't have to struggle to pick something. It's already picked for me.
We live for the holiday season, so we're starting the celebrations early 🎁
Join us Tuesdays at 7PM for movies to put you in the spirit 🍺
11/1 👹 Krampus
11/8 🧳 Unaccompanied Minors
11/15 👚 Mean Girls & Drag Bingo
11/29 🐲 The Grinch
12/6 🚂 Jingle Jangle
12/13 🎁 Elf & Drag Bingo
12/20 🎅 The Christmas Chronicles
12/27 👩‍👩‍👧‍👧 A Bad Moms Christmas
Email [email protected] about reservations!
Covenant to me sound ominous but it just means an "agreement or contract". An agreement or contract put a bunch of beers in my face.
⟁ 2022 Covenant Festival Entry & Glass Announcement ⟁
It's been three years since we all entered the Covenant, so it brings us great joy to return to our elegant display of well crafted beer and host this amazing festival with some world class brewers and friends here in Richmond.
COVENANT DETAILS ⤵️
⚔️ General Admission will begin at 12pm. Purchasing a ticket will yield you a custom Gold Foiled Covenant Glass that can be used through the duration of the event, as well as three (3) drink tickets.
⚔️ We will also offer early entry VIP tickets that will allow individuals to arrive and enter an hour before the event begins. VIP Session – $25 VIP Pack will grant you one hour early entry, a Gold Foiled Covenant Glass, and three (3) drink tickets.
⚔️ All VIP session tickets and glassware will be available at Will Call. No VIP Session will be sold day of event. Drink tickets are non-refundable.
🎟️ Tickets will go on sale November 5th, with early access to those individuals that are subscribed to our TC Can Drop Alerts. (More information coming)
🍺 Drink tickets will be $4 each. Each ticket will serve you a 4oz pour of beer. Two tickets can be exchanged for a 10oz pour. Additional drink tickets will be available for purchase on site. Drink tickets are non-refundable.
⚔️ Since this is a per pour ticketed event, pours will not be guaranteed from each brewery.
🕚 The event will run from 11a to 5pm with a VIP session starting at 11am and General Admission at 12p. The entire Fulton Brewpub will be used for the Covenant Festival from 11-5PM and tickets will be exchanged for beer during this time. We will follow the event with Triple Crossing beers and normal service. Any left over tickets after 5pm can be exchanged for equal sized pours of Triple Crossing beer on draft that day.
🛻 Food trucks TBA
⚔️ Covenant glassware will be available for purchase on site.
👀 Keep your eyes peeled for the list of breweries. This bout to be wild.

Seems just like yesterday that a brewery settled down in Ashland and I was nobody will got out that far for beer. Just add it to the extremely long list of things I've been wrong about over the years.


Happy Birthday to us! Help us celebrate 10 years of brewing beer and making memories all weekend long. The weekend is full of limited releases, live music, and eats from Legendary Provisions. Free to attend and open to all ages!
Friday 11/18
🎶 Live Music: 5:30 – 8:30 🎶
"Late Night @ Cookout"
🍺 Beer Release🍺
The Richard Imperial IPA – 9% Imperial IPA just like the first brew in 2012. Citrus and tropical fruit forward West Coast IPA with way too many hops!
Saturday 11/19
🎶 Live Music: 12:30 – 3:30 🎶
Chad's Fault
🎶 Live Music: 5:00 – 8:00 🎶
Earth and Lunar Rendezvous
🍺 Beer Releases🍺
Decadent Duderino – 10% El Duderino aged for 10 months in Bourbon Barrels. Draft and 16oz 4-packs.
Great Scotch – 8.7% Strong Scotch Ale Aged in Bourbon Barrels. Draft and Growler Fills.
Drunken' Uncle – 9% Lemon Grass Tripel aged in Bourbon Barrels. Draft and Growler Fills.
Pińa Colada Whip – 8% Pineapple Whip aged in Rum Barrels. Draft and Growler Fills.
Sunday 11/20
🎶 Live Music: 2pm – 5pm 🎶
Something Shiny
🍺 Beer Release 🍺
Holiday Spiced Donny – 6.5% Donny Coffee Brown Ale infused with Gingerbread spices. Draft and 16oz 4-Packs


Oh, you clever girl.

Dream…Fantasy…Destruction…Evolution of Tassel Twirling Adventure!
Burlesque finds a way. Hold onto your butts as Jurassic Pasties returns! This burlesque tribute to the franchise will feature the finest dinosaurs and your favorite characters.
Featuring:
Burton Quinn
Caramel Knowledge (Los Angeles)
Cece Dynamite (New Orleans)
Delilah Dentata (DC)
Ego Von Hubris
Ellie Quinn
Jim Dandy (DC)
London St. Juniper (DC)
Dino wrangler: Lolita Luxxe
Doors 6pm
Show 7pm
Ages 18 and up
$15 general admission
$20 day of show
$25 VIP (reserved front row seating, signed cast poster, and show themed gift bag)- limited to 20
Hardywood Park Craft Brewery
2410 Ownby Ln
Richmond VA 23220
The venue is accessible.
Parking: There is a small parking lot onsite of the venue, but it is limited currently due to construction. Parking is available on the street in a close radius.
Food and beverage availability: Hardywood has beer, cider, house red & house white wine, a gluten-reduced beer offering, locally-sourced kombucha, nitro coffee, and water. Hardywood has a pizza kitchen and light snacks.
By purchasing a ticket, you are agreeing to the zero-tolerance policy for any form of bullying or harassment which includes:
* No inappropriate or non-consensual physical contact;
* No unwelcome sexual advances or attention, whether indirect or explicit;
* No bullying, stalking, or following;
* No abusive or disrespectful language or physical conduct that reinforces social structures of domination related to race, place of origin, ancestry, gender identity and expression, sexual orientation, mental or physical disability, body size, age, religion, family status, source of income, or beliefs.


BEER NEWS
Triple Crossing Signs Deal with Sun to Produce Power
Not to be all Captain Planet-like, but we thought it worthwhile to show off just how we plan to harvest the power of the sun going forward. The shot above shows our newly installed solar panel array that will take maximum advantage of the abundance of sunlight that spills onto our roof at Fulton, otherwise going completely unused.
With this new solar array, we plan to offset most of our electrical power needs going forward and move closer to being carbon neutral. While not an uncommon undertaking in the beer game, it's given us a deeper respect for the stewards of our industry who have made deep commitments to sustainability for all the right reasons.


BEERSTAGRAM
View this post on Instagram
Will you help support independent, local journalism?
We need your help. RVAHub is a small, independent publication, and we depend on our readers to help us provide a vital community service. If you enjoy our content, would you consider a donation as small as $5? We would be immensely grateful! Interested in advertising your business, organization, or event? Get the details here.