Maymont toasts fall with beer, brats, music, and outdoor fun at Bier Garden event September 23 and 24
Enjoy live music, yard games, and fire pits while eating and drinking authentic German fare and beer.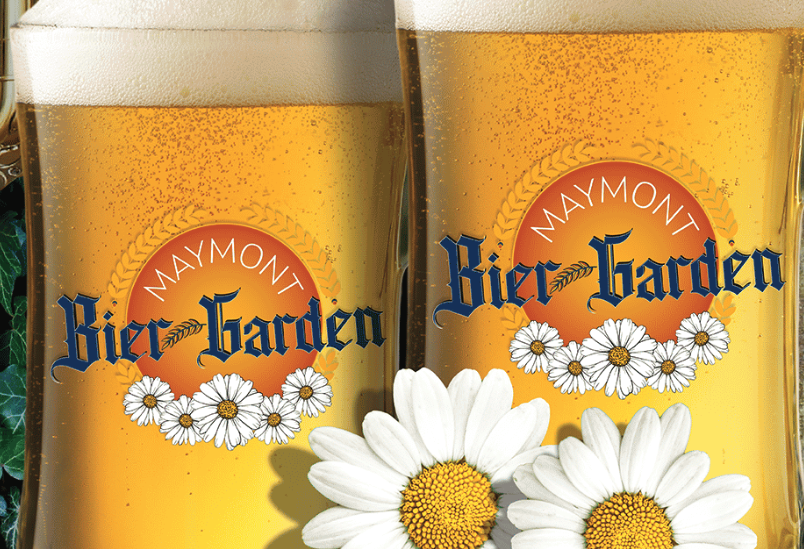 Maymont is toasting the arrival of autumn with Bier-Garden, a two-night Bavarian-style festival, September 23-24. Bring family and friends to the Festhaus on the Carriage House Lawn to hoist a stein filled with Paulaner's Oktoberfest bier, a local craft beer or cider.
Enjoy live music, yard games, and fire pits while eating authentic German fare, including bratwurst by The Mayor Meats, and schnitzel, sauerkraut, pretzels and more crafted by Capital Ale House. Lederhosen and dirndls encouraged!
Children are welcome, especially on Saturday, when the Kinderzone offers live entertainment, crafts and games from 11am – 6:30pm. Everyone can join in a traditional Chicken Dance, or enter the Stein-Hoisting Contest presented by Capital Ale House.
Entertainment in the big Festhaus tent features the Pay Rent Brass Band on Friday night; polka from The Original Elbe Musikanten German Band on Saturday with a German dance troupe performance; and local ensemble Dalton Dash on Saturday night.
"When the trees start changing color and the air turns crisp, Maymont is a perfect place for an outdoor celebration," said Parke Richeson, Maymont Executive Director. "We love hosting big events on the lawn that bring in community members from all over the area to enjoy the fresh air and a good time together."
Guests are encouraged to register in advance, with all proceeds benefiting Maymont. Admission is $10 per person; $5 for children under 12 years of age. Members and children under 2 years admitted free. As a participant in the national Museums for All program, Maymont will give free admission to anyone with an EBT card, along with up to three guests (on-site only). Food and beverages are available on site for separate purchase.
For adults 21 and older, a Capital Ale House stein upgrade for $18 includes 16-ounce commemorative glass stein, with one token for a free serving and 16-ounce servings for each additional drink purchase.
Tickets are non-refundable. Bier-Garden is a rain or shine event, except in case of severe weather.
Kinderzone for Kids, Saturday, 11am – 6:30pm
Live entertainment from Tony Tunes and Jonathan Austin
Bavarian crafts, including lebkuchen (gingerbread heart necklaces) and coloring sheets
Face painting
Inflatable games
Food & Beverage
A selection of German-style food and fun treats will be available for separate purchase; drink tickets* are $7 each for a 12-ounce serving of German beer, craft beer or cider.
Beverage options include four selections by Paulaner, plus Bingo Beer Co., Stone Brewing and Potters Cider
Capital Ale House Stein Upgrade ($18) includes one 16-ounce commemorative glass stein, one free drink token and 16-ounce servings for each additional drink purchase
Roasted chicken and pork schnitzel, with sides of German potato salad, sauerkraut, red cabbage, pretzels and charcuterie crafted by Capital Ale House
Bratwurst by The Mayor Meats
Jiji Frozen Custard
Pops Kettle Corn
Funnel Cake Recess
Event parking is available at the Historic Estate Entrance and The Robins Nature Center in addition to street parking. The Farm entrance is closed for the event. Guests attending Bier-Garden will enter through the Magnolia Gates at the north end of the Historic Estate parking lot.
For more details on Bier-Garden and other events at Maymont, please visit the events calendar.
Will you help support independent, local journalism?
We need your help. RVAHub is a small, independent publication, and we depend on our readers to help us provide a vital community service. If you enjoy our content, would you consider a donation as small as $5? We would be immensely grateful! Interested in advertising your business, organization, or event? Get the details here.