Kickers at Home Against Tucson After Long Road Trip – Preview
The Kickers hope to keep FC Tucson in the basement while they scramble into first place.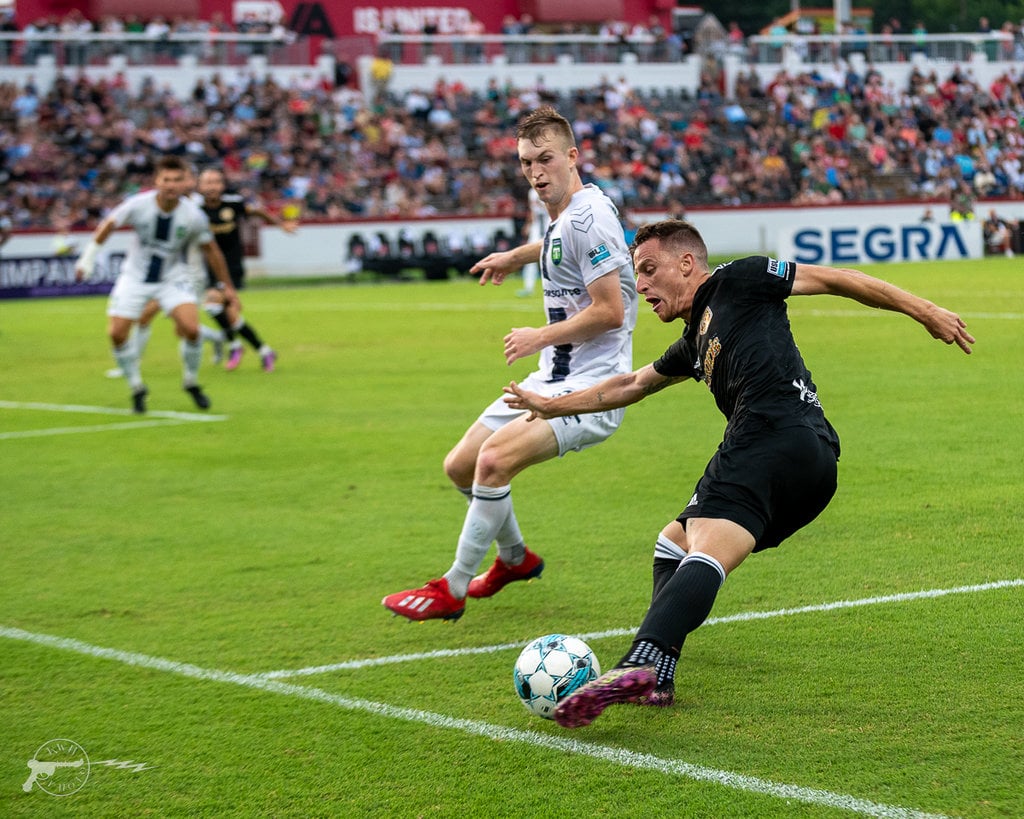 Opponent: FC Tucson (3 – 9 – 4)
Date/Time: Saturday, August 6th, 6:30 PM
Last Result: Kickers 1 – Northern Colorado 0
Weather Forecast from Weatherbug
This forecast is about as good as it gets in August.
Three Things to Kick About
Fighting for First – The Kickers dropped down a bit after two losses and then immediately regained those spots with back-to-back wins. Unlike other seasons the Kickers have been fairly rock steady. Rarely leaving the top 4. This consistency is key and they should be able to keep it up against a last place Tucson.
On the Road Again – The last part of July and early August the Kickers got their fill of travel. They played at home on July 16th but then headed to Fresno on the 23rd. Then it was back to Richmond and a bus trip down to Cary on July 27th. They capped it off by then flying to Colorado to face the Hailstorm on August 6th. Is there a term for worst than jet lag? because I'm sure the team has it right now.
Getting it Down Barely – The Kickers have won the past two games but just by the skin of their teeth. When in Cary on July 27th it was the 90th minute and the Kickers were down 2-1, they stormed back and with two goals and snatched a win. It was one of the most exciting and surprising games I've been lucky enough to watch. They followed up that excitement with more heroics in Colorado. The Hailstorm dominated every stat and rarely lost possession. Then in the 32 minute Golden Boot contender Terzaghi blasted a shot from 40 yards into the back of the net. That didn't change the flow of the game and without Fitzgerald in goal the Kicker would have surely lost.The excitement in Cary shouldn't be missed.
Prediction
I'm truly worried about this game. The Kickers have missed Jonathan Bolanos who despite missing the last 3? games still leads the league in assists with 7. Not to mention his 3 goals. No word on when he'll be back but the Kickers are not the same team without him. This combined with the previously mentioned travel makes it a tough match and will test their depth. The Kickers don't get any real rest either because the next two games are on the road as well. On the plus side Terzaghi is still in the running for Golden Boot with 9 goals and just two behind the leader some dude from Greenville. Bently also seems to have found his form a bit and has notched 5 goals and midfielder Nil Vinyals has 4. The Kickers have offensive depth like no Kickers team I've seen. With that being said there is no choice but to go with the home team.
Kickers 3 Tucson 1
Will you help support independent, local journalism?
We need your help. RVAHub is a small, independent publication, and we depend on our readers to help us provide a vital community service. If you enjoy our content, would you consider a donation as small as $5? We would be immensely grateful! Interested in advertising your business, organization, or event? Get the details here.