RVA Beer Explorer: 804 Day, Alex Fest, Forever Summer Fest, Hop Harvest Fest
The end of summer is on the horizon take advantage of every beer minute.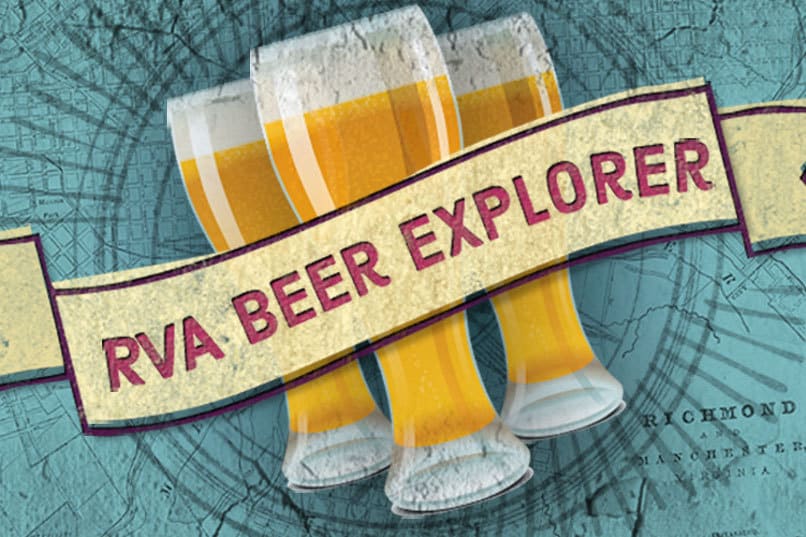 GO DO THIS
804 DAY – Celebrate RVA @ Buskey Cider!
August 4th
Happy 804 Day I hope Fixie Claus brings you a PBR and a knit cap. Yes, a cider event but there will be beer as well.
Celebrate RVA on #804Day! On Thursday, August 4th, aka 8/04 Day, Buskey Cider will be throwing the 6th Annual event, celebrating all that is Richmond!
🫐🍓🫐LIMITED RELEASE CIDER: We'll be releasing a special batch of 804 Day Buskey Triple Berry Cider in collaboration with Agriberry! Made with blackberries, raspberries, and strawberries. Available on draft only for a limited time.
🍖 FOOD: Snag some delicious local barbecue from our friends at 191 Smokery. 5pm-8:30.
🍺 LOCAL BEERS: Enjoy 804 Day with pints of cider and select beers from around the 804 in the cidery to celebrate. Available from 5pm on.
>> Steam Bell Beerworks (Midlothian) – Extra Plenty Cucumber Gose
>> Väsen Brewing Company (Scott's Addition, RVA) – Hefeweizen
>> Center of the Universe (Ashland) – Brewski Lager
🎨 ART: Create and take home your own 804 Day design! Materials provided.

Forever Summer Fest by Veil Brewing at ChildSavers 200 North 22nd Street
August 6th
Veil beers are great but if you go to the festival you might want to concentrate on non-RVA beers of which there are a ton.
We are beyond excited to welcome back Forever Summer Festival 2022!

After a long three-year break, we welcome you back to join us and our friends at ChildSavers, our annual local beneficiary for this annual charitable event.

All proceeds for this event will go to ChildSavers. For the kids. Visit www.childsavers.org for more information on this wonderful organization.

Forever Summer is an intimate festival that we bring to you where you can relax and enjoy great beer in one of the best overlooks our city has to offer. This event will be broken up into two sessions, A + B&C. There will be 175 tickets sold per each session. Everyone attendee will have the ability to taste each beer if desired.

Forever Summer Fest tickets are live! 🔊🌺🌺🌸🌸
https://www.eventbrite.com/…/forever-summer-festival…
What is included in ticket price:
🌸1x Forever Summer event tasting glass
🌺1x 3 oz. taste of each beer
🌸A festival map/menu card
🌺Special bottle of Starve: Exhibit E for take home only. The only way to receive this bottle is by attending Forever Summer.
LINE 🆙
Angry Chair, Cloudwater, Evil Twin, Other Half, Three Floyds, 3 Sons, Two Tides, Fidens, Root and Branch, American Solera, Bellwoods, Bissell Brothers, Bottle Logic, Cantillon, Cycle, de Garde, Fonta Flora, Half Acre, Hudson Valley, Jester King, J. Wakefield, Monkish, Ocelot, Oxbow, Pen Druid, Sante Adairius, Side Project, Drie Fonteinen, Suarez Family, The Answer, Trillium + MORE!
**Designated driver tickets are available at the door for $10. DD's will receive a different color wrist band and any sampling from the festival while wearing this wrist band is grounds for removal from the festival.**

Alex Fest at Center of the Universe Brewing
August 6th
Cool cars, motorcycles, music and beer. Sounds like a pretty nice Saturday.
Get your engines ready! We've got live music, fast cars, and cold drinks right here at Center of the Universe! Alex Fest is bringing an awesome car and bike show to our lot. That, PLUS live music from some of our favorite bands PLUS food from Legendary Provisions food truck! You don't want to miss this!
Band lineup…
Eric Tipton: 2-3
Crowded Minds: 3:30-4:30
Satellites and Friends: 5-6:30
Guntown (Alex Tribute band): 7-8

Hop Harvest Festival at Hardywood (Ownby Lane)
August 7th
I've always liked the long running tradition of Hardywood using local's hops in a beer. Sunday is the day to turn your home hopwork in to Hardywood.
Join us for a celebration of the hop!
🟢 Bring in your homegrown hop vines for use in this year's batch of RVA IPA and get a $5 Hardywood gift card
🟢 Pick fresh hops off the vine
🟢 Listen to tunes from Toad Head, Sincerely Iris, and Justin Trawick and the Common Good
🟢 Enjoy something delicious from the Hardywood Pizza Kitchen
*Original art from Tyler Thomas*

BEER NEWS
Bye-bye Legend Deck View
Plan for 13 and 17-story apartment towers could block iconic view of Richmond skyline – CBS 6
That view could soon change with the building of a new high-rise apartment.

Avery Hall Investors, a development company based in New York, has plans to build River's Edge II, an apartment complex set to include more than 500 units, at 301 West Sixth Street.

Plans include one 13-story tower and one 17-story tower.

These plans differ from the original building plans that were proposed back in 2019, which were then approved by Richmond City Council in June of 2020. Those plans called for an 11-story tower with up to 350 units.
It's not a done deal but we'll see or not see in the future.

BEERSTAGRAM
Will you help support independent, local journalism?
We need your help. RVAHub is a small, independent publication, and we depend on our readers to help us provide a vital community service. If you enjoy our content, would you consider a donation as small as $5? We would be immensely grateful! Interested in advertising your business, organization, or event? Get the details here.