Spiders win Atlantic 10 title over top-seeded Davidson by Two Points – Photos and Game Summary
The Richmond men's basketball team outscored top-seed Davidson 7-0 over the final 70 seconds to win the Atlantic 10 Championship and advance to the NCAA Tournament Sunday at Capital One Arena.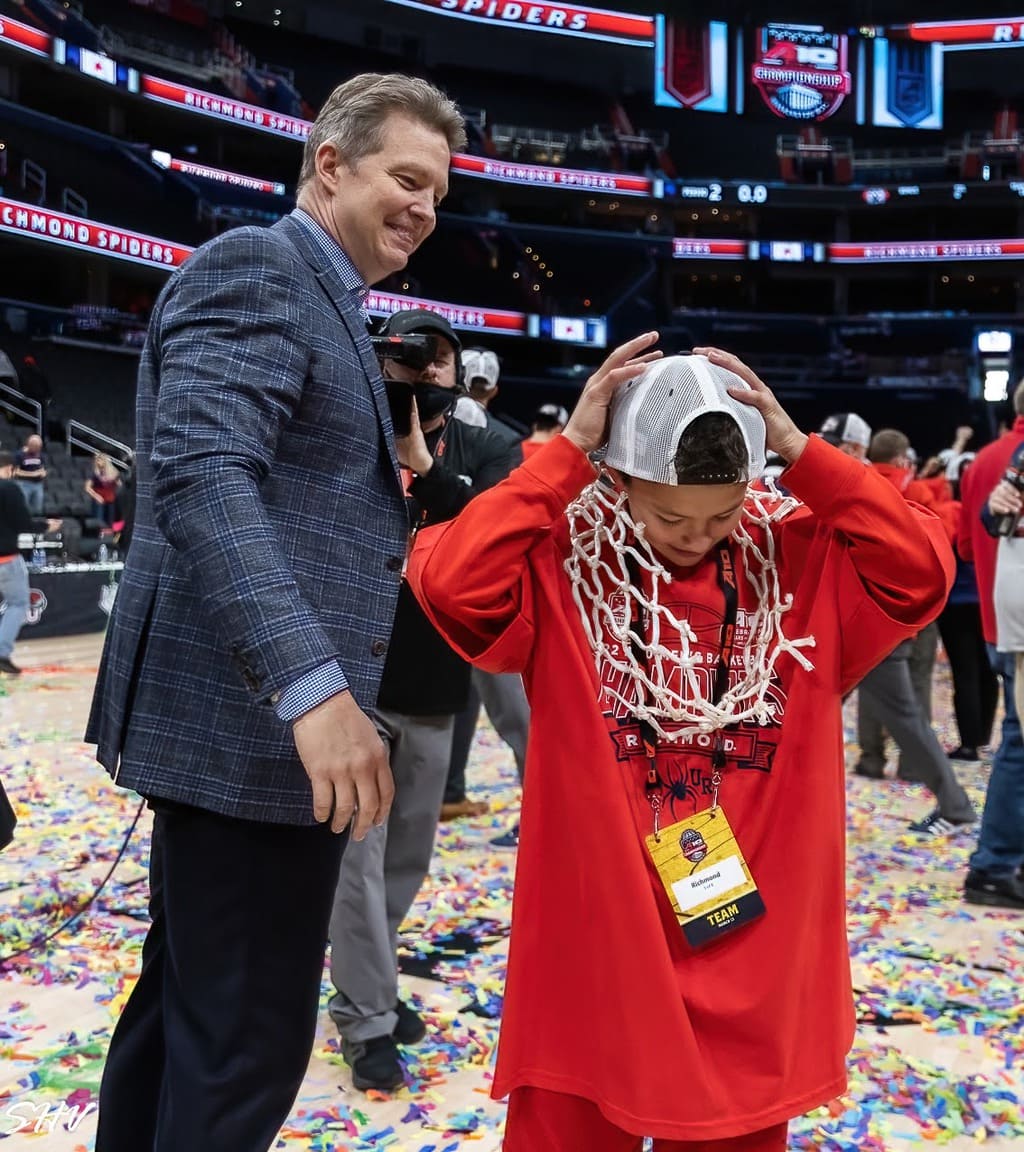 The Richmond men's basketball team outscored top-seed Davidson 7-0 over the final 70 seconds to win the Atlantic 10 Championship and advance to the NCAA Tournament Sunday at Capital One Arena.
"I'm thrilled and so happy for our team, all 20 players and the coaches and managers, but especially the six seniors who came back" said Richmond head coach Chris Mooney, referring to Jacob Gilyard, Grant Golden, Nathan Cayo, Nick Sherod, Jordan Gaitley, and Sullivan Kulju, who elected to use their additional year of COVID-19 eligibility to return to Richmond this offseason. "I think it's such a unique story and will continue to be unique as college basketball trends toward so many transfers and guys changing teams, so I don't think this story can be told enough. … For them to realize our dream of a championship today is very special and means a lot to me."
Gilyard, a graduate student, led Richmond with 26 points and was selected as the A-10 Tournament's Most Outstanding Player after averaging 19.8 points and setting a tournament record with 16 steals while playing all 160 possible minutes in Richmond's four games.
"Words can't really describe what this game and this tournament mean to me, and I'd imagine it's the same for the rest of our teammates. But to be able to do this with … guys that came in together and have been playing together for so long it just means the world to me. Those are my brothers."
After a pair of free throws gave Davidson a 62-57 lead with 1:17 remaining, Tyler Burton made a layup and was fouled, with the free throw cutting Richmond's deficit to 62-60. Burton missed a potential game-tying jump shot on the ensuing possession, but the ball deflected off Davidson and out of bounds.
Moments later, Spiders forward Matt Grace spun in the post and laid the ball up and in while being fouled, tying the score at 62 and sending the mostly Richmond crowd into hysterics. Grace made the free throw to complete the And-1 and give Richmond a 63-62 lead with 19 seconds left. "Big time. Incredible," said Mooney of Grace's go-ahead field goal.
Davidson missed a potential go-ahead three-pointer with five seconds left and fouled Gilyard with two seconds left on the clock. Gilyard made one of two from the free-throw line. After advancing the ball into the frontcourt with a baseball pass, Davidson called a timeout with less than two seconds on the clock. But Michael Jones' corner three-pointer at the buzzer was well-contested by Andre Gustavson and fell short, giving Richmond the 64-62 win and earning the Spiders their 10th NCAA Tournament appearance in program history.
The Spiders will face Iowa in the First Round of the NCAA Tournament Thursday in Buffalo, N.Y.
The Spiders came out quickly, opening the game on an 11-2 run, hitting five straight field goals at one point. Nathan Cayo scored four straight early on before guard Nick Sherod hit a runner forcing an early Davidson timeout. A bucket by Grant Golden stretched Richmond's lead to 24-18, but the Wildcats responded with an 8-0 run including back-to-back 3-pointers and took a 26-25 lead into the locker room.
The Spiders scored the first six points after halftime to regain the lead and led by six when a three-pointer by Gilyard made it 34-28 with 17:03 to play. An 11-5 Davidson run tied the game at 39, and the Wildcats stretched their lead to seven midway through the second half on a three-pointer by Sam Mennenga to make the score 49-42.
Richmond scored the next seven points, tying the game at 49 with 7:40 remaining when Gilyard stripped Loyer near the baseline and raced the length of the court, laying the ball in and drawing the foul for a three-point play.
Davidson again responded, taking a five-point lead on a pair of Loyer free throws with 1:17 to go. Richmond outscored the Wildcats 7-0 over the remainder of the game to secures its second Atlantic 10 title and first since 2011, when Mooney and the Spiders advanced to the Sweet 16.
Tyler Burton was the only other Spider in double figures, finishing with 16 points and a game-high 12 rebounds. Grant Golden had six points, two rebounds, and two assists and was named to the All-Tournament Team along with Gilyard.
Will you help support independent, local journalism?
We need your help. RVAHub is a small, independent publication, and we depend on our readers to help us provide a vital community service. If you enjoy our content, would you consider a donation as small as $5? We would be immensely grateful! Interested in advertising your business, organization, or event? Get the details here.