Kevin F. Hallock named University of Richmond's 11th president
The Board of Trustees of the University of Richmond has unanimously elected Kevin F. Hallock, an economist and compensation and labor market scholar, as the institution's 11th president.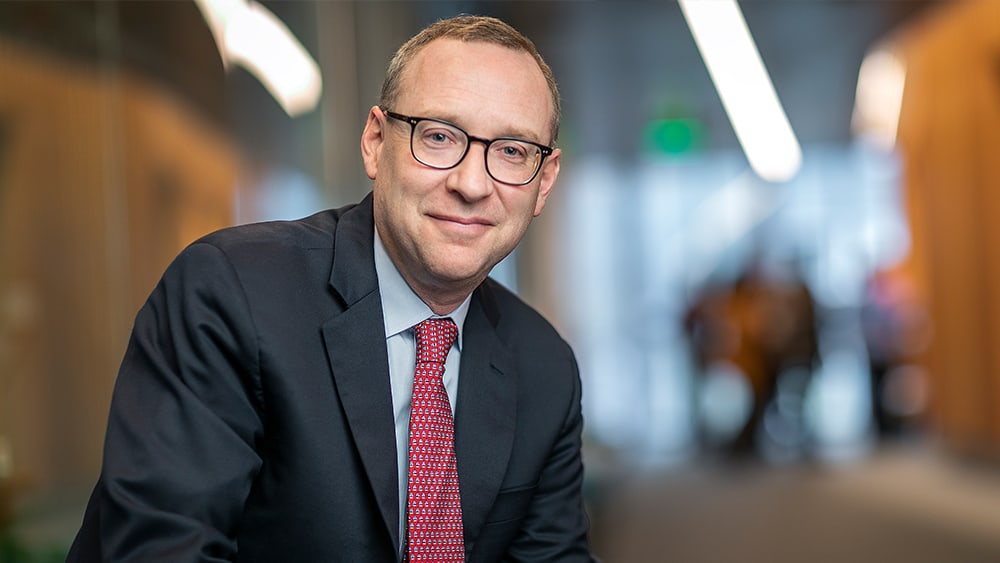 The Board of Trustees of the University of Richmond has unanimously elected Kevin F. Hallock, an economist and compensation and labor market scholar, as the institution's 11th president. A press release announcing the appointment follows below:
"We are fortunate to have attracted to the presidency of the University of Richmond a person with the experience, character, and credentials of Kevin Hallock," said Paul Queally, rector of the Board of Trustees and a 1986 graduate of UR. "Kevin is a dynamic and hard-working leader with a strong track record of building consensus and bringing people together around a shared vision and purpose. We are confident that as president he will help us to continue to strengthen our leadership position among liberal arts institutions nationally."

A distinguished scholar, a gifted teacher, and an experienced and accomplished academic and institutional administrator, Hallock will join the University community this fall, at the start of the 2021–22 academic year. He will hold an appointment as professor of economics in the School of Business with affiliated faculty appointments in the Jepson School of Leadership Studies and the Philosophy, Politics, Economics, and Law program in the School of Arts & Sciences.

"I am deeply honored and humbled to serve in this role. I am inspired by the work of the students, staff, faculty, and alumni of the University, and I have been enormously impressed with the Board of Trustees and senior leadership," said Hallock. "I am confident of a bright future for the University of Richmond."

Hallock currently serves as the dean of the Cornell SC Johnson College of Business at Cornell University, which is comprised of three highly ranked schools enrolling more than 3,600 students. He has overseen increased applications and enrollment; initiated a new degree program in business analytics; strengthened the college's financial position; enlarged an emphasis on fundraising, including laying the groundwork for a comprehensive campaign; and strengthened the college's presence in New York City.

Previously, Hallock served as chair of the Department of Economics in the College of Arts and Sciences and in the School of Industrial and Labor Relations (ILR) at Cornell. He later served as dean of ILR, where he guided the school through a strategic planning process and made important investments in the student experience and student well-being. He also raised resources for investments in faculty and research and took steps to enhance staff well-being by investing in human resources.

Hallock is the author or editor of 11 books and more than 100 publications. His research spans topics including the gender pay gap, compensation design, compensation in nonprofits, executive compensation, layoffs, labor market discrimination, and disability in labor markets. He is a fellow of the National Academy of Human Resources and a research associate at the National Bureau of Economic Research.

Hallock said he is impressed with Richmond's combination of an outstanding liberal arts and sciences education with excellent professional schools. "From the creative work and research among the faculty, the intellectual energy and curiosity of the community, and the intense focus on the holistic development of students and care for their well-being ─ Richmond drew me in, and I couldn't look away."

Hallock is likewise encouraged by UR's thoughtful work, progress, and commitment to diversity, equity, inclusion, and belonging, which has also been a priority for him as dean at Cornell. "These are issues that I consider of foundational importance in all leading institutions like Richmond," he said. "I believe that a central role of any academic leader is to help create and foster an atmosphere where everyone feels a sense of belonging and has the opportunity to thrive."

Hallock graduated summa cum laude with a Bachelor of Arts degree in economics from the University of Massachusetts at Amherst. He earned both his master's and Ph.D. in economics from Princeton University.

He and his wife Tina have two grown children. She currently works for a nonprofit and is involved in initiatives to strengthen families, foster belonging, and promote resilience.

Both have become avid fans of Spider athletics during the recruitment and interview process. "The amazing Division 1 athletics program at the University adds to the distinctiveness of the Richmond experience — not only for our student-athletes but also for our campus community and our alumni," Hallock said. "We are eager to cheer on our student-athletes in person and participate in many other activities on Richmond's breathtakingly beautiful campus."

Hallock's appointment concludes an extensive national search. President Ronald A. Crutcher announced his intention to step down no later than July 1, 2022, to give the University as much time as possible to effectively identify and recruit the next president.

"The important work of the search committee was made even more challenging by the pandemic," Queally said. "We appreciate the committee's hard work and congratulate it on its success. We interviewed a pool of talented candidates, and our committee has helped us to recruit and hire an exceptional new president."

Queally and Susan G. Quisenberry, the vice rector of the Board of Trustees and a 1965 graduate, co-chaired the presidential search committee that included trustees, alumni, faculty, staff, and student representatives.

"The Board of Trustees is deeply grateful for the outstanding leadership of President Crutcher and the many and lasting contributions he has made to the University of Richmond," Quisenberry said. "President Crutcher led the University ably and inspirationally, helping to raise our national profile, and consistently encouraging us to face with clarity and courage a variety of important issues, including our institutional history, the importance of difficult dialogue, and the abiding value of free speech. His impact on the University will be long-lasting."
Will you help support independent, local journalism?
We need your help. RVAHub is a small, independent publication, and we depend on our readers to help us provide a vital community service. If you enjoy our content, would you consider a donation as small as $5? We would be immensely grateful! Interested in advertising your business, organization, or event? Get the details here.