PHOTOS: Inside VCU Engineering's new $93 million research building
The College of Engineering at Virginia Commonwealth University officially opened its Engineering Research Building this week, marking a major milestone in the college's growth in research and workforce development programs.
The College of Engineering at Virginia Commonwealth University officially opened its Engineering Research Building this week, marking a major milestone in the college's growth in research and workforce development programs. The four-story, 133,000-square-foot facility significantly expands the college's laboratory capacity for advanced research. It also supports economic development initiatives and hands-on engineering education.
The grand opening ceremony took place virtually and featured a ribbon cutting by university leaders, the architects and construction crew, and greetings from elected officials, including former Virginia Gov. Terry McAuliffe, and members of the community. The event culminated with a tour of the building and grounds.
"This brave new space is going to serve as part of a bold, advanced innovation corridor for VCU's College of Engineering," said VCU President Michael Rao, Ph.D., to the hundreds of audience members who attended via Zoom. "It's a great place where diverse talents will meet with the common goal of advancing humanity through practical, state-of-the-art, compassionate solutions to important problems. It's a place where the future will be invented."
Noting that more than 90% of VCU's engineering students are in state, and more than 75% of the college's graduates make their careers in Virginia, Rao added that "this great new facility affirms the fact that VCU's College of Engineering is the commonwealth's engineering school."
The Engineering Research Building extends and connects the building shared by VCU Engineering's East Hall and the VCU School of Business' Snead Hall. The fully equipped Collaboration Hub and Innovation Courtyard, expected to be the social heart of the complex, are designed to knit together the three buildings in an open, light-filled space.
"The [Engineering Research Building's] design creates a vibrant, flexible home for expanded public-private partnerships in VCU Engineering research. Construction of the $93 million building was funded by taxable bonds, which allows VCU Engineering to collaborate closely with industry to conduct translational research. This also supports the college's mission to train students in real-world engineering, often alongside industry professionals," said Barbara D. Boyan, Ph.D., the Alice T. and William H. Goodwin Jr. Dean of VCU Engineering.
"When you have the opportunity to be in here and look out the windows, you will see students from engineering, art and business sitting together with their faculty. They will come up with new ideas, get their laptops out, create new inventions, build new companies," Boyan said. "I think that speaks well to the bedrock of our foundation. We were begun as a public-private partnership, and our students will be the workforce, throughout Virginia — and they are educated in an atmosphere that partners industry with universities every step of the way."
The design also features specialized workspaces. One of the most notable is the Innovation Maker Facility, a makerspace supported by a donation from Altria and equipped with resources for hands-on prototyping and creative, experiential learning.
The look of the Engineering Research Building continues the VCU Engineering tradition of modern buildings with architectural details from past eras of engineering advancement. Engineering West Hall's ziggurat, pyramid and post-and-lintel doorways refer to ancient Babylon and Egypt, while East Hall's tower and rounded arches suggest the Renaissance. The Engineering Research Building's red-brick and cast-stone construction and its roofline with updated smokestack forms recall the 19th-century dawn of industrial engineering. The building's focal point, the rounded "spaceport" at the corner of Cary and Belvidere streets, gives a nod to future innovation.
"It just gives you a feeling of what engineering is all about," Boyan said. "It's solving problems. The whole engineering way of thinking is captured in this building."
Richmond-based architecture firm Baskervill was the executive architect. Boston-based firm Goody Clancy served as design architect and Richmond-based Smith + McClane was consulting architect. Richmond construction management firm Kjellstrom + Lee Construction built the Engineering Research Building, which is being financed by investments from the state, VCU and private support.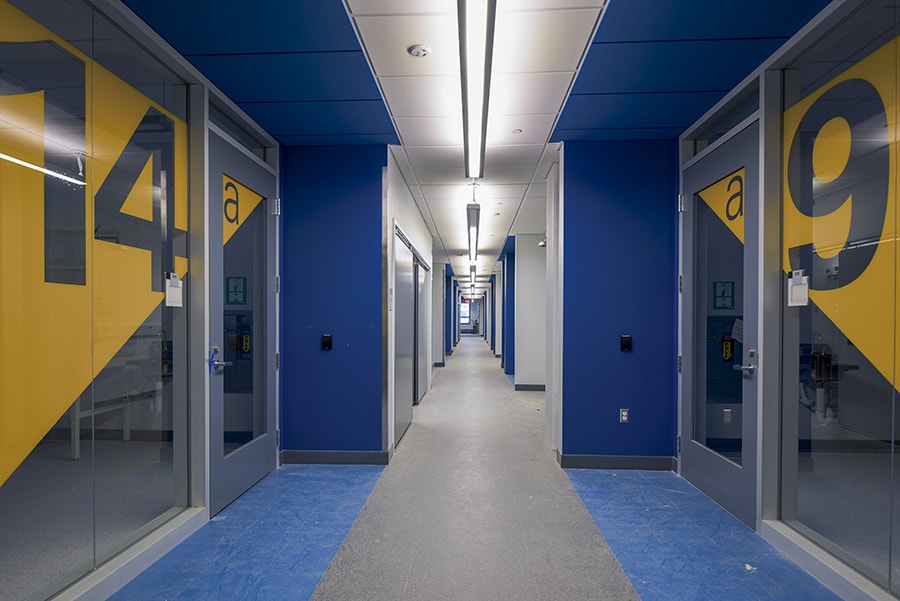 Will you help support independent, local journalism?
We need your help. RVAHub is a small, independent publication, and we depend on our readers to help us provide a vital community service. If you enjoy our content, would you consider a donation as small as $5? We would be immensely grateful! Interested in advertising your business, organization, or event? Get the details here.