Photos: Eagles on the James
We got up early Saturday and joined Capt. Mike's Discover the James Tours. We were lucky enough to see eagles, lots of eagles.
Capt. Mike runs the Discover the James tours and on our expedition, we saw around 15 different eagles. There are quite a few nesting pairs that have staked out their territory along the James and this time of year there is an almost equal number of transitory eagles in the same area.
The James River runs through it … through the City of Richmond and just minutes downriver is an incredible opportunity to see resident bald eagles in their natural habitat. This 3-hour, pontoon boat tour takes you into the midst of an ecosystem rich with wildlife, history and beautiful scenery. Discover the James' Bald Eagle Tour takes you through an six-mile stretch of the James River known as Jefferson's Reach, encompassing eight territories of resident bald eagles.

The tour focuses on the sixteen resident bald eagles in Jefferson's Reach. Resident eagles do not migrate and live within their territories all year long. During the year, two additional populations of bald eagles migrate into the area. In May, summer migratory bald eagles, from the south (mainly Florida), arrive and these eagles are gone by the end of September. In mid November, winter migratory eagles arrive from the north and stay into February, then begin their departure, returning to their breeding grounds.
The tour is currently operating under Covid-19 restrictions and limiting the number of folks on each tour and masks are required. More information on Facebook and here.
Read more about Bandit (aka Dolly) here.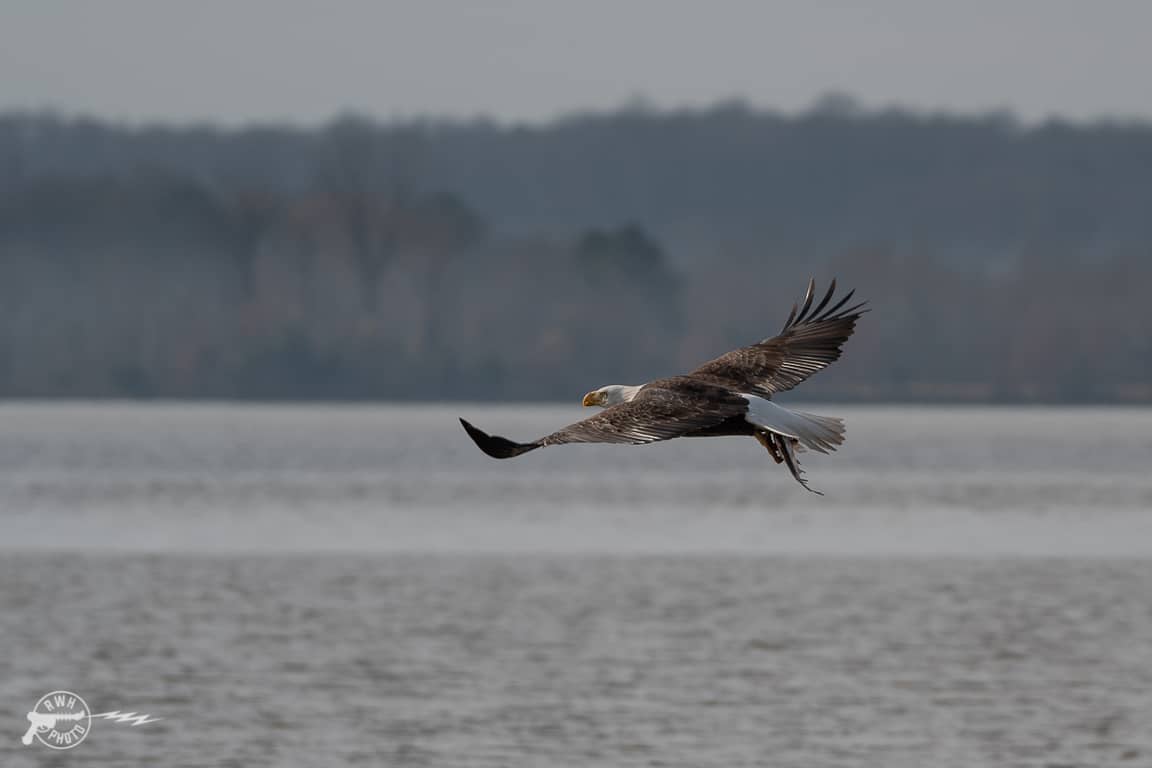 A few more Bald Eagle facts from Cornell Lab.
Rather than do their own fishing, Bald Eagles often go after other creatures' catches. A Bald Eagle will harass a hunting Osprey until the smaller raptor drops its prey in midair, where the eagle swoops it up. A Bald Eagle may even snatch a fish directly out of an Osprey's talons. Fishing mammals (even people sometimes) can also lose prey to Bald Eagle piracy. See an example here.
Had Benjamin Franklin prevailed, the U.S. emblem might have been the Wild Turkey. In 1784, Franklin disparaged the national bird's thieving tendencies and its vulnerability to harassment by small birds. "For my own part," he wrote, "I wish the Bald Eagle had not been chosen the Representative of our Country. He is a Bird of bad moral Character. He does not get his Living honestly. … Besides he is a rank Coward: The little King Bird not bigger than a Sparrow attacks him boldly and drives him out of the District."
Sometimes even the national bird has to cut loose. Bald Eagles have been known to play with plastic bottles and other objects pressed into service as toys. One observer witnessed six Bald Eagles passing sticks to each other in midair.
The largest Bald Eagle nest on record, in St. Petersburg, Florida, was 2.9 meters in diameter and 6.1 meters tall. Another famous nest—in Vermilion, Ohio—was shaped like a wine glass and weighed almost two metric tons. It was used for 34 years until the tree blew down.
Immature Bald Eagles spend the first four years of their lives in nomadic exploration of vast territories and can fly hundreds of miles per day. Some young birds from Florida have wandered north as far as Michigan, and birds from California have reached Alaska.
Bald Eagles occasionally hunt cooperatively, with one individual flushing prey towards another.
Bald Eagles can live a long time. The oldest recorded bird in the wild was at least 38 years old when it was hit and killed by a car in New York in 2015. It had been banded in the same state in 1977.
If you're a fan of original content like those photos above be sure to give our Instagram and Dickie's Backyard Bird Blind Bonanza on FB a follow and consider making a donation.
[wpedon id="165378″]
Will you help support independent, local journalism?
We need your help. RVAHub is a small, independent publication, and we depend on our readers to help us provide a vital community service. If you enjoy our content, would you consider a donation as small as $5? We would be immensely grateful! Interested in advertising your business, organization, or event? Get the details here.