RVA Legends — Cordes & Mosby
A look into the history of Richmond places that are no longer part of our landscape.
AKA, Charles Stores
11-17 East Broad Street
Built, 1886?
Destroyed by fire, rebuilt, 1902
Destroyed by fire, early 1990s
Perhaps a building wasn't meant to be here.
Like many businesses of the post-Reconstruction Era, the company history of Cordes & Mosby and its antecedents is complicated. The earlier incarnation, Temple, Pendleton, Cordes, & Co. dated back to the end of the Civil War, with J. B. Mosby as a silent partner.
Partners in this day came and went. They retired or died in their 50s, and the remaining partners would coalesce around the remaining business. The next incarnation saw the reduction of Mr. Temple and the emergence of J. B. Mosby from the shadows.
By 1900 the firm's fortunes had changed again, down to just two partners. They also relocated from their old digs at 7-9 West Broad Street to the former Cohen Co. Dry Goods location at 11-17 East Broad Street.
It was a sizable operation, employing 70 people. Unfortunately, disaster struck in 1902, and the store was "totally destroyed by fire", according to the Richmond Dispatch, throwing them all out of work.
Cordes & Mosby were boldly optimistic.
Members of the Firm Announces, However, That Business Will Resume at the Earliest Possible Moment, and That Every Employee Will Be Retained. [RDIS]
It turns out they did much better than that. By February 25th, they had relocated temporarily to Masonic Temple just up the street at 101-103 East Broad, and plans were made to replace the burnt structure with the massive four-story department store shown above.
They also did something unusual.
A called meeting of the employees of Messrs. Cordes & Mosby was held yesterday morning to express themselves regarding the recent unfortunate loss sustaining in the total burning of the building and complete stock by fire on the night of February 20, 1902. Unanimously, the following was adopted:

Whereas, the relations between the firm and ourselves for years have been of the most cordial nature, and as the patrons of Messrs. Cordes & Mosby were accorded the fairest treatment, making our trade relations successful and highly satisfactory, we wish to attest our regret at the great loss and our earnest desire for future success: therefore, be it

Resolved, In the sudden calamity of fire and consequential financial loss, including the interruption to business, Messrs. Cordes & Mosby have our deepest and most profound sympathy.

Resolved, 2, In the munificent action of the firm in the consideration of the welfare of their employees by the continuance of the pay-roll for full time during our enforced idleness, they have our highest consideration and gratitude. We assure Messrs. Cordes a& Mosby that we stand one and all ready to push forward their interests to the fullest of our several abilities. [RDIS]
That's right: they continued paying their employees. In the day when unemployment insurance didn't exist, that seems pretty surprising, not to mention generous and humane. No wonder the staff decided to vote for a formal thank you published in the local paper.
(Interestingly, one of the 64 employees who signed the resolution was F. P. Gretter. He was also the father of Florence Gretter, a local artist who studied at Cooper Union in New York City)
The building must have flown together because Cordes & Mosby was in their new digs by September. Of course, this like all things, would not last. It would eventually transform into the
J.B. Mosby Dry Goods Store
by 1916, in its own brand new building at 201-205 West Broad Street.
Neither would the spiffy new building at 11-17 East Broad Street go the distance. It too vanished, coincidentally also by fire, in the 1990s. This space now serves duty as a parking lot.
This location has a little bit of mystery about it. According to Robert Winthrop, it was built in 1886 and remodeled in 1909 [ADR], but we know it burned in 1902. Perhaps there was enough remaining to consider it the same structure, which would explain why Cordes & Mosby was back in business by September.
However, a close comparison of the 1886 building and the rebuilt 1905 version show them to be different structures.
Winthrop calls the significant changes in appearance between the artist's rendering of the 1902 building and the Charles Stores facade "modernization… of little interest". It was certainly changed beyond recognition.
(Cordes & Mosby is part of the Atlas RVA! Project)
---
Print Sources
[ADR] Architecture in Downtown Richmond. Robert P. Winthrop. 1982.
[RDIS] Richmond Dispatch, Tuesday, February 25, 1902.
---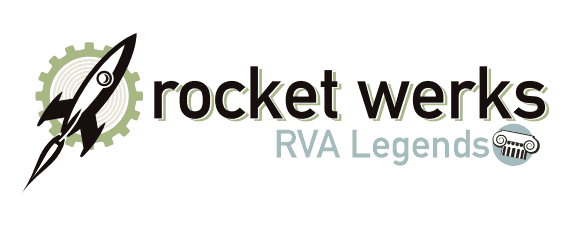 RVA Legends is a regular series
appearing on rocket werks – check it out!
Will you help support independent, local journalism?
We need your help. RVAHub is a small, independent publication, and we depend on our readers to help us provide a vital community service. If you enjoy our content, would you consider a donation as small as $5? We would be immensely grateful! Interested in advertising your business, organization, or event? Get the details here.