RVA Legends — Phoenix Foundry
A look into the history of Richmond places that are no longer part of our landscape.
9 North Eighth Street
Built, after 1865
Demolished, between 1924-1950
William B. Cook: competitor to Asa Snyder, and no shallow man he.
It is only your shallow man who believes in luck-who limits his faith to the ruling of a star or the casting of a planet. The laws of gravity, of chemistry, of botany, and the other natural laws, are not more fixed and certain in their operation than those who push their way up the plane of social and rational life, and there develop their influence in the struggle which every man makes in life, from the boy's game of play up to the crowning act of individual achievement in work. The sublime faith that believes in the stars-that looks up and out upon the deep-vaulted night, and tries hard to formulate a faith that all men can accept and rationally founded-may be admired by us for the grandeur and vastness of the problems it seeks to solve;
but a little reason, not too shallow or superficial in quality, will soon bring us back to the more rational basis of cause and effect, the same arithmetic of which may be accurately computed as the threads of an even web. Law is the basis of everything, and although it works by invisible hands and feet, it treads steadily in one path, and brings out the uniform result. The lucky man is the one who perceives the chance of success, and seizes it at the right moment to make the success his own. He may be thwarted time and time again by adverse or unforeseen contingencies, such as no proper forecast, can effectually guard against; but a resolute faith in cause and effect in the industrial dogma that something comes from something and nothing comes from nothing, will bring him out successfully in the end.
The owner of the Phoenix Foundry, Mr. William B. Cook, is a happy exemplification of the correctness of these reflections. He is a hard worker, and has had some hard rubs with "Adverse and unforeseen contingencies." He has been burnt out no less than three times in twenty-five years, but by dint of perseverance and the best of all personal qualities–pluck–he has risen each time, if not Phoenix-like, from the ashes of a previous establishment, yet like a resolute and determined man, who, when one chance fails him, is ready, nothing daunted, to strike for another.
With him, work is victory. He takes no chances at luck, and consequently draws no blanks. Each blast of the forge, and each blow of the hammer, is what he has faith in, and leaves the rest to fortune. There are larger and more imposing establishments in Richmond, but his political economy is not to cut the throat of their competition, but to establish his own. No man is prouder of the prosperity of Richmond, arising from the other and larger establishments, than the energetic and public-spirited owner of the Phoenix Works. He seeks to share only in the general prosperity, and demands patronage only as he may show himself worthy of it.
The Phoenix Foundry is on the east side of eighth street, between Franklin and Main. Prior to November, 1871, it was run by Messrs. Cook & Viles, but since that time Mr. Cook has been the sole proprietor. He employs a large force and turns out a large variety of general castings, besides manufacturing iron railings, balconies, verandahs, columns, caps, sills, vault doors and frames, and all kinds of iron work for buildings. In fact, about everything this side of the line of Architectural iron work is successfully turned out in his establishment.
His building is a large three-story brick, on Eighth above Main, with the foundry in the rear of it, and two stories above for machinery, woodwork, and pattern loft. He has recently completed and put up the large and comodious burglar & fireproof safe vault, in the new banking house of Messrs. Issacs, Taylor and Williams, on the corner of Thirteenth & Main Streets, which is said to be the largest safe ever manufactured south of "Mason and Dixon's line." Whether this be so or not, it is certainly large enough to satisfy and one that what our home institutions cannot do in the way of manufacturing mammoth safes, need not be sought for elsewhere.
Mr. Cook is also constructing iron fronts for buildings, and doing not a little to the architectural taste and beauty of our city. The iron work for St. Mark's Church (Episcopal) is from his establishment, as well as numerous verandahs, balconies, railings, etc., of iron, put up during the past two or three years in different parts of the city. The iron work to the new office building of the Gas Works at Rocketts, with fine iron verandah and steps, was furnished by Mr. Cook. He has lately filled orders for Norfolk, for points in North and South Carolina, and other parts of the South, and he is confident he can compete, in quality and style of work, as well as in price, with any similar establishment in this or any other city.
Mr. Cook has had an experience of twenty-five years and upwards at the business in which he is now engaged. Born in an adjoining county, and coming to Richmond when he was a mere boy, he has spent his apprenticeship and whole business among us. He has had, as we have before intimated, some pretty severe rebuffs of fortune; but he has come out every time with a resolution to strike ten blows for success where he had only struck five before.
Starting first as a partner of Barnes & Co., he was afterwards of the company of Lownes & Cook, then of Cook & Viles, and now has the Phoenix Foundry as his own– a foundry appropriately named from the circumstances already referred to, that on three several occasions he has seen his different establishments reduced to ashes.

Such business energy and capacity as he has shown, and such faith in his work as the means of ultimate triumph, entitled him to a liberal if not generous share of public patronage. [GILL]
The growth of the Main Street canyon — the stretch of high-rises that today runs between Twelfth and Sixth Streets — and the proximity of the former ironworks to it, did not bode well for its future. Sometime after 1924 it was demolished and became a parking lot, a condition that probably lasted until the building that is now 8th & Main Apartments was constructed in 1968.
That's a lot of changes for one location: foundry, livery, print shop, parking lot, office building, plus whatever else it was before the Evacuation Fire.
(Phoenix Foundry is part of the Atlas RVA! Project)
---
Print Sources
[CAW] Cast and Wrought. Robert P. Withrop. 1980.
[CHAT] Chataigne's Directory of Richmond, VA. 1881.
[GILL] Richmond Directory 1873-74. R. W. Gillis.
[HILL] Hill's Richmond City Directory (Chesterfield and Henrico Counties, Va.), 1874-75.
---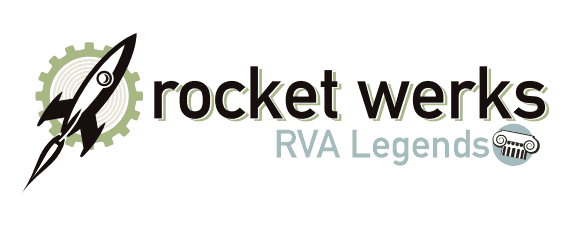 RVA Legends is a regular series
appearing on rocket werks – check it out!
Will you help support independent, local journalism?
We need your help. RVAHub is a small, independent publication, and we depend on our readers to help us provide a vital community service. If you enjoy our content, would you consider a donation as small as $5? We would be immensely grateful! Interested in advertising your business, organization, or event? Get the details here.