RVA Legends — Architectural Iron Works
A look into the history of Richmond places that are no longer part of our landscape.
1008-1012 East Cary Street
One of the "constellation of firms" associated with iron man Asa Snyder. [CAW]
Asa Snyder & Co. Proprietors. Thirty-five years ago this establishment was founded by the late Asa Snyder in a very moderate way, but it gave genuine evidence of enterprise from the start, and in a few years it became a noted landmark of business industry. War, fire, and financial strife, have battered at its doors, but it still stands a monument to the enterprise of its founder.
Its contributions to the trade reflect the greatest credit on the mechanical skill of those employed in its several constructive departments. They find a large and steady demand from Virginia and West Virginia, North and South Carolina, for their beautiful and reliable goods of architectural designs. They employ sixty hands, and have a cupola capacity for making five tons of castings per hour.
Their specialties are all kinds of galvanized, cast and wrought iron used in building, which embraces vault doors, elevators,. fence and balcony railings, verandas, skylights, cornices, window hoods, steeples, &c. They are also manufacturers of Hayes' Patent Skylight, Hyatt's Patent Area Light, for which they control Virginia.
Messrs. Asa K. Snyder and Benj. J. Atkins comprise the present firm of Asa Snyder & Co. They were both members of the firm at the time of the death of Mr. Asa Snyder, in 1884, and have continued under the same firm name.
Mr. Asa K. Snyder was born and raised here, and was brought up in the iron trade. He is also in the pig iron and foundry supply brokerage business.

Mr. Atkins resides in Manchester. He has been connected with this house for twenty years, and has been a partner in the concern since 1877. [IOR]
Snyder may have been well-known, but he was not the biggest game in town.
Mention has been made of the three great iron works here, the Tredegar, the Old Dominion and the Richmond Locomotive Works, employing probably 2,500 hands between them. Of this class, there are, besides, two big stove works, the Richmond Spike Works and the Johnson forge, for car axles, in Manchester; electric light, and electrical construction companies and establishments, and half a dozen carriage and wagon and agricultural implement works, of more than local note and business, not to mention the minor shops and smithies that are here in scores. [RVCJ93]
Despite this, Snyder's work was arguably longer-lived and more visible than any of the big three.
A number of partial facades were provided by Richmonder Asa Snyder. Snyder, along with the constellation of firms associated with his name, seems to have had several standard designs. Several buildings used a squared-off, classical colonnade with capitals made up of what looks like slightly over-ripe fruit. Others used a more geometrically precise rectangular ornament. Snyder provided a full range of architectural ornaments for his buildings which also possess cast iron window caps and cornices.
Snyder also provided the ironwork for the 1871 Columbian Building, now Sam Miller's Exchange Cafe. The building possesses galvanized cornices and cast iron window caps. The most impressive use of iron in the building is the attenuated Corinthian columns used to support the roof of the third floor Exchange Room. The Columbian Building was Richmond's corn and grain exchange and the Exchange Room is one of the most important early commercial spaces remaining in the city.
The most curious of the fronts is a minuscule building inserted in a 7 ½ foot space on Main Street. While painted to match the adjacent Southern Railroad Supply Building, this structure is completely different and distinct. It was made by Architectural Ironworks of Richmond, one of Snyder's firms. [CAW]
The man got around. Or rather men. As noted above, Asa Snyder died in 1884, leaving the business to his son, Asa K. Snyder. The son himself would die in 1892 at the tender age of 32, and despite a Richmond Times advertisement from 1894, the end of the company was nigh.
The block where the foundry stood would be substantially altered with the construction of the First & Merchants National Bank Building in 1973, which eliminated the portion of Eleventh Street that used to run through it. The image above is an approximation of where Eleventh Street would have been (right), putting Architectural Iron Works somewhere in the center.
Snyder also made contributions to Old City Hall. The Shockoe Examiner has an excellent article on old spiral staircases, which includes the iron staircase in the clock tower. Good reading!
(Architectural Iron Works is part of the Atlas RVA! Project)
---
Print Sources
[AAA] Allison & Addison's Handbook of the Garden, Seed Catalog, and Almanac for 1868.
[CAW] Cast and Wrought. Robert P. Withrop. 1980.
[IOR] Industries of Richmond. James P. Wood. 1886.
[RVCJ93] Richmond, Virginia: The City on the James: The Book of Its Chamber of Commerce and Principal Business Interests. G. W. Engelhardt. 1893.
---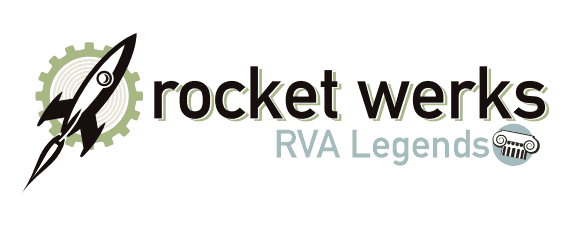 RVA Legends is a regular series
appearing on rocket werks – check it out!
Will you help support independent, local journalism?
We need your help. RVAHub is a small, independent publication, and we depend on our readers to help us provide a vital community service. If you enjoy our content, would you consider a donation as small as $5? We would be immensely grateful! Interested in advertising your business, organization, or event? Get the details here.