Photos and Game Summary: Strong 2nd Half Lifts Spiders to Victory in Final Home Game
After being down for most of the 1st half Richmond charged back with Richmond junior guard Nick Sherod leading the way with 17 2nd half points.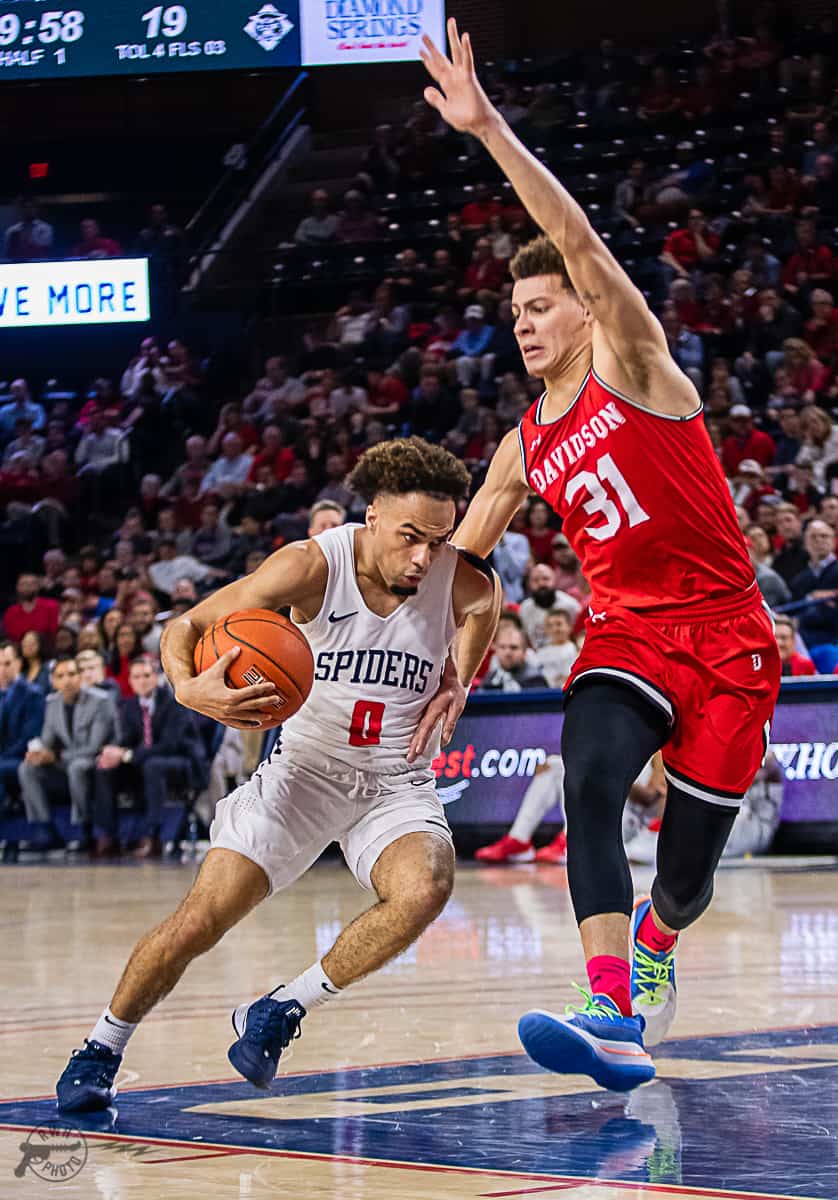 UR (23-7,13-4 Atlantic 10): 80
Davidson (15-14,9-8 Atlantic 10): 63
Richmond junior guard Nick Sherod (Richmond, Va.) erupted for 17 second half points as the Spiders out-scored Davidson 50-29 after halftime en route to a convincing 80-63 Atlantic 10 Conference victory over the Wildcats at the Robins Center.

The victory secures the Spiders the second or third seed and a double bye in the 2020 A-10 Conference Tournament in Brooklyn, meaning Richmond won't open play until Friday evening, March 13 in the quarterfinals round. With the win, Richmond improved to 23-7 overall, tied for the fourth-most wins in a season in school history, and 13-4 in the Atlantic 10, tied for their most conference wins since joining the A-10 in 2001.

Sherod led four Spiders in double figures with 19 points, 17 of which came after the break. He connected on five 3-pointers in the second half as the Spiders hit 8-of-15 from three-point range in the final 20 minutes after not hitting one shot from distance in the opening half (0-4).

Redshirt junior guard Blake Francis (Herndon, Va.) added 18 points, 14 of which came in the second half to help the Spiders sweep the season series against Davidson. Richmond is now 6-2 against the Wildcats over the last four years and has won eight of its last nine games overall following back-to-back losses to Dayton and VCU at the end of January.

Junior forward Grant Golden (Winchester, Va.) added 15 points on 5-of-6 shooting from the field and 5-of-7 shooting from the free throw line. Junior forward Nathan Cayo (Montreal, Quebec) rounded out the Spiders in double figures with 11 points and eight rebounds as he helped the Spiders out-rebound Davidson 36-25 in the win.

Junior guard Jacob Gilyard (Kansas City, Mo.) finished just shy of double figures with nine points. He also contributed a game-high eight assists, giving 168 for the season, fourth-most in a single campaign in Spiders history.

"Not everybody could have so many guys be able to score and contribute," said coach Chris Mooney. "Our guys can score at a high level and when the ball is moving we're really difficult to guard. I don't know if this is the best offensive team we've ever had but one of the reasons it's really special is we're aggressive and we know how to play and move the ball and share the ball."

Davidson (15-14, 9-8 A-10) started strong, hitting its first four shot from the field including its first three three-pointers to take an 11-2 lead. The Spiders found themselves trailing 19-9 before scoring 10-straight on their way to a 13-2 run that gave them a 22-21 lead with eight minutes remaining in the half. Sophomore guard Andre Gustavson (Helsinki, Finland) came off the bench and scored four-straight points while Gilyard added four points in the run. Golden capped the run and gave the Spiders their first lead by converting a three-point play.

The Wildcats closed the half on a 10-4 run, including a near half-court shot buzzer beater from Carter Collins to give Davidson a 34-30 lead at the break. "We addressed the little bit of frustration we showed [in the first half] at halftime," said Mooney. "You can't anticipate that everything will go your way. They're playing really hard and we can't anticipate that every shot can go in and every call will go our way. … We didn't get knocked out of our game or get distracted."

Davidson would it make its first three-pointer of the second half to take a 37-30 lead but the Spiders responded with a 10-3 run, tying the game at 40-40. Francis ignited the run by hitting Richmond's first three-pointer of the game in transition, one of eight the Spiders would hit in the half.

The game was tied 55-55 with 8:02 remaining before the Spiders put the game out of reach with a 25-8 run down the stretch. Richmond scored 15 of the next 19 points as Sherod couldn't miss, hitting three three-pointers in one two-minute stretch.

Richmond continued to put the pedal down on both ends of the floor and its defense led to baskets on the offensive end. Sherod scored 14 of his 19 points in the final 8:02 of the game, hitting four three-pointers in that stretch. Francis added four points down the stretch while Gilyard got in the act with four points, including a three-pointer.

Richmond finished its home schedule with a 14-2 mark at the Robins Center, including 11 wins by 15 or more points, the most 15-point wins at home in a season in school history.

Richmond will conclude its regular-season schedule Friday evening on the road at Duquesne. The game will tip at 7 PM and be shown on ESPN Plus.
Will you help support independent, local journalism?
We need your help. RVAHub is a small, independent publication, and we depend on our readers to help us provide a vital community service. If you enjoy our content, would you consider a donation as small as $5? We would be immensely grateful! Interested in advertising your business, organization, or event? Get the details here.