How Richmond Voted – Precinct Results
Biden won Richmond but it was hardly a clean sweep as this breakdown of every Richmond Voting Precinct shows.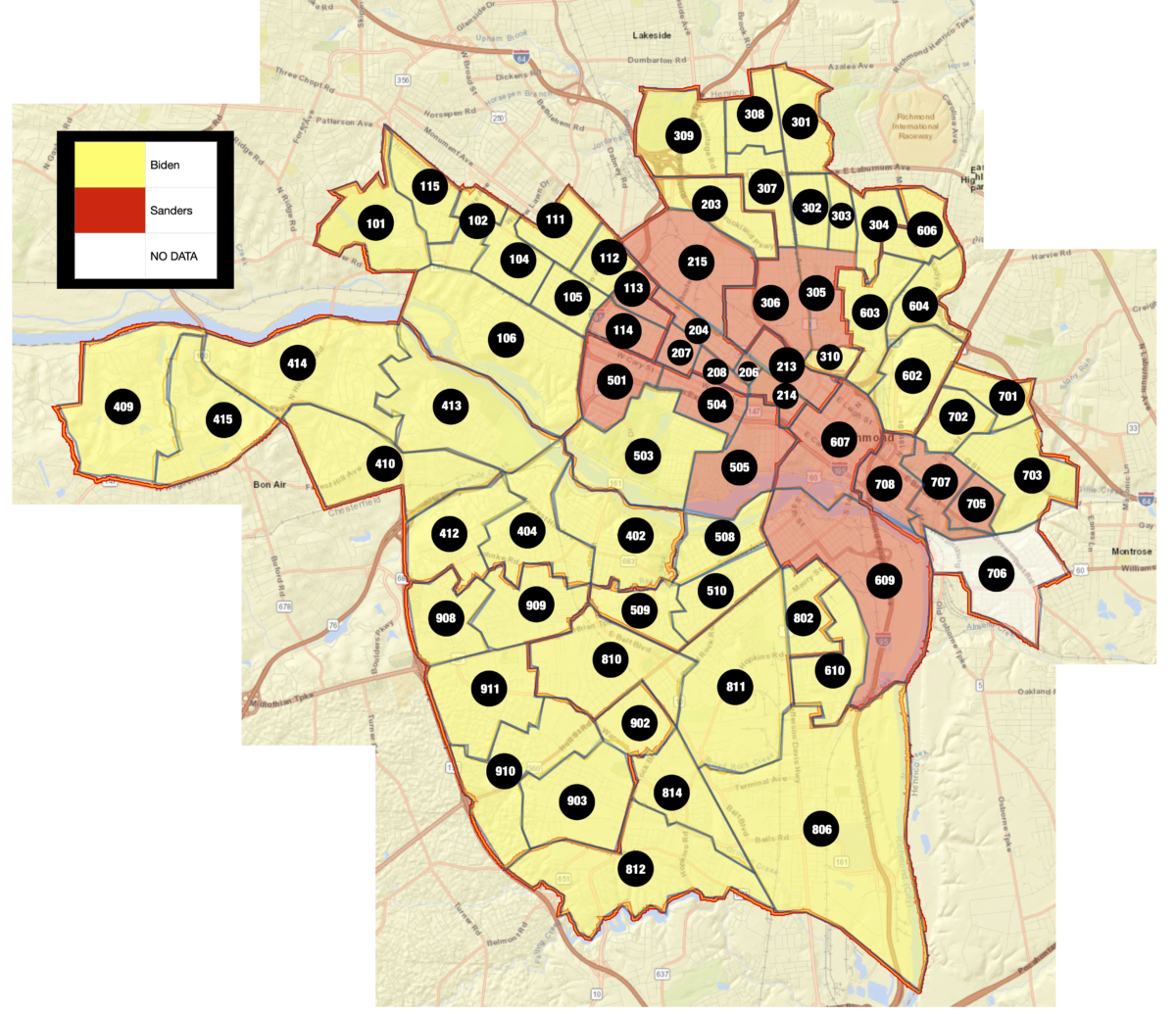 Thanks to John Murden for doing a deep dive into yesterday's primary results.
Joe Biden won Richmond yesterday with 44% of the vote, followed by Bernie Sanders at 34%, Elizabeth Warren at 14%, and Michael Bloomberg at 6.5%. No one else won more than 1%.
With the exception of Manchester, Biden every precinct in Southside, and the western, northern, and eastern edges of the city. Sanders' block of precincts stretches from 195 east through to Shockoe and part of Church Hill.
Biden won all of the precincts in the area from Powhite Parkway over to Springhill and Swansboro (precincts 404, 402 508, 509, 510) with 1,945 votes. Sanders collected 1,382 votes, with Warren taking 818 and Bloomberg 281.
All of the numbers are from the Va Department of Elections website, and have yet to be verified. At press time precinct 706 in the East End hasn't reported. Two precincts (410 – West of Powhite, 708 – Shockoe) have reported numbers that look unlikely – one showing 498 votes for Biden & Sanders but 0 for Warren, the other showing 1,009 for Biden & Sanders but 0 for Warren.
Will you help support independent, local journalism?
We need your help. RVAHub is a small, independent publication, and we depend on our readers to help us provide a vital community service. If you enjoy our content, would you consider a donation as small as $5? We would be immensely grateful! Interested in advertising your business, organization, or event? Get the details here.