Photos and Game Summary: Spiders Stampede Over the Cowboys
The University of Richmond extended their unbeaten streak to four with a win over McNeese State on Friday night.
---
---
---
---
---
---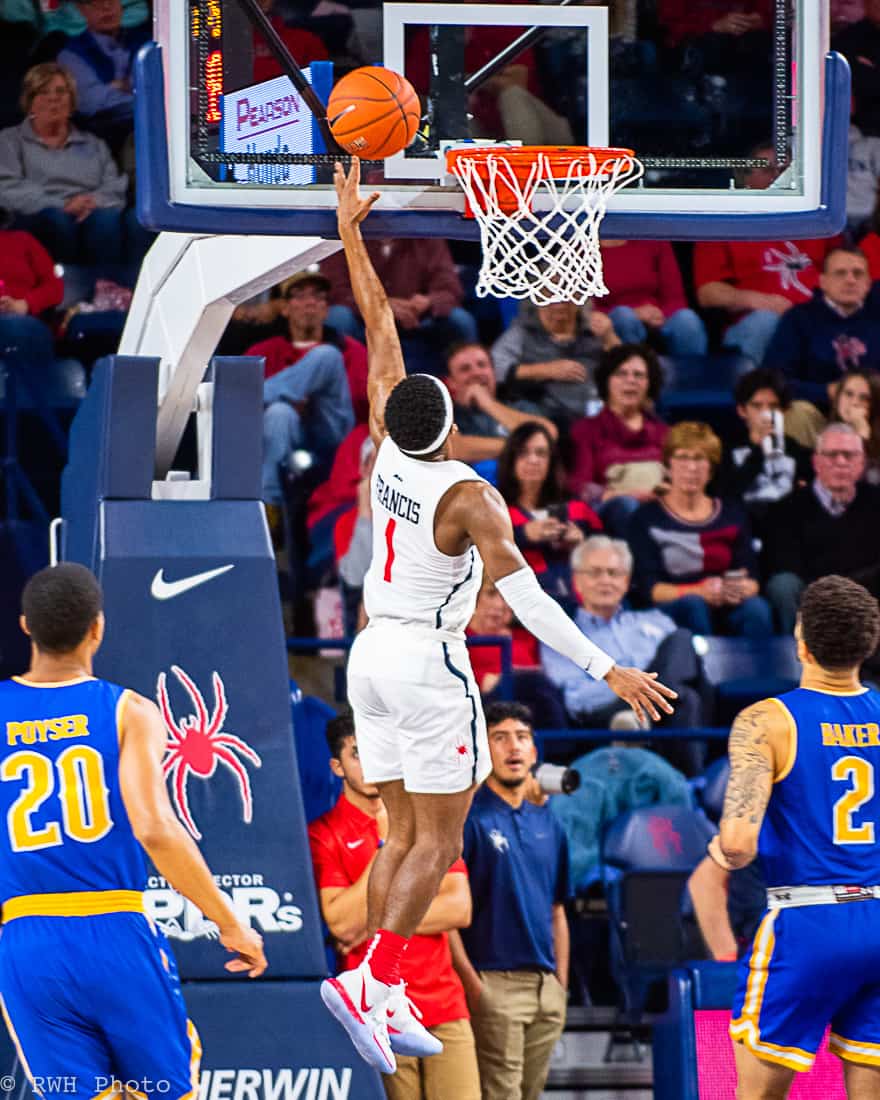 ---
---
---
McNeese (2-5,0-0 Southland): 57
Richmond (4-0,0-0 Atlantic) 10: 87
In their first three games of the season, the Richmond Spiders showed they can score, averaging more than 94 points per game. Friday night against McNeese, they showed they can defend. Richmond held McNeese to 57 points, 25 below its season average entering the game, and allowed the Cowboys to shoot just 38 percent from the field in a comfortable 87-57 victory. With the win, Richmond improved to 4-0 for the first time since 1985.

"We forced turnovers and contested threes well and rebounded," said coach Chris Mooney. "So all the different levels of our defense were really solid tonight."

McNeese jumped on the Spiders early, making five of its first seven shots from the floor and building a 12-4 lead just over three minutes into the game. But Richmond responded, hitting four three-pointers during a 19-4 run to to build its lead to seven. After a Cowboys spurt pulled them within two at 29-27, the Spiders scored the final 13 points of the half to take a 42-27 lead at intermission. Jacob Gilyard scored a game-high 12 points in the first half on just five shots, shooting 4-5 from the field with three three-pointers.

The Spiders gradually added to their lead throughout the second half, stretching it to 21 three-and-a-half minutes into the period and 25 with seven-and-a-half minutes to play before coasting to a 30-point win, their largest margin of victory since beating Coppin State 82-47 last December.

McNeese entered the game making 45 percent of its three-point attempts, the third-highest rate in the nation. But after making three three-pointers in the game's first 12 minutes, the Spiders held McNeese without a three-pointer for more than 17 minutes and finished the game holding the Cowboys to 4-20 from three-point range. Richmond made 16 three-pointers of its own, the most by the Spiders in a game since making 16 in a win over Air Force in 2013.

"If you make 16 threes you're probably going to win games," said Mooney. "To me what's more important is the ball movement, the good decision-making that leads to the open three. If a guy is hot and he's just shooting that's one thing, but over the course of time it's going to even out. The best chance you have to shoot a good percentage from three is to make the right basketball decision and move the ball the right way consistently."

Blake Francis led four Spiders in double figures with 20 points, the second time he's scored at least 20 in the last three games. Nick Sherod added 17 for Richmond, including five three-pointers and five assists. Gilyard finished with 15 points and a team-high six assists and Grant Golden added 10 points and six rebounds as Richmond finished with a 35-26 advantage on the boards.

Up next for Richmond is a trip to the Roman Legends Classic in Brooklyn, N.Y. where the Spiders will play Wisconsin on Monday (7 PM on ESPN2) and either Auburn or New Mexico on Tuesday.

"These are great opportunities," said Mooney. For our league, these are the best parts of the schedule because you get a chance to play [power conference] teams on a neutral floor."
Will you help support independent, local journalism?
We need your help. RVAHub is a small, independent publication, and we depend on our readers to help us provide a vital community service. If you enjoy our content, would you consider a donation as small as $5? We would be immensely grateful! Interested in advertising your business, organization, or event? Get the details here.