Loss of Belle Isle Parking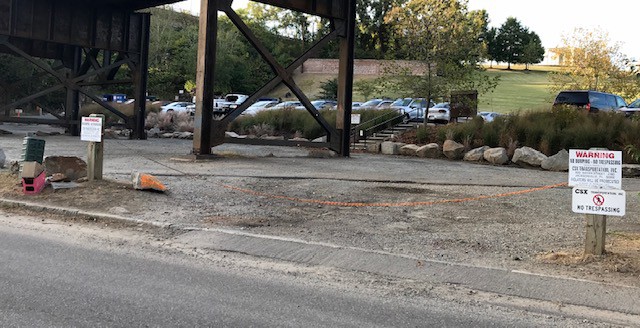 For years there have been two main spots to park if exploring Belle Isle from the downtown side. The paved upper lot, and the lower gravel lot beneath the elevated railroad tracks. That has recently changed. CSX which owns the property beneath the trestles has blocked off access, thus eliminating approximately half the available parking.
We reached out to Park Superintendent Bryce Wilk about the situation and there no comment from the PRCF department as this is private property in regards to the CSX lot.
Hopefully the problem is resolved before next spring when parking is at a premium. It's a shame that while the James River Park system is the most visited destination in the city steps are being taken to decrease the public's access to the area. The 22nd Street Parking lot on the Southbank has parking for 50 cars but unfortunately is only open from May 1 to Labor Day. So until something changes, you might have to walk a little further to explore Belle Isle.
Will you help support independent, local journalism?
We need your help. RVAHub is a small, independent publication, and we depend on our readers to help us provide a vital community service. If you enjoy our content, would you consider a donation as small as $5? We would be immensely grateful! Interested in advertising your business, organization, or event? Get the details here.