Richmond Folk Festival announces twelve more artists set to perform at 15th annual event
The program at this year's festival features a mix of long-standing crowd favorites — from blues, Cajun, and Irish to Tuvan throat-singing and gospel brass "shout bands"– as well as seven cultural traditions never before presented at the festival. The latter include several that festival organizers have long hoped to present, such as traditional music and dance from Syria and a steel pan orchestra.
Venture Richmond today announced 12 additional artists who will perform at the 15th Annual Richmond Folk Festival on the weekend of October 11-13, 2019.
The Richmond Folk Festival was first introduced to the region as a successor festival to the National Folk Festival, which had an incredibly successful tenure in Richmond from 2005-07. The free, three-day event has grown into the largest of its kind in the country, drawing upwards of 220,000 music fans to Richmond's historic downtown riverfront every year to enjoy a varied and virtuosic program of music and dance performed by artists from around the nation as well as the world.
"To celebrate such a special anniversary, we wanted to create a truly memorable October weekend, inviting back some artists who were here in the early years but also introducing cultural traditions that may be new to our attendees," Venture Richmond CEO Lisa Sims said. "And I simply cannot talk about this milestone anniversary without noting the passionate support of our sponsors, individual donors, volunteers, and attendees. We simply could not have grown this event, or sustained it for over a decade, if any one of those groups had not been with us, without fail. It is an accomplishment we are excited to share with them."
The program at this year's festival features a mix of long-standing crowd favorites — from blues, Cajun, and Irish to Tuvan throat-singing and gospel brass "shout bands"– as well as seven cultural traditions never before presented at the festival. The latter include several that festival organizers have long hoped to present, such as traditional music and dance from Syria and a steel pan orchestra.
Anyone who has been to the Richmond Folk Festival knows it to be a feast of sights, sounds, flavors, and new experiences — there is, without question, something for everyone. In addition to performances on seven stages, the festival also includes the Richmond Times-Dispatch Virginia Folklife Area, which showcases regional traditions and demonstrations, an interactive Family Area produced by the Children's Museum, a crafts marketplace, an array of regional and ethnic foods, festival merchandise, and more.
Themes for the Richmond Times-Dispatch Virginia Folklife Area and Stage and CarMax Family Area and Stage will be announced in September.
The 12 newly-announced Richmond Folk Festival artists include:
Aleppo Ensemble (Aleppian wasla music and whirling dervish dance from Syria), New York, New York
Balla Kouyaté & Mamadou Diabaté (balafon masters), Boston, Massachusetts, and Vienna, Austria
CASYM Steel Orchestra (steel pan orchestra), New York, New York
Conjunto Guantanamo (Afro-Cuban), New York, New York
Julie Fowlis (traditional Scottish song, pipes, and whistles), North Uist, Scotland
Mangum & Company (gospel brass "shout band"), Charlotte, North Carolina
Native Pride Dancers (powwow dance traditions), St. Paul, Minnesota
Petroloukas Halkias & Vasilis Kostas (traditional music from Epirus), Boston, Massachusetts, and Epirus, Greece
Plunky & the Oneness of Juju (funk and go-go orchestra), Richmond, Virginia
Riley Baugus (Appalachian songs and ballads), Walkertown, North Carolina
Saraswathi Ranganathan (Carnatic veena), Chicago, Illinois
Stax Music Academy Alumni Band (Memphis soul), Memphis, Tennessee
comments
Stuck at home? Explore some of Virginia's most significant historic, cultural sites online for free
Just because you're social distancing it doesn't mean you cant explore some of Virginia's most magnificent cultural and historical sites virtually, online, for free. Here's a roundup of where you can explore and what you can learn.
By Caroline Logan, Virginia Tourism
With the international crisis regarding COVID-19, also referred to as Coronavirus, visitors may be canceling or rescheduling upcoming travel plans and staying home.
While people are self-isolating and social distancing, many museums, historic sites, and other tourism destinations are offering virtual options for visitors to explore and learn.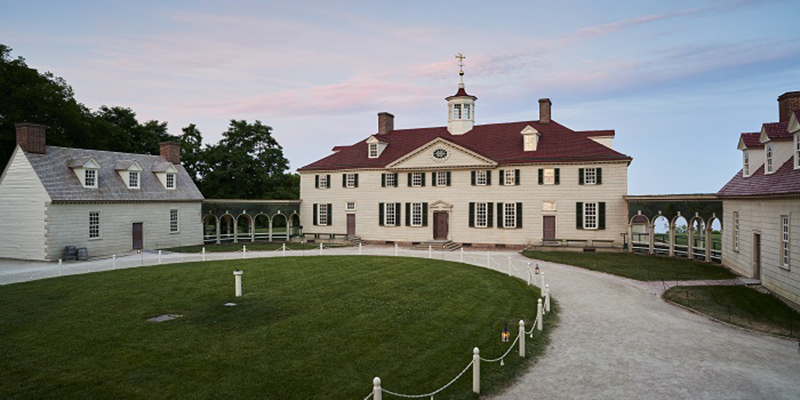 Mount Vernon will continue its mission to educate people around the world through its robust digital presence. The historic site will provide digital tours of the mansion through mountvernon.org/virtualtour. The Washington Library has also prepared digital resources for students and their parents will be working with its network of teachers nationwide to support their educational efforts. These resources can be accessed at mountvernon.org/digital. Mount Vernon's YouTube channel also features a livestream of the estate's newborn lambs.
Monticello hosts a number of online exhibits including "The Declaration Around the World," "The Life of Sally Hemings," and "Paradox of Liberty: Slavery at Jefferson's Monticello," among many others. Users can also download the Slavery at Monticello: Life and Work on Mulberry Row app for free.
James Madison's Montpelier has publicly accessible blog posts, websites, podcasts, and social media posts for visitors to enjoy. Access to podcasts and video series can be found on the site's YouTube page. Those interested in the research, history, archaeology, and collecting at Montpelier can visit the Digital Doorway for a wealth of information at digitaldoorway.montpelier.org.
Colonial Williamsburg is adding content to its Explore From Home website from the people who bring history to life. Resources include guides for teachers, quizzes and puzzles for students, interactive timeline, pages for exploring art collections, and printable coloring sheets from The Art Museums of Colonial Williamsburg, as well as libraries, archives, and other cultural institutions around the world.
The Virginia Museum of History & Culture in Richmond will be offering free online video content, webinars, student learning resources, and virtual tours at VirginiaHistory.org/AtHome.
The National Museum of the Marine Corps in Triangle has a virtual tour and numerous distance learning opportunities. The rich, interactive virtual environment will serve as the gateway for Marines and visitors to see the museum from the comfort of their homes. The museum's online distance learning programs engage audiences with the history of the United States Marine Corps.  Programs include a plethora of virtual learning experiences and subject matter for people to learn important and interesting topics related to the Marine Corps. Take the virtual tour at virtualusmcmuseum.com and access the distance learning programs at usmcmuseum.com/distance-learning.html.
The Chrysler Museum of Art located in Norfolk's NEON Arts District features 50 galleries, 30,000 objects, and a world-renowned glass collection. Viewers can take a virtual tour through the galleries as well as explore the museum's Digital Collections featuring European and American paintings, sculptures and decorative arts and works from African, ancient Egyptian, Pre-Columbian, Islamic and Asian cultures.
Join the Virginia Zoo in Norfolk for a Virtual Voyage every day at 2 p.m. (March 16 – 30, 2020) on its Facebook page. Visitors can go behind the scenes, tour the zoo, and check in on their favorite animals. The zoo's Virtual Voyage website also offers augmented reality tours, printable activity sheets, a YouTube video series, and more.
Take a virtual walking tour of historic Fincastle in Botetourt County with over 50 individual "stops," each complete with a picture and background about the location.
The Kids Square Children's Museum in Roanoke will go live on Facebook at least once a day during the week until reopening. They'll be doing everything from science experiments to book reading. Visitors joining the livestream have the chance to win one of the items that Kids Square is playing with that day.
The Blue Ridge Institute and Museum in Ferrum offers the following online exhibits for individuals to learn more about folk heritage in the Blue Ridge region.
Full Throttle: Racing and Rodding in Southwest and Central Virginia
Moonshine: Blue Ridge Style
Deathly Lyrics: Songs of Virginia Tragedies
Earthenware Along the Great Road in Virginia and Tennessee
The Virginia Museum of Transportation in Roanoke has images and background information on nearly every item in the rail, road, air, and ship collections. Collections are separated by category and can be accessed here.
The William King Museum of Art in Abingdon will be broadcasting live via Facebook every Tuesday and Thursday at 2 p.m. Videos will include tours of the galleries, insider looks at collections, family-friendly art projects, and live art demos.
Lewis Ginter Botanical Garden in Richmond is sharing  "Virtual Visits" on its Facebook page as well as putting resources for learning (including activities for kids) and ideas for relaxation and mental health on its website lewisginter.org.
Take a virtual tour around Virginia Beach's cultural enclave by using this Google Mural Map to explore the ViBe Creative District on a virtual, self-guided mural tour. Click on the map icons to find information about the artists, artworks and locations, along with multiple images of the artwork and video links of murals created during the last two years of the ViBe Mural Festival.
The Barter Theatre in Abingdon is working to offer its patrons the ability to stream productions from home. The production of "Peter Pan" that was originally scheduled to open on April 7 will be online to patrons as well as access special bonus features. The theatre will also be providing coordinating educator resources, including lesson plans and a study guide. More information can be found here: bartertheatre.com/barter-theatre-on-demand
The Virginia Aquarium & Marine Science Center in Virginia Beach will provide entertaining, educational content to fans including live streams, video footage, crafts for kids, and behind the scenes peeks on its website and social media channels.
The City of Alexandria created a new web hub called ALX at Home, which brings residents and nearby visitors their favorite Alexandria restaurants, shops and attractions to the comfort of their own home. Features include:
50+ restaurant and 15 retail deals and offerings
Attraction offerings such as virtual tours and a "Ride it Out" bike rental program from Unlimited Biking.
Cocktail Corner for Happy Hour at home with instructional videos from The Hour boutique.
Puppy Love, bringing a daily dose of cuteness from Alexandria's four-legged friends.
The Omni Homestead Resort's podcast, Beyond the Tower offers an insider's look into one of America's most iconic resorts. From historical anecdotes to one-of-a-kind experiences, Beyond the Tower includes topics from the history of the resort and golf to the Garth Newel Music Center and the resort's partnership with a local farmer. Each episode begins and ends with "Welcome to My Homestead," an original composition from David Hill, a native of Roanoke, Virginia and one of the resort's most popular musicians.
For those interested in historic moments of Virginia, listen to the Following Harriet podcast. Following Harriet takes a closer look at the life of one of the bravest and most extraordinary women in our country's history. It also puts Harriet in a broader context, examining the 19th Century experience of African Americans, especially in Virginia.
Do you know of any other online options that attractions are providing? Let us know in the comments below.
comments
Planned Weekend Opening for Goochland Drive-In Canceled
If you want to catch a movie on a big, really, really big screen this is pretty much your only option.
Update from Goochland Drive-In:
As you know, the GDIT had planned to open this weekend – with modifications to our operations that would promote social distancing and responsibility.
The news and mandates continue to change daily. The latest info from our health department states we can open, but no concession sales. We simply don't know what restrictions may be imposed tomorrow.

Right now things are unfamiliar and uncomfortable for all of us. But we believe brighter days are ahead……as they always are. They'll get here quicker if we all do our part….and that's what we plan to do.

So we've decided to delay the start of our 2020 Season…..we sincerely hope you understand and promise to keep you all updated. Thank you all for the love & support.

Hope to see you soon under the stars.

With kindest regards,
GDIT
It's easier to practice social distancing when you're in a car. That being said the folks at Goochland Drive-In are making some changes outlined below. I can only speak to one of the movies being shown. 1917 was an amazing film that benefits from being on the big screen of a normal theater I can only imagine what it'll look like at the drive-in.
PARKING
Parking limited to 70% of capacity
SNACK BAR
Markers placed in service lines at Snack Bar to separate folks
Condiments will be handed out in packets – self-serve pumps removed from front tables
Outside Food Permit — while we survive off concession purchases, this weekend patrons may bring in their own food for an extra $15 per vehicle….paid at the Ticket Booth along with admission…..and will be provided a food permit to display
RESTROOMS
We have always been sticklers for cleanliness…that will never change — but for now….a Crew member will be present to constantly clean and sanitize
Doors to the restrooms will be propped open to allow fresh air and to avoid touching the door.
PLAYGROUND – CLOSED
Children have proven to be nearly immune – but in the best interest of all, the playground will be closed…….however, feel free to bring along your own frisbees, cornhole, games, etc. to stay entertained before the show
Thank you all for taking a moment to read this post — we look forward to seeing you guys this weekend!!!
comments
Music at Maymont announces Carbon Leaf as first 2020 season show
The Richmond favorites will take the stage July 18th at historic Maymont as part of their Brothers In Arms tour.
Haymaker Productions has announced the first act for Music at Maymont for the 2020 series: Richmond's own Carbon Leaf will take the stage Saturday, July 18th at 7:00 PM. After their Richmond start, Carbon Leaf has been entertaining audiences worldwide for well over two decades.
Blending rock, folk, Celtic, bluegrass and Americana traditions into a high-energy style the group calls ether-electrified porch music, Carbon Leaf's poetic songs are brought to life with acoustic and electric guitars, mandolin, fiddle, bass, drums, cello, banjo, pennywhistle, pedal steel, accordion, and rich vocal harmony.
The Virginia quintet writes, records and produces its music independently from their studio in Richmond and has performed over 2,400 lives shows across 17 albums in their long career. The group's independent music and spirit continue to resonate with its fans.
Doors open at 6:00 PM. Tickets for Carbon Leaf are $25 in advance and $35 at the gate.
Children under 10 free with paid adult admission. Tickets can be purchased beginning March 13 at eventbrite.com. The Maymont Stage is located at 1700 Hampton Street.
comments