Critters of the Week
A wild critter we spotted in the RVA area and a critter up for adoption by SPCA or RACC.
---
If we ever mis-identify a critter please let us know in the comments.
Where Spotted: Maymont, T-Pot Bridge, Reedy Creek
Common Name: Black Vulture
Scientific Name: Coragyps atratus
Length 23-27 inches
Wingspan 54-59 inches
Weight 3.5-5 pounds
Black and Turkey Vultures are scavengers and feed primarily on carrion.Their stomachs have strong enzymes that kill off dangerous toxins and microorganisms.
Vultures lack feathers on their heads so that they can more easily keep themselves clean when eating. Vultures will often insert their head completely inside the carcass they are cleaning up.
The legs of vultures are usually coated white, due to the dried uric acid of their excrement. Vultures will mute – excrete waste – onto their legs, serving two different purposes:

In warm weather, muting on their legs serves as part of their thermoregulation – it helps to cool down their body temperature.
When vultures step into a carcass, touching possibly contaminated flesh, they risk tracking bacteria around on their legs. The vultures will excrete onto their legs, and the highly acidic uric acids kill off bacteria and toxins that may be on the bird's legs.

Vultures can live to be 25 years old.
Black Vultures are "family-oriented" birds – they feed their young for up to eight months after their young have fledged and often stay together in family groups.
---
Kreature at RACC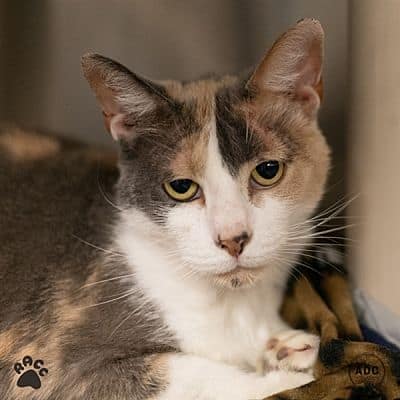 Primary Color: Blue Cream Calico
Weight: 7
Age: 4yrs 1mths 0wks
Sex: Female
Pet ID: 80628
Please note that the adoptable critter we've selected was available when we created the post the animal might not be available when you go to the facility.
Will you help support independent, local journalism?
We need your help. RVAHub is a small, independent publication, and we depend on our readers to help us provide a vital community service. If you enjoy our content, would you consider a donation as small as $5? We would be immensely grateful! Interested in advertising your business, organization, or event? Get the details here.