Female stories front and center in first ever Women's Theatre Festival
Richmond's first-ever Women's Theatre Festival is underway. The festival, housed in TheatreLAB's black box theater, includes four one-woman shows: "Message From a Slave," "Bad Dates," "Pretty Fire" and "Golda's Balcony." The plays rotate in rep with one another through April 20.
By Evie King
Mounting Richmond's first-ever Women's Theatre Festival has involved making a lot of decisions, both large and small: from crafting narrative arcs and landing a production's memorable takeaway moments, down to the detailed choice of what color pants an actor will wear onstage.
But now it's showtime: The festival, housed in TheatreLAB's black box theater, includes four one-woman shows: "Message From a Slave," "Bad Dates," "Pretty Fire" and "Golda's Balcony." The plays rotate in rep with one another through April 20.
During an afternoon fitting with costume designer Ruth Hedberg, Hedberg, actress Haliya Roberts and director Carol Piersol of the show "Pretty Fire" decided what Roberts would wear in the production.
After trying on a few pairs of pants and looking over some patterned blouse options, the three women chose a simple ensemble: a black tank top tucked into a pair of black pants.
Co-hosted by 5th Wall Theatre and TheatreLAB, the Women's Theatre Festival production team is made up of 14 local women who take on the roles of producers; directors; actors; and lighting, sound and costume designers.
The only man working on the project is Deejay Gray, artistic director of TheatreLAB and co-creator of the festival. Gray said he was inspired to start the festival because of the strong influence many women have had on both his artistic career and personal life.
"My entire life I've been surrounded by strong, powerful, incredible women, and something like this is exciting because if I can use my privilege to create space for other people, that to me is the greatest thing that I can do as an artist and as a human being," Gray said.
By offering support from the sidelines, Gray said his role in the project is largely peripheral. Though stepping back as a producer was initially uncomfortable, he said, he was excited to be a part of the team and see the women involved in the project take ownership of telling these stories.
"They don't need me, but it can be a really great opportunity for folks to understand that you don't have to identify directly with something to support it," Gray said.
Giving women 'a strong role' in society and on stage
Carol Piersol is artistic director of 5th Wall Theatre and the other co-creator of the festival. Piersol said when she began producing theater over 20 years ago, women's voices were rarely featured onstage; that's why this festival is important to her.
"It's respecting women and giving them a strong role in our society and making them make a difference in the world, as opposed to being a secondary character in a play that revolves around men," Piersol said.
Gray said the decision to produce one-woman scripts highlighted a through line of female camaraderie between the individual stories.
"We thought that a great way to introduce the idea for this festival would be the singular voice of individual women coming together to share a much larger narrative," Gray said.
Though each production presents an entirely individual narrative, Gray and Piersol said a common theme of personal liberation and triumph is evident in each story.
From unfortunate dating anecdotes, told by a cocktail-sipping Maggie Bavolack, in Theresa Rebeck's "Bad Dates," to one woman's history being enslaved and the effects of generational trauma in Margarette Joyner's "Message From a Slave," the female protagonists end each play in hope.
Depicting racism the actress has experienced in life
"Pretty Fire," written by Charlayne Woodard in 1995, is an autobiographical coming-of-age story about the playwright's own childhood, growing up as an African American in the 1960s. The play depicts vignettes of Woodward experiencing significant moments in her life: from being racially discriminated against by her white classmates to singing her first solo in church.
Haliya Roberts plays Charlayne Woodard's character as well as the 20-plus supporting roles. Roberts said after reading the script for the first time, she burst into tears because the story and cast of characters were so intimately familiar to her.
"I saw a lot of women in my life … my grandmothers, my parents, and I connected with it in a way that I don't think I've ever connected with any piece that I've done this far in my career," Roberts said.
Wearing a simple all-black outfit, Roberts transforms from grandmother to granddaughter, child to adult, exchanging dialogue sequences with herself.
Piersol, the play's director, said the fluid nature of the script demanded a simple design aesthetic. One red bench constitutes the set, as Roberts sits, stands, climbs and crawls over and under it, guiding the audience through Woodard's childhood.
Piersol said directing the show has brought to light her own ignorance of the prejudice faced daily by African Americans. While working on a scene in which Woodard is called the N-word, Piersol learned that Roberts has had that same experience in real life.
"It opened my eyes that we as white people don't have any idea about the black experience. We can't know it all. We think we're not prejudiced; we think we know, and we don't. We don't have a clue," Piersol said.
Roberts said the show's rehearsal process was a collaborative experience between Piersol and herself. Where Piersol offered direction and guidance, Roberts brought her firsthand experience of African American culture and identity.
Roberts said the show humanizes "the black experience as an American experience" and speaks to racial division as both a historic and current obstacle for American audiences to consider.
Evoking feminism from an earlier generation
With the red bench from "Pretty Fire" moved off stage and a table and chairs added to the space, "Golda's Balcony" is set.
Jacqueline Goldberg Jones travels around the stage as Golda Meir, Israel's first female prime minister. William Gibson's script reflects on Meir's life and the events leading up to her decision that guided the nation from the brink of nuclear warfare during the Yom Kippur War in 1973.
Director Debra Clinton said that although the play is about feminism of a different time, certain themes hold true.
"I think for women of a lot of generations, we have all always struggled with what we're supposed to be doing as women and what we feel we want to do as human beings, and what is the price that we pay for following our vision for what we want," Clinton said.
The female protagonist navigates the male-dominated political world, holding her own in leadership and determination. Clinton said Meir was an anomaly in a time when women were not encouraged to be powerful leaders.
Having previously mounted the show nearly 10 years ago, Jones said she is thrilled to revisit this immense script and portray such a strong character again.
Jones and Clinton said producing this show in the festival's lineup celebrates their talents as proud Jewish women and active artists in Richmond's theater scene.
"We are the face of what is happening now. And some of us are older and some of us are younger, and some of us come from the education world and some of us are professional, but we are the face, and I think there's a huge empowerment in that," Clinton said.
Piersol and Gray said tentative plans are already in motion for next year's Women's Theatre Festival. The co-creators said they look forward to exploring new avenues for expanding the content and audience, with potentially larger casts and involving more community partners.
Gray said a lot of those decisions are dependent upon the current moment.
"Art imitates life and vice versa, and so we want to be able to make sure that the festival is projecting what's happening in the world around us as well," Gray said.
Roberts said she is honored to be part of Richmond's first Women's Theatre Festival at a time when she says people are listening.
"I think it's great," Roberts said. "We're having a moment and an uprising, and a time when people have ears to hear women's stories."
Upcoming Performances at Women's Theatre Festival
All of the plays are being presented at TheatreLAB's black box theater, 300 E. Broad St. Tickets can be purchased at http://www.5thwalltheatre.org/
"Message From a Slave" — April 10 at 8 p.m.; April 14 at 4 p.m.; April 19 at 8 p.m.
"Bad Dates" — April 11, 16 and 20; all performances at 8 p.m
"Pretty Fire" — April 12 and 17, both performances at 8 p.m.
"Golda's Balcony" — April 13 and 18, both performances at 8 p.m.
comments
Stuck at home? Explore some of Virginia's most significant historic, cultural sites online for free
Just because you're social distancing it doesn't mean you cant explore some of Virginia's most magnificent cultural and historical sites virtually, online, for free. Here's a roundup of where you can explore and what you can learn.
By Caroline Logan, Virginia Tourism
With the international crisis regarding COVID-19, also referred to as Coronavirus, visitors may be canceling or rescheduling upcoming travel plans and staying home.
While people are self-isolating and social distancing, many museums, historic sites, and other tourism destinations are offering virtual options for visitors to explore and learn.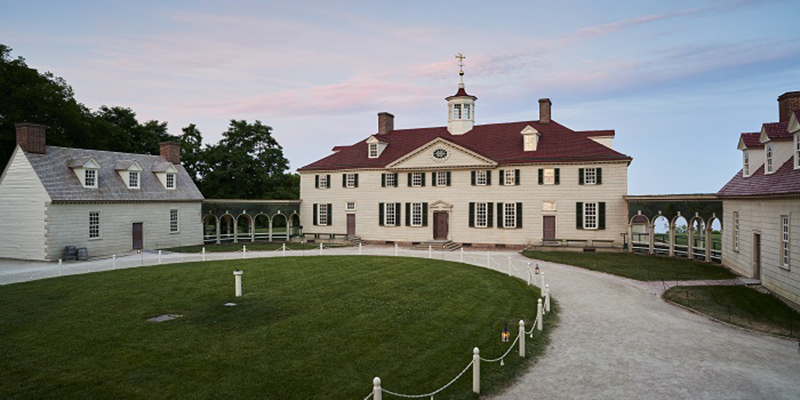 Mount Vernon will continue its mission to educate people around the world through its robust digital presence. The historic site will provide digital tours of the mansion through mountvernon.org/virtualtour. The Washington Library has also prepared digital resources for students and their parents will be working with its network of teachers nationwide to support their educational efforts. These resources can be accessed at mountvernon.org/digital. Mount Vernon's YouTube channel also features a livestream of the estate's newborn lambs.
Monticello hosts a number of online exhibits including "The Declaration Around the World," "The Life of Sally Hemings," and "Paradox of Liberty: Slavery at Jefferson's Monticello," among many others. Users can also download the Slavery at Monticello: Life and Work on Mulberry Row app for free.
James Madison's Montpelier has publicly accessible blog posts, websites, podcasts, and social media posts for visitors to enjoy. Access to podcasts and video series can be found on the site's YouTube page. Those interested in the research, history, archaeology, and collecting at Montpelier can visit the Digital Doorway for a wealth of information at digitaldoorway.montpelier.org.
Colonial Williamsburg is adding content to its Explore From Home website from the people who bring history to life. Resources include guides for teachers, quizzes and puzzles for students, interactive timeline, pages for exploring art collections, and printable coloring sheets from The Art Museums of Colonial Williamsburg, as well as libraries, archives, and other cultural institutions around the world.
The Virginia Museum of History & Culture in Richmond will be offering free online video content, webinars, student learning resources, and virtual tours at VirginiaHistory.org/AtHome.
The National Museum of the Marine Corps in Triangle has a virtual tour and numerous distance learning opportunities. The rich, interactive virtual environment will serve as the gateway for Marines and visitors to see the museum from the comfort of their homes. The museum's online distance learning programs engage audiences with the history of the United States Marine Corps.  Programs include a plethora of virtual learning experiences and subject matter for people to learn important and interesting topics related to the Marine Corps. Take the virtual tour at virtualusmcmuseum.com and access the distance learning programs at usmcmuseum.com/distance-learning.html.
The Chrysler Museum of Art located in Norfolk's NEON Arts District features 50 galleries, 30,000 objects, and a world-renowned glass collection. Viewers can take a virtual tour through the galleries as well as explore the museum's Digital Collections featuring European and American paintings, sculptures and decorative arts and works from African, ancient Egyptian, Pre-Columbian, Islamic and Asian cultures.
Join the Virginia Zoo in Norfolk for a Virtual Voyage every day at 2 p.m. (March 16 – 30, 2020) on its Facebook page. Visitors can go behind the scenes, tour the zoo, and check in on their favorite animals. The zoo's Virtual Voyage website also offers augmented reality tours, printable activity sheets, a YouTube video series, and more.
Take a virtual walking tour of historic Fincastle in Botetourt County with over 50 individual "stops," each complete with a picture and background about the location.
The Kids Square Children's Museum in Roanoke will go live on Facebook at least once a day during the week until reopening. They'll be doing everything from science experiments to book reading. Visitors joining the livestream have the chance to win one of the items that Kids Square is playing with that day.
The Blue Ridge Institute and Museum in Ferrum offers the following online exhibits for individuals to learn more about folk heritage in the Blue Ridge region.
Full Throttle: Racing and Rodding in Southwest and Central Virginia
Moonshine: Blue Ridge Style
Deathly Lyrics: Songs of Virginia Tragedies
Earthenware Along the Great Road in Virginia and Tennessee
The Virginia Museum of Transportation in Roanoke has images and background information on nearly every item in the rail, road, air, and ship collections. Collections are separated by category and can be accessed here.
The William King Museum of Art in Abingdon will be broadcasting live via Facebook every Tuesday and Thursday at 2 p.m. Videos will include tours of the galleries, insider looks at collections, family-friendly art projects, and live art demos.
Lewis Ginter Botanical Garden in Richmond is sharing  "Virtual Visits" on its Facebook page as well as putting resources for learning (including activities for kids) and ideas for relaxation and mental health on its website lewisginter.org.
Take a virtual tour around Virginia Beach's cultural enclave by using this Google Mural Map to explore the ViBe Creative District on a virtual, self-guided mural tour. Click on the map icons to find information about the artists, artworks and locations, along with multiple images of the artwork and video links of murals created during the last two years of the ViBe Mural Festival.
The Barter Theatre in Abingdon is working to offer its patrons the ability to stream productions from home. The production of "Peter Pan" that was originally scheduled to open on April 7 will be online to patrons as well as access special bonus features. The theatre will also be providing coordinating educator resources, including lesson plans and a study guide. More information can be found here: bartertheatre.com/barter-theatre-on-demand
The Virginia Aquarium & Marine Science Center in Virginia Beach will provide entertaining, educational content to fans including live streams, video footage, crafts for kids, and behind the scenes peeks on its website and social media channels.
The City of Alexandria created a new web hub called ALX at Home, which brings residents and nearby visitors their favorite Alexandria restaurants, shops and attractions to the comfort of their own home. Features include:
50+ restaurant and 15 retail deals and offerings
Attraction offerings such as virtual tours and a "Ride it Out" bike rental program from Unlimited Biking.
Cocktail Corner for Happy Hour at home with instructional videos from The Hour boutique.
Puppy Love, bringing a daily dose of cuteness from Alexandria's four-legged friends.
The Omni Homestead Resort's podcast, Beyond the Tower offers an insider's look into one of America's most iconic resorts. From historical anecdotes to one-of-a-kind experiences, Beyond the Tower includes topics from the history of the resort and golf to the Garth Newel Music Center and the resort's partnership with a local farmer. Each episode begins and ends with "Welcome to My Homestead," an original composition from David Hill, a native of Roanoke, Virginia and one of the resort's most popular musicians.
For those interested in historic moments of Virginia, listen to the Following Harriet podcast. Following Harriet takes a closer look at the life of one of the bravest and most extraordinary women in our country's history. It also puts Harriet in a broader context, examining the 19th Century experience of African Americans, especially in Virginia.
Do you know of any other online options that attractions are providing? Let us know in the comments below.
comments
Planned Weekend Opening for Goochland Drive-In Canceled
If you want to catch a movie on a big, really, really big screen this is pretty much your only option.
Update from Goochland Drive-In:
As you know, the GDIT had planned to open this weekend – with modifications to our operations that would promote social distancing and responsibility.
The news and mandates continue to change daily. The latest info from our health department states we can open, but no concession sales. We simply don't know what restrictions may be imposed tomorrow.

Right now things are unfamiliar and uncomfortable for all of us. But we believe brighter days are ahead……as they always are. They'll get here quicker if we all do our part….and that's what we plan to do.

So we've decided to delay the start of our 2020 Season…..we sincerely hope you understand and promise to keep you all updated. Thank you all for the love & support.

Hope to see you soon under the stars.

With kindest regards,
GDIT
It's easier to practice social distancing when you're in a car. That being said the folks at Goochland Drive-In are making some changes outlined below. I can only speak to one of the movies being shown. 1917 was an amazing film that benefits from being on the big screen of a normal theater I can only imagine what it'll look like at the drive-in.
PARKING
Parking limited to 70% of capacity
SNACK BAR
Markers placed in service lines at Snack Bar to separate folks
Condiments will be handed out in packets – self-serve pumps removed from front tables
Outside Food Permit — while we survive off concession purchases, this weekend patrons may bring in their own food for an extra $15 per vehicle….paid at the Ticket Booth along with admission…..and will be provided a food permit to display
RESTROOMS
We have always been sticklers for cleanliness…that will never change — but for now….a Crew member will be present to constantly clean and sanitize
Doors to the restrooms will be propped open to allow fresh air and to avoid touching the door.
PLAYGROUND – CLOSED
Children have proven to be nearly immune – but in the best interest of all, the playground will be closed…….however, feel free to bring along your own frisbees, cornhole, games, etc. to stay entertained before the show
Thank you all for taking a moment to read this post — we look forward to seeing you guys this weekend!!!
comments
Music at Maymont announces Carbon Leaf as first 2020 season show
The Richmond favorites will take the stage July 18th at historic Maymont as part of their Brothers In Arms tour.
Haymaker Productions has announced the first act for Music at Maymont for the 2020 series: Richmond's own Carbon Leaf will take the stage Saturday, July 18th at 7:00 PM. After their Richmond start, Carbon Leaf has been entertaining audiences worldwide for well over two decades.
Blending rock, folk, Celtic, bluegrass and Americana traditions into a high-energy style the group calls ether-electrified porch music, Carbon Leaf's poetic songs are brought to life with acoustic and electric guitars, mandolin, fiddle, bass, drums, cello, banjo, pennywhistle, pedal steel, accordion, and rich vocal harmony.
The Virginia quintet writes, records and produces its music independently from their studio in Richmond and has performed over 2,400 lives shows across 17 albums in their long career. The group's independent music and spirit continue to resonate with its fans.
Doors open at 6:00 PM. Tickets for Carbon Leaf are $25 in advance and $35 at the gate.
Children under 10 free with paid adult admission. Tickets can be purchased beginning March 13 at eventbrite.com. The Maymont Stage is located at 1700 Hampton Street.
comments