WATCH & LISTEN: The definitive guide to the 2018 season of Friday Cheers
Friday Cheers' 34th season kicks off May 4th. We've got the complete guide to who to see and when along the beautiful Downtown Richmond riverfront this spring, along with some fresh tracks to check out from each of the notable artists from this year's lineup.
If the unseasonably warm Ukrops Monument Avenue 10K wasn't enough of an indication that spring has finally arrived in the River City, then the fact that the 34th annual Friday Cheers music series starts next week should be all the evidence that you need to pack your sweaters away (at last) and stock up on sunscreen for your weekly Friday afternoon trip to Brown's Island.
Yes, Friday Cheers is 34 years old, which means it's just that age where it begins flooding your social media feed with its new horticulture obsession (sweet garden box, bro!) and can definitely recommend the best place to get quality mulch. Despite that, the festival continues to age gracefully and maintain an open-minded attitude towards modern music; neither of which is an easy feat. Heck, I'm 31 and am currently casually researching chiropractors while listening to a Hold Steady record that came out 10 years ago, so I can't help but respect a Richmond institution that so effectively remains fresh.
Without any further adieu or prolonged self-deprecation, here's a breakdown of the artists that will bless Brown's Island with their presence and artistry for the next eight weeks. Ticket prices are listed alongside each week's lineup and can be purchased individually here. Additionally, Season passes can be purchased for $55. As always, children ages 12 and under can attend free of charge.
May 4th – Valerie June (8:00) with Devon Gilfillian (6:30): $10
This year, Friday Cheers may be putting its best foot forward early, with a hot out-of-the-gate lineup featuring blues and Southern-soul up-and-comer Devon Gilfillian as well as singer-songwriter and critical darling Valerie June.
Gilfillian is relatively new to the national touring circuit but certainly no novice to the stage. Raised in a musical family and influenced by godfathers of R&B Al Green and Ray Charles, he's spent the greater part of his life performing the works of artists he admires. He's now made a difficult but necessary transition by putting his own soul on the record and releasing his first, eponymous EP of original works.
Groove to "Here and Now:"
Valerie June is a Memphis-based blues and folk musician who would likely point out the oversimplification of that description. Asked to define her genre of music in a Rolling Stone profile from 2015, June said, "I wanted to call it something magical, and at the core of blues, gospel, folk, and rock & roll is roots music – so that's what I ended up calling it."
Though American folk since the late 20th-century revival has almost inherently lyrically leaned towards politics, June abhors the thought of her music being adopted towards any political end. "I don't turn on the news, I don't know what's going on with the world in that sense, I am very protected in my space. It's very sacred. And as the servant of the song, I don't want to allow this world to take away the beauty of what I have created by asking me about politics. What in the world? Can we not just have beautiful music? Can we not just create something that is happy and fun?"
You can listen to "Shakedown" off of her most recent LP "Order of Time" which was released in March of last year:
May 11th – Tank and the Bangas (8:00) with Sweet Crude (6:30): $10
Week two of the series will bring a heaping helping of New Orleans funk and swagger that will send you home more satisfied than a bowl of jambalaya and some fresh-out-of-the-oven beignets. Both artists will be hitting the road following appearances at the New Orleans Jazz and Heritage Festival. Fans of a beat that makes your head nod and your booty shake won't want to miss Sweet Crude and Tank and the Bangas when they bounce their way across the bridge on May 11th.
Sweet Crude is a group of Southern Louisiana natives who offer a blend of hypnotic percussion and the rich history musical history that defines the Crescent City that, when combined, create the foundation of what could very well shape a new pedigree from a region basked in rich tradition. Their debut record "Creatures" was released in April and features songs in both English as well as Louisiana French (the latter sound just as beautiful even if your Duolingo app has sat idle for the past five months despite your New Year's resolution to learn a new language).
Listen to the haunting vocals of "Mon Esprit" here (and don't leave until the full band kicks in at the two-minute mark):
Tank and the Bangas have experienced a head-spinning, accelerated rise into the music spotlight since being selected from over 6,000 entries to win NPR's 2017 Tiny Desk Concert Submission Contest. The annual event encourages aspiring artists to submit videos of their performances for consideration, with the ultimate prize landing the performer or group behind the now infamous "Tiny Desk" at National Public Radio to perform and have their songs heard by millions of listeners.
Tarriona "Tank" Ball was already an award-winning spoken-word vocalist before the band formed in a local hair salon in New Orleans. The group mixes funk, jazz, spoken word, and soul into a musical gumbo worthy of your next cookout or block party.
You can watch their entire "Tiny Desk Concert," which at the time of publication has been viewed over 4.5 million times, right here:
May 25th – RVA Music Night featuring Richmond bands: Butcher Brown (8:00), Dharma Bombs (7:00) and Piranha Rama (6:00): $5
Friday Cheers continues its mission to bring local flavor to the ears of the River City with RVA Music Night on Friday, May 18th. The lineup features a slew of scene stalwarts and familiar faces in new formations.
Piranha Rama is a venerable super-group of seasoned scene talent wrapped in a brand new package. Former and current members of Lady God, The Milkstains, Bad Magic, and Talking Heads cover band Fear of Music combine to form an outfit with a psychedelic surf-rock vibe that will feel right at home on a sun-soaked evening on the water. The band just released their first two-track EP "Beach Body" (maybe Texas Beach?).
Check out "Sure Enough" here:
Dharma Bombs dub themselves "authentic Appalachian Dixieland" and possess both the talent, charm, and the musical arrangement to prove that claim true multiple times over. Featuring genre staples banjo and mandolin along trumpet and saxophone, this group is not shy about their desire to get their audience dancing to their jaunty melodies. The band played The Camel on the first Thursday of every month in 2017 and is ready for a little sunshine along the skyline.
Speaking of sun, check out their track "Sunny Always" here:
Finally, Jellowstone Records' own Butcher Brown will close out the evening with their signature "garage punk jazz funk" that's guaranteed to keep you on your feet. The group seamlessly weaves complex melodies and harmonies full of syncopation across multiple keys and time signatures (often within a single song) to give their audience an undeniable auditory experience that will keep them vibing long after the ensemble has taken their bow.
Listen to a live recording of their song "Fiat" and just try to deny that groove from the bass and keys:
June 1st – Tyler Childers (8:00) with Saw Black (6:30): $5
While the weather on June 1st might have us staring out the window looking outside, the music at Friday Cheers will have you looking inside yourself as two introspective singer-songwriters hit the big stage.
Saw Black is a local art handler that lives on the South Side of the James River here in Richmond and is part owner of Crystal Pistol Records. Black's music has that Laurel-Canyon sound that defined a generation of music storytellers while blazing his own trail lyrically with songs about his own unique trials and tribulations (including a bike accident on a bridge). His second LP, "Water Tower' will be released on May 18th, just days before this performance.
Listen to the title track from the new record below:
Tyler Childers is a Kentucky-born singer-songwriter also looking to blaze a new trail through the musical traditions that have defined the Appalachian Mountains. A friendship that struck up with fellow artist Sturgill Simpson helped Childers find that sound and his second and most recent record, "Purgatory," got Childers to the musical destination he was looking for incessantly. Simpson produced the record and now Childers is taking that sound on the road.
You can hear his song "Whitehouse Road" here:
June 8th – Rhiannon Giddens (8:00) with NO BS! Brass Band (6:30): $10
Part of the Festival of the River. Both bands performing with the Richmond Symphony.
This year, Friday Cheers will be partnering with "Festival of the River;" a three-day music and arts festival celebrating the James River and the Chesapeake Bay. The greater festival will feature bands, art installations, and educational events, but the Friday Cheers component features hometown heroes No BS Brass Band followed by nationally acclaimed, Grammy –winning artist Rhiannon Giddens (better known as the lead singer of the Carolina Chocolate Drops). Both artists will perform alongside the Richmond Symphony Orchestra in a can't miss musical extravaganza.
NO BS Brass Band need no introduction in the 804, but they deserve every accolade that comes their way. These talented musicians can be witnessed bringing down the house in just about every venue in town and continue to tour and collaborate and spread their positive attitude across the city, the country, and the world.
Check out their classic track, "RVA All Day" here:
Rhiannon Giddens won a Grammy for Best Traditional Folk Album for  her work with The Carolina Chocolate Drops and has also signed as a solo artist to Brooklyn-based Nonesuch Records (also home to Conor Oberst, who played Friday Cheers in June last year). Fans of the television show "Nashville" might also recognize her as the character Hannah Lee "Hallie" Jordan. Her second solo LP, "Freedom Highway" won Album of the Year at the 2018 International Folk Music Awards  and it will be an absolute treat to hear some of those songs with a full orchestral arrangement.
Listen to the song, "Come Love Come" off of that very album below:
June 15th – Parquet Courts (8:00) with Gauche (6:30): $10
The Friday Cheers lineup the week before the summer solstice really brings the heat with the blistering yet danceable garage punk of Gauche and the hot indie rock spotlight that seems to be following NYC band Parquet Courts.
Gauche hail just north of the Commonwealth in Washington D.C but their furious strumming should cut right through the swamp and into your heart. The band currently has a 7-track cassette to their name called "Get Away with Gauche." The tape was released in 2015 but new tour dates on the calendar could mean some fresh jittery jams.
Check out "Pay Day" to get a taste of what the trio has to offer:
Parquet Courts were recently dubbed "the most exciting young band in America" by Rolling Stone magazine and appeared on, of all places, "The Ellen Degeneres Show." Their lack of convention likely did not surprise to fans that have been following the band since their 2013 debut "Light Up Gold." They're touring with some new tunes as well as continuing to ride the wave of their celebrated 2016 LP "Human Performance."
Watch their performance of their new song "Wide Awake" here:
June 22nd – Knower (8:00) with Kenneka Cook (6:30): $5
The penultimate week of this year's series will feature two exciting electronic artists who have been making digital waves in the vast ocean of self-produced artists that has only swelled in the age of Youtube and Spotify. These artists have proven they have the chops to set themselves apart and will undoubtedly bring that unique artistry to bear when they step in front of the mics on June 22nd.
Kenneka Cook is a local rising star who combines soulful vocals with live and recorded instrumentation to create vibrant soundscapes through a technique known as "looping." A former choir singer obsessed with space and the great unknown, Kenneka has been making the rounds at venues in Richmond (including the Science Museum of Virginia) and is starting to develop a dedicated fanbase.
Take a listen to her song, "My Universe" here:
Knower is an electronic music duo comprised of Louis Cole and Genevieve Artadi that have gained a reputation for pushing musical boundaries and embracing the experimental. They've performed in the form of their electronic duo, as well as a five-piece alternative band. They're two classically trained musicians that have also released impassioned jazz records and have opened for the Red Hot Chili Peppers. They just like to flex their artistic freedom.
You see that in their "Live Sesh in Some Guy's House" performing their song, "Overtime" here:
June 29th – Turnpike Troubadours (8:00) with Charley Crockett (6:30): $10
The final installment of this year's Friday Cheers will have you reaching for some sweet tea and hankering for some delicious barbeque as two roots-driven country artists hitch their wagons along the James.
Charley Crockett was born into poverty along the Rio Grande and spent a lot of his life wandering the American Southwest, much like his relative, American folk hero Davy Crockett. Originally making his name as a blues singer, Crockett has expanded his repertoire to include hints of gospel, Cajun jazz, and honky-tonk. He recently recorded an album full of honky-tonk favorites written by the likes of Hank Williams and Loretta Lynn. He just released a new LP of original songs titled, "Lonesome as a Shadow."
Here's the lead single from the new album, called "In The Night."
Turnpike Troubadours formed in Oklahoma in 2005 and have been rambling the highways of the United States ever since. The band often performs 100 shows a year, but they started small in dance halls in their home state, playing two-step songs to please crowds. That's where they honed their brand of down-home country that leans a bit heavier on storytelling than the traditional country artists that inspired them. Their latest record, "A Long Way from Your Heart" peaked at #3 on the Billboard U.S Country charts and #1 on the U.S Indie and U.S Folk charts.
Take a listen to a song from that latest effort, titled, "A Tornado Warning," live from Austin City Limits here:
That's Friday Cheers for ya, folks! There's 8 weeks, 17 artists (and one symphony!), and too many musical genres to count. There's something for everyone this year, so don't hesitate to pick up your season pass and assemble your crew. The festivities begin this Friday, May 4th!
comments
Stuck at home? Explore some of Virginia's most significant historic, cultural sites online for free
Just because you're social distancing it doesn't mean you cant explore some of Virginia's most magnificent cultural and historical sites virtually, online, for free. Here's a roundup of where you can explore and what you can learn.
By Caroline Logan, Virginia Tourism
With the international crisis regarding COVID-19, also referred to as Coronavirus, visitors may be canceling or rescheduling upcoming travel plans and staying home.
While people are self-isolating and social distancing, many museums, historic sites, and other tourism destinations are offering virtual options for visitors to explore and learn.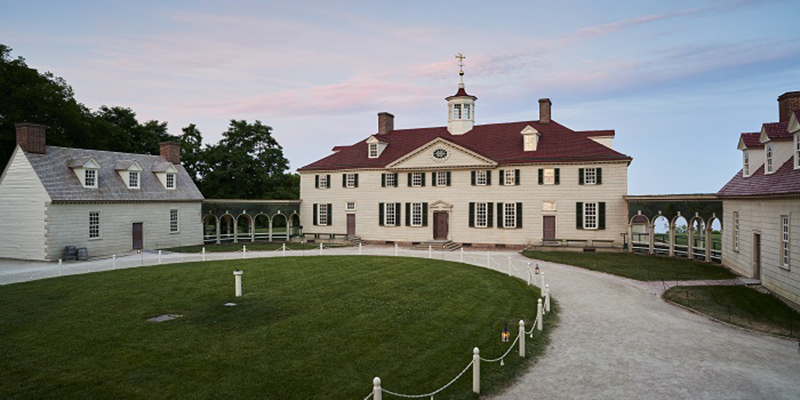 Mount Vernon will continue its mission to educate people around the world through its robust digital presence. The historic site will provide digital tours of the mansion through mountvernon.org/virtualtour. The Washington Library has also prepared digital resources for students and their parents will be working with its network of teachers nationwide to support their educational efforts. These resources can be accessed at mountvernon.org/digital. Mount Vernon's YouTube channel also features a livestream of the estate's newborn lambs.
Monticello hosts a number of online exhibits including "The Declaration Around the World," "The Life of Sally Hemings," and "Paradox of Liberty: Slavery at Jefferson's Monticello," among many others. Users can also download the Slavery at Monticello: Life and Work on Mulberry Row app for free.
James Madison's Montpelier has publicly accessible blog posts, websites, podcasts, and social media posts for visitors to enjoy. Access to podcasts and video series can be found on the site's YouTube page. Those interested in the research, history, archaeology, and collecting at Montpelier can visit the Digital Doorway for a wealth of information at digitaldoorway.montpelier.org.
Colonial Williamsburg is adding content to its Explore From Home website from the people who bring history to life. Resources include guides for teachers, quizzes and puzzles for students, interactive timeline, pages for exploring art collections, and printable coloring sheets from The Art Museums of Colonial Williamsburg, as well as libraries, archives, and other cultural institutions around the world.
The Virginia Museum of History & Culture in Richmond will be offering free online video content, webinars, student learning resources, and virtual tours at VirginiaHistory.org/AtHome.
The National Museum of the Marine Corps in Triangle has a virtual tour and numerous distance learning opportunities. The rich, interactive virtual environment will serve as the gateway for Marines and visitors to see the museum from the comfort of their homes. The museum's online distance learning programs engage audiences with the history of the United States Marine Corps.  Programs include a plethora of virtual learning experiences and subject matter for people to learn important and interesting topics related to the Marine Corps. Take the virtual tour at virtualusmcmuseum.com and access the distance learning programs at usmcmuseum.com/distance-learning.html.
The Chrysler Museum of Art located in Norfolk's NEON Arts District features 50 galleries, 30,000 objects, and a world-renowned glass collection. Viewers can take a virtual tour through the galleries as well as explore the museum's Digital Collections featuring European and American paintings, sculptures and decorative arts and works from African, ancient Egyptian, Pre-Columbian, Islamic and Asian cultures.
Join the Virginia Zoo in Norfolk for a Virtual Voyage every day at 2 p.m. (March 16 – 30, 2020) on its Facebook page. Visitors can go behind the scenes, tour the zoo, and check in on their favorite animals. The zoo's Virtual Voyage website also offers augmented reality tours, printable activity sheets, a YouTube video series, and more.
Take a virtual walking tour of historic Fincastle in Botetourt County with over 50 individual "stops," each complete with a picture and background about the location.
The Kids Square Children's Museum in Roanoke will go live on Facebook at least once a day during the week until reopening. They'll be doing everything from science experiments to book reading. Visitors joining the livestream have the chance to win one of the items that Kids Square is playing with that day.
The Blue Ridge Institute and Museum in Ferrum offers the following online exhibits for individuals to learn more about folk heritage in the Blue Ridge region.
Full Throttle: Racing and Rodding in Southwest and Central Virginia
Moonshine: Blue Ridge Style
Deathly Lyrics: Songs of Virginia Tragedies
Earthenware Along the Great Road in Virginia and Tennessee
The Virginia Museum of Transportation in Roanoke has images and background information on nearly every item in the rail, road, air, and ship collections. Collections are separated by category and can be accessed here.
The William King Museum of Art in Abingdon will be broadcasting live via Facebook every Tuesday and Thursday at 2 p.m. Videos will include tours of the galleries, insider looks at collections, family-friendly art projects, and live art demos.
Lewis Ginter Botanical Garden in Richmond is sharing  "Virtual Visits" on its Facebook page as well as putting resources for learning (including activities for kids) and ideas for relaxation and mental health on its website lewisginter.org.
Take a virtual tour around Virginia Beach's cultural enclave by using this Google Mural Map to explore the ViBe Creative District on a virtual, self-guided mural tour. Click on the map icons to find information about the artists, artworks and locations, along with multiple images of the artwork and video links of murals created during the last two years of the ViBe Mural Festival.
The Barter Theatre in Abingdon is working to offer its patrons the ability to stream productions from home. The production of "Peter Pan" that was originally scheduled to open on April 7 will be online to patrons as well as access special bonus features. The theatre will also be providing coordinating educator resources, including lesson plans and a study guide. More information can be found here: bartertheatre.com/barter-theatre-on-demand
The Virginia Aquarium & Marine Science Center in Virginia Beach will provide entertaining, educational content to fans including live streams, video footage, crafts for kids, and behind the scenes peeks on its website and social media channels.
The City of Alexandria created a new web hub called ALX at Home, which brings residents and nearby visitors their favorite Alexandria restaurants, shops and attractions to the comfort of their own home. Features include:
50+ restaurant and 15 retail deals and offerings
Attraction offerings such as virtual tours and a "Ride it Out" bike rental program from Unlimited Biking.
Cocktail Corner for Happy Hour at home with instructional videos from The Hour boutique.
Puppy Love, bringing a daily dose of cuteness from Alexandria's four-legged friends.
The Omni Homestead Resort's podcast, Beyond the Tower offers an insider's look into one of America's most iconic resorts. From historical anecdotes to one-of-a-kind experiences, Beyond the Tower includes topics from the history of the resort and golf to the Garth Newel Music Center and the resort's partnership with a local farmer. Each episode begins and ends with "Welcome to My Homestead," an original composition from David Hill, a native of Roanoke, Virginia and one of the resort's most popular musicians.
For those interested in historic moments of Virginia, listen to the Following Harriet podcast. Following Harriet takes a closer look at the life of one of the bravest and most extraordinary women in our country's history. It also puts Harriet in a broader context, examining the 19th Century experience of African Americans, especially in Virginia.
Do you know of any other online options that attractions are providing? Let us know in the comments below.
comments
Planned Weekend Opening for Goochland Drive-In Canceled
If you want to catch a movie on a big, really, really big screen this is pretty much your only option.
Update from Goochland Drive-In:
As you know, the GDIT had planned to open this weekend – with modifications to our operations that would promote social distancing and responsibility.
The news and mandates continue to change daily. The latest info from our health department states we can open, but no concession sales. We simply don't know what restrictions may be imposed tomorrow.

Right now things are unfamiliar and uncomfortable for all of us. But we believe brighter days are ahead……as they always are. They'll get here quicker if we all do our part….and that's what we plan to do.

So we've decided to delay the start of our 2020 Season…..we sincerely hope you understand and promise to keep you all updated. Thank you all for the love & support.

Hope to see you soon under the stars.

With kindest regards,
GDIT
It's easier to practice social distancing when you're in a car. That being said the folks at Goochland Drive-In are making some changes outlined below. I can only speak to one of the movies being shown. 1917 was an amazing film that benefits from being on the big screen of a normal theater I can only imagine what it'll look like at the drive-in.
PARKING
Parking limited to 70% of capacity
SNACK BAR
Markers placed in service lines at Snack Bar to separate folks
Condiments will be handed out in packets – self-serve pumps removed from front tables
Outside Food Permit — while we survive off concession purchases, this weekend patrons may bring in their own food for an extra $15 per vehicle….paid at the Ticket Booth along with admission…..and will be provided a food permit to display
RESTROOMS
We have always been sticklers for cleanliness…that will never change — but for now….a Crew member will be present to constantly clean and sanitize
Doors to the restrooms will be propped open to allow fresh air and to avoid touching the door.
PLAYGROUND – CLOSED
Children have proven to be nearly immune – but in the best interest of all, the playground will be closed…….however, feel free to bring along your own frisbees, cornhole, games, etc. to stay entertained before the show
Thank you all for taking a moment to read this post — we look forward to seeing you guys this weekend!!!
comments
Music at Maymont announces Carbon Leaf as first 2020 season show
The Richmond favorites will take the stage July 18th at historic Maymont as part of their Brothers In Arms tour.
Haymaker Productions has announced the first act for Music at Maymont for the 2020 series: Richmond's own Carbon Leaf will take the stage Saturday, July 18th at 7:00 PM. After their Richmond start, Carbon Leaf has been entertaining audiences worldwide for well over two decades.
Blending rock, folk, Celtic, bluegrass and Americana traditions into a high-energy style the group calls ether-electrified porch music, Carbon Leaf's poetic songs are brought to life with acoustic and electric guitars, mandolin, fiddle, bass, drums, cello, banjo, pennywhistle, pedal steel, accordion, and rich vocal harmony.
The Virginia quintet writes, records and produces its music independently from their studio in Richmond and has performed over 2,400 lives shows across 17 albums in their long career. The group's independent music and spirit continue to resonate with its fans.
Doors open at 6:00 PM. Tickets for Carbon Leaf are $25 in advance and $35 at the gate.
Children under 10 free with paid adult admission. Tickets can be purchased beginning March 13 at eventbrite.com. The Maymont Stage is located at 1700 Hampton Street.
comments